If you are looking for a way to drive up average order volume (AOV) and units per transaction (UPT), while also creating a magnetizing merchandising display in your store – create an accessories bar!
Create A Layering Wall
A layering wall is a great option for stores that have higher ceilings and flexible store layouts. Layering was a huge trend at ASD Market Week! First, dream up your vision for what you want your layering wall to look like. Do you see symmetrical rows of necklaces, organized from delicate and dainty to bold and chunky? Do you see a more artistic wall that organizes the layer by metals and colors, creating a rainbow of sorts? Design your wall with the customer journey top of mind, and how you think they will shop this new and exciting experience.

Now you need to determine your fixtures for the wall. You could place horizontal, decorative metal bars on the wall and use S hooks to hang the necklaces from them. You could also turn the wall into a peg wall to give you flexibility to change the look and feel of the wall to keep things fresh and new.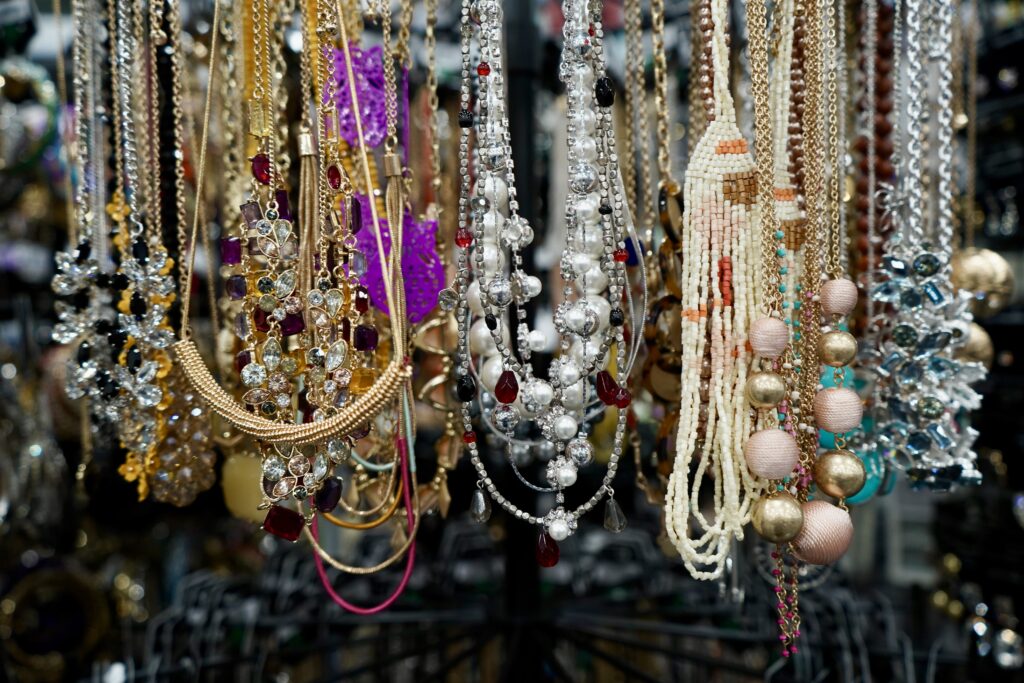 Create your assortment of necklaces that you will display on the wall and review their price points.  Is there a common price point that you can set for each "row" of layers? Or is there an overarching price point you can set and let your customers run wild? For example, 3 layers for $50. To curate this experience even more, think of a creative way that you can help your customers see their layer as they create. For example, providing them with bust stands to use to create their layers.
After you have created your vision for your wall, find a tall, narrow space in your store – even more ideal is to find a space that you are not currently maximizing the sales dollars per square foot with – and dedicate that to being your layering wall. Start sourcing your fixtures and supplies and building out your wall. It is important to ensure that your top row of items is reachable to consumers, which will also help lessen the use of your sales team to make this concept truly work.
Create A Layering Table
Another amazing way to create a layering story, that is like the layering wall mentioned above, is to create a layering table. This is a great option for store layouts that are more rectangle. A layering table is a long table with layers creatively displayed in the center of it, with bust stands around the table for customers to use to create their layered necklaces!

Think of it as a self-led creative workshop.  With the layering table, the customer will feel like an empowered fashion designer because they have their own bust form (blank canvas) and then they get to be inspired by the beautiful layering necklace display you have created at center of the table.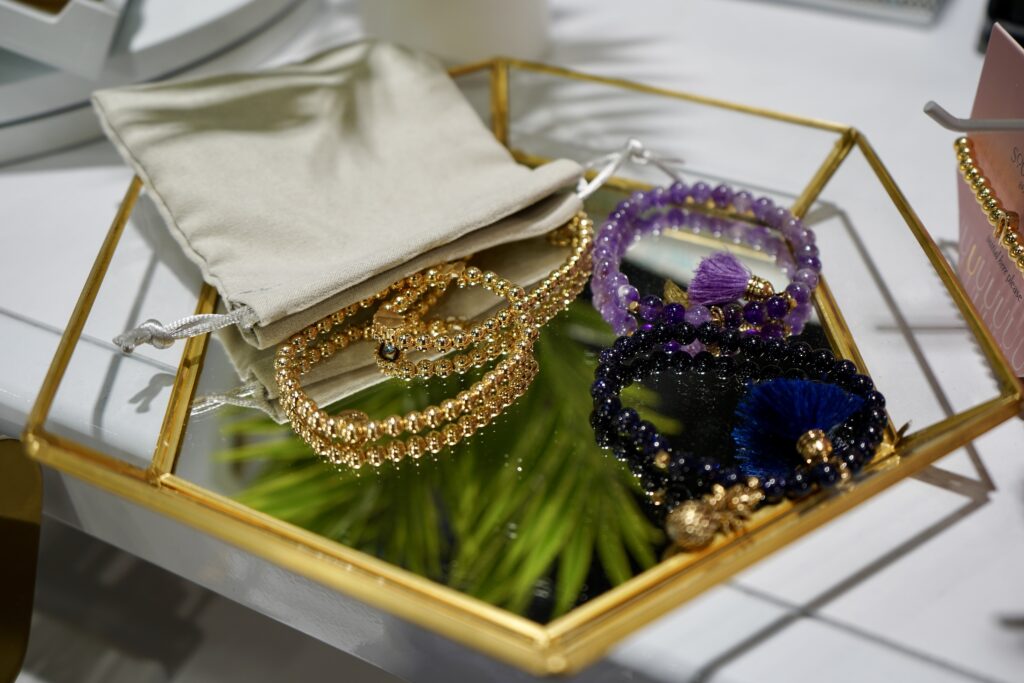 They then get to actively move around the table, thinking inspiring thoughts of which pieces will look best together to achieve the look they envision. Lastly, they get to bring their vision to life as they grab pieces to add to their bust form to create their dream layered necklace. The layering table is a fun way for your customers to immerse themselves in something creative, making them spend more time with you and build a stronger emotional connection to your store.
Build Your Own Necklace / Jewelry Display
At ASD Market Week there was an abundance of beautiful beads and gorgeous gemstones that would make for the perfect build your own jewelry display. To give you some inspiration into the life and intrigue this display would bring into your store, look at one of the exhibitor booths from ASD Market Week and the vast array of beads offered, sourced from Africa.
You could create this same display inside your store! The build your own necklace or jewelry display option is a combination of the layering wall and table! Just like the layering wall, you would find a space in your store to create the gorgeous display of beads, string, and clasps. Just like the layering table, you would then give the customer space to string their beads and attach the clasps to create their jewelry piece.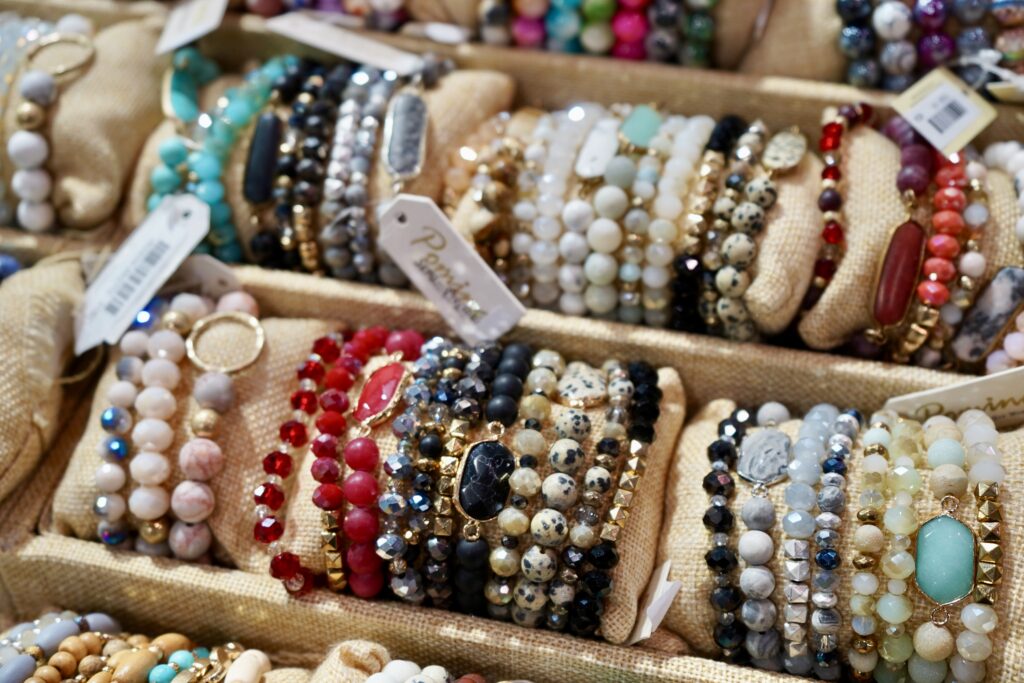 Merchandise Jewelry Creatively
Think of new ways to merchandise your jewelry in-store. Think about merchandising the jewelry by color story/collection. Explore new, interactive display fixtures. Use unexpected objects to place the jewelry on to command attention. Do unconventional photo shoots specifically for the jewelry to make them come alive on your website and social pages.