Jewelry is an important piece of the Fashion & Accessories category, as a classic personal and gifting item. The Insider breaks down the jewelry trends and high-margin products that made waves at this year's Coachella, as well as tips on displaying your merchandise. Discover the items (and vendors at the Jewellery Box show) that will make your shop sparkle — and help ring in sales.
---
Whether your shop features a Fashion & Accessories section or not, including jewelry in your product selection is a brilliant move. For starters, jewelry serves as a fab gift idea, whether for a friend, loved one or of course, as a self-gift (you know, to treat yo' self). The best part? Scouting at Jewellery Box, a curated trade show for high-quality, on-trend jewelry at price points ranging from moderate to high, and then selling these items offers you the opportunity to benefit from better-margin sales: a win-win for all.
We spoke with jewelry experts and Jewellery Box vendors to shed light on some key trends spotted at this year's Coachella (and therefore to bank on this year), and how to best display them with some visual presentation tips.
---
The Trends
1- Handmade and Crafts/Artisanal
According to Nicole Watson, Group Sales Director and jewelry Trend Expert for both jewelry ASD and Jewellery Box, handmade and stone bead jewelry are still important trends — such as Turkish beaded necklaces and bracelets. See the ASD vendors listed at the end of this piece to purchase wholesale.
We spoke to Niki Grandics, Founder and Lead Designer at ENJI Studio jewellery, known for its handmade products and commitment to sustainability and ethical practices about the key trends this summer. (All ENJI jewelry is 100% handmade using only the highest quality materials (like sterling silver, gold, gold fill, and specially selected stones to create one-of-a-kind and limited-edition pieces, as well as recycled and sustainable silver.)
"As far as jewelry trends, raw stone and crystal jewelry are very on-trend right now and you can see them everywhere from Fashion Week runways (SS17 Marni, Stella McCartney) to Coachella and other festivals. I love seeing so many natural forms and textures in these gemstones, making each one really unique! There's also a lot of interesting ranges in scale, like bold cuffs contrasted with fine chokers."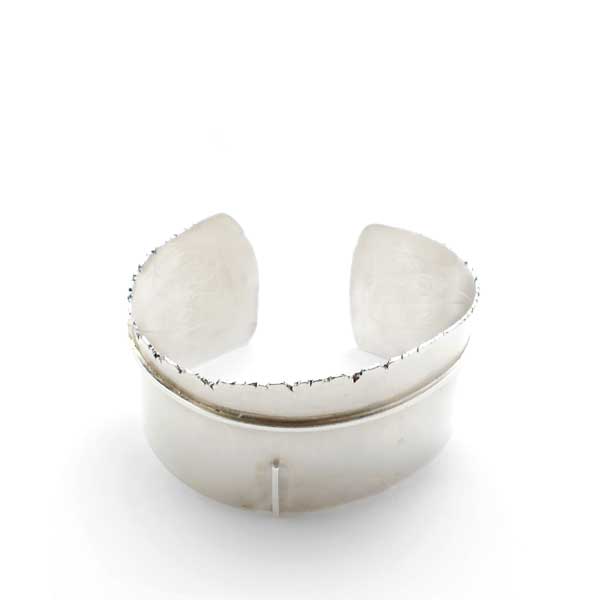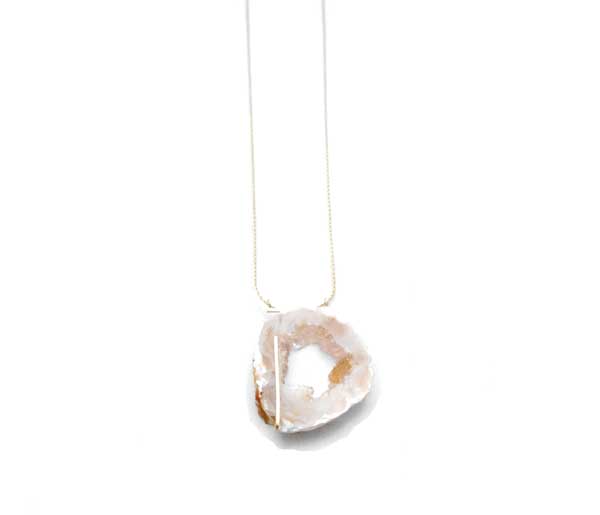 ---
2- Chokers
Heading into summer and especially festival season, the '90s-inspired choker necklace trend was still going strong at Coachella.
We spoke with Jenn Low, Founder of Wanderlust + Co. — "a jewellery [British and Australian spelling] label for dreamers and lovers" — about the styles making an impact this season:
"This Spring Summer 2017, it's clear that the choker hasn't said its last word yet. Silk and velvet ribbons that were spotted on models off-duty last season have evolved into statement pieces and play with different materials such as leather accented with raw minerals, and layers of draped metal chains.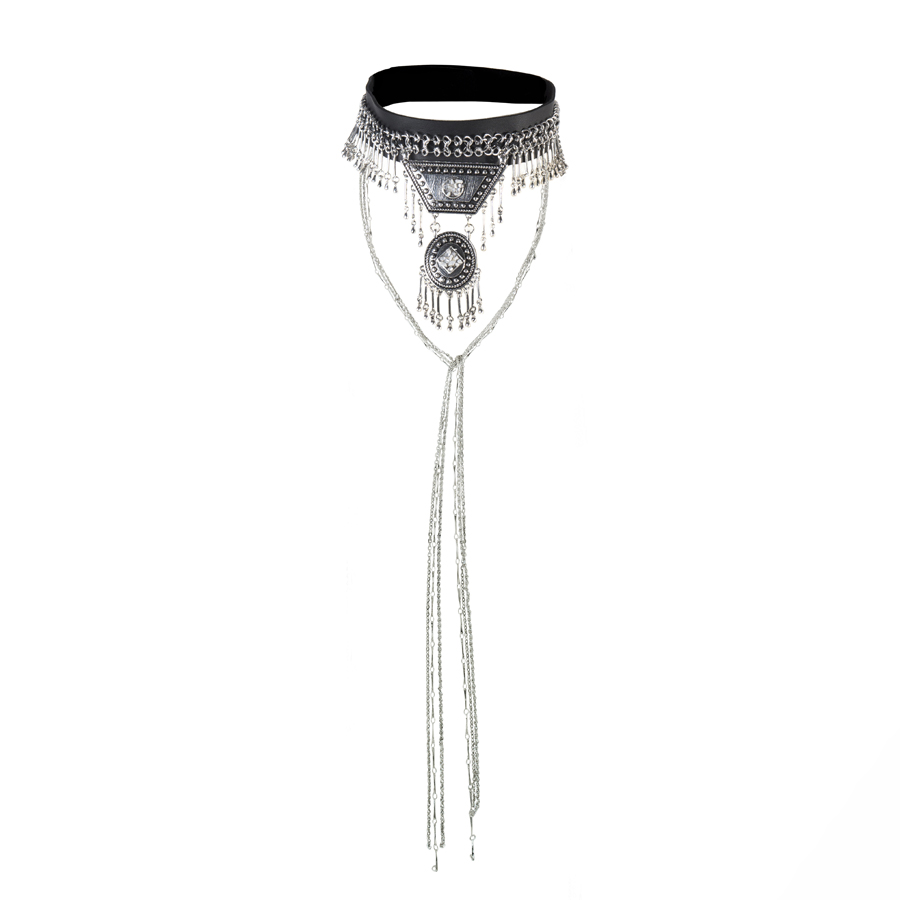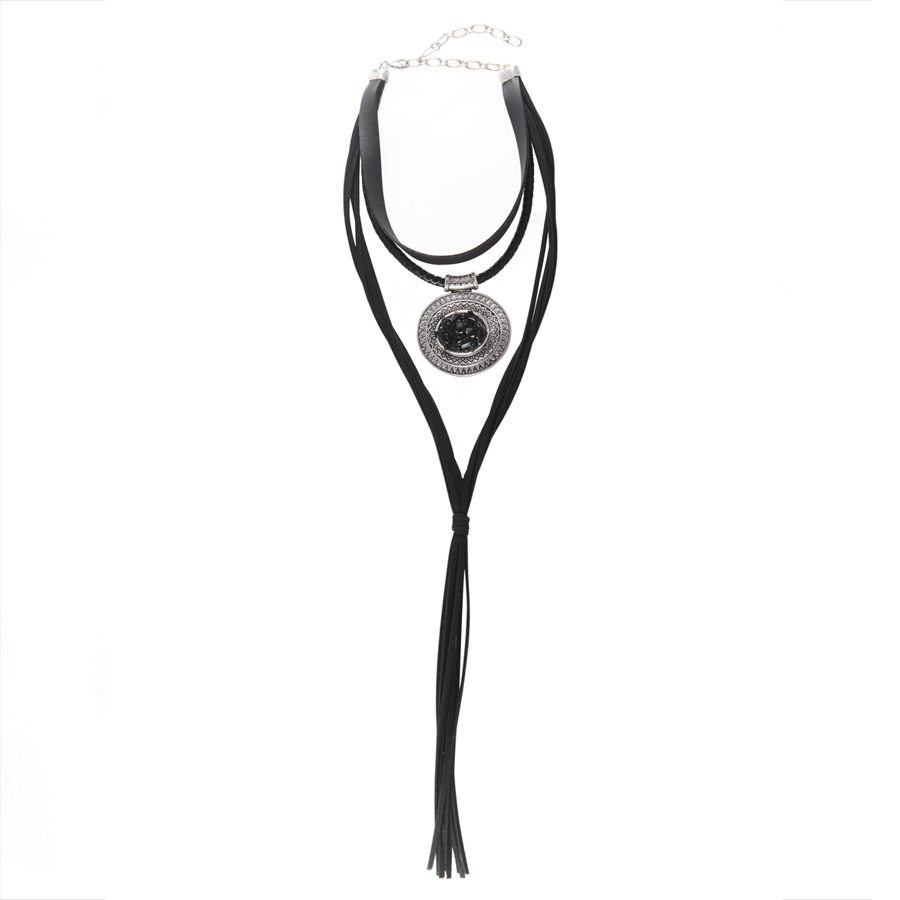 "In true musical festival spirit, high summer jewellery trends to look out for include metal fringing, tassels and braided detailing, as seen on our Aella Choker and Tristen Choker." (Pictured above.)
This festie-perfect look, for example, features three necklaces 'n' chains from Forever 21.
ASD Insider Tip: When it comes to statement-making layering, go big or go home. Use that to your advantage when merchandising as it's a great way to increase your UPT and upsell your customer.
Henri Myers of MAISON10 (a unique platform for talented designers and artists to bring quality products to a wider market by using ethical consumerism as its core concept) agrees that chokers are still going strong, and as a result, he has the variety to back up the trend:
"I know that chokers are big right now, so I have two completely different styles featured as one of 10 items in our jewellery category, but also in our Men's Accessories category. Chokers are not for everyone but if styled right, it could be a really bold but stylish look to pull off, especially for our male shoppers." (You may not have realized that chokers can work on men too; so if you have a fashion-forward clientele, this can be an item to test out and gauge performance.)
---
3- Statement Pieces
(Selena Gomez proves that it's all about making a statement while rocking Coach hoop earrings — a major trend this year — for a spread in April's Vogue magazine.)
Low from Wanderlust + Co. elaborates on the statement items currently punctuating on-trend looks: "Drawing inspiration from sleek futurist lines and graphic shapes, statement earrings are a key focus for Spring/Summer '17. Shoulder-skimming earrings are back, using a contrast of sleek metals in combination with delicate metal-dipped feather accents such as our Take Flight Earrings [pictured here], and they complement off-shoulder and cold shoulder trends that are going strong in apparel."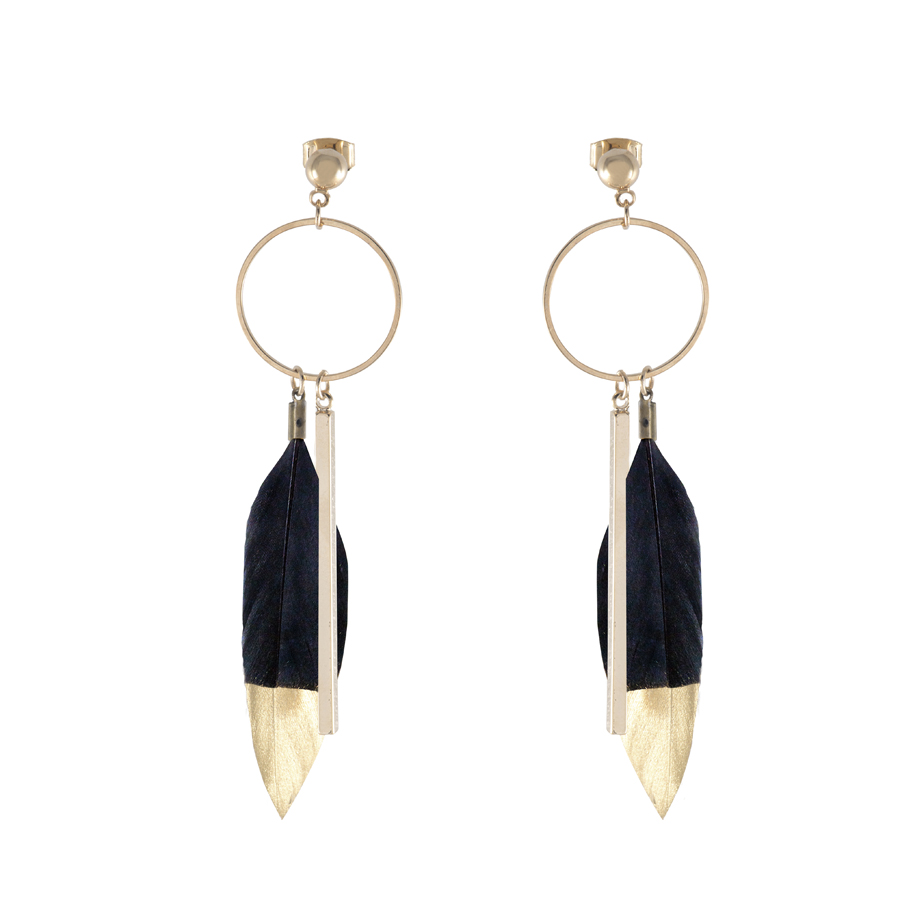 Michelle Orman, President of Last Word Communications (a full-service communications firm specializing in the fine jewelry and luxury markets), gave us the lowdown on this year's statement jewelry trends.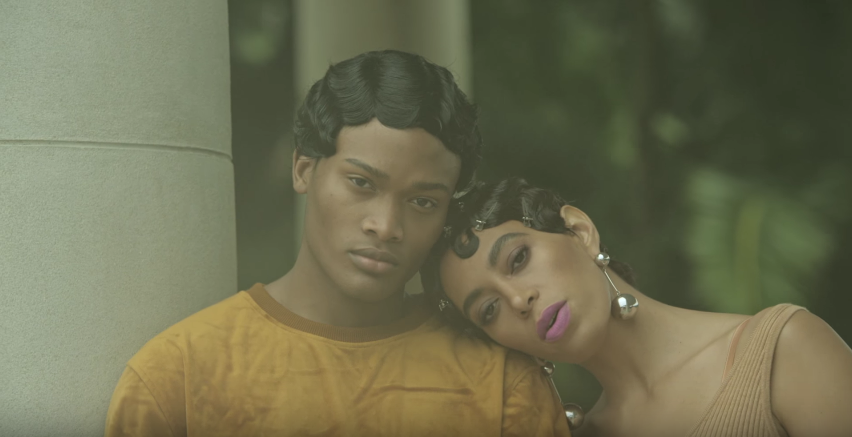 "Earring jackets, which were very popular in designer fine jewelry a couple of years ago, have started to be seen in more accessibly-priced pieces, making them that much more ubiquitous! Stacks and stacks of rings, and just an abundance of jewelry in general — whether wrist stacks, layered necklaces, or multiple ear adornments such as pierced ears combined with ear cuffs — also continue to be hot. For the first time in a long time, neither warm nor cool metals are all the rage, we're seeing an almost equal amount of both, often mixed together."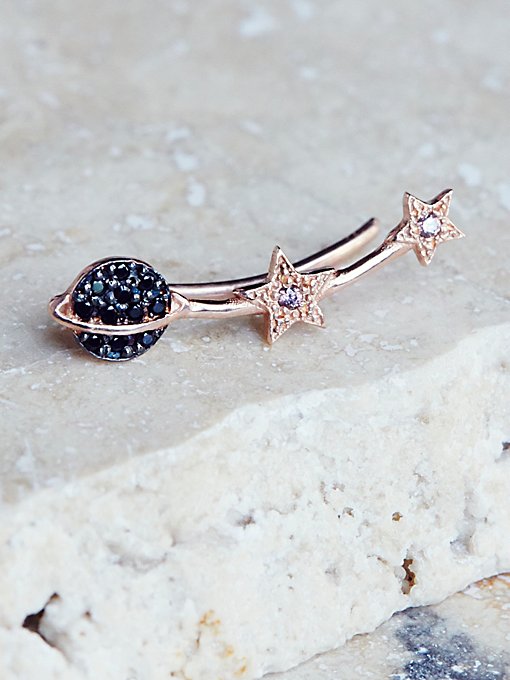 According to Nia Tahani Wilkes, founder/content creator of The Gem Corps and former fine jewelry publicist, there are different kinds of statement jewelry making statements right now.
"There will always be jewelry-wearers who only do dainty, but chunky and bold has come back from the '70s in the form of gem-set bakelite bangles à la Mark Davis, and chunky gold rings and bracelets as in Lola Fenhirst's 'Sybil' collection. How to wear these? Don't skimp! Stack and layer to your heart's content." As we said earlier, more is more.
4- Gems and Colorful Stones
According to Wilkes, color is key.
"Color, color, and more color — not just in the diamonds either. Other gemstones such as London blue topaz, opal, tsavorites, turquoise, moonstone, and tourmaline are taking center stage. They're being worn as both 'signature gemstones,' similar to how you would claim a fragrance or worn to match a particular mood — or even banish one.
Orman agrees about the importance of color as an important trend: "Color is always hot hot hot! Since color can never really go out of style, it's hard to say what's trending and what's not, however, opals, saturated blue stones like sapphire and emerald, and other less saturated shades of green seem to be all the rage right now. Additionally, we're starting to see an increased variety of pearls being used in interesting ways and, when designers can find them, Mexican fire opal is a stone that lights a lot of people's fire!"
Keiko Mita of K.MITA Design weighs in:
"Stackable rings and bracelets, as well as colored diamonds and bold colors have also become popular. To some extent, it's a 'back to the future' trend because people are turning to what worked in the past but using it in different ways." That's right, everything old is new again.
And she agrees with Orman's take on opals:
"Opals are also more popular, perhaps because of their bold blend of colors. People want to make a statement, by wearing something like my Shoreline Cuff (pictured below). Not everything has to match. Colors can blend. People seem to be rebelling against traditional ways, especially younger people — but it's not necessarily limited to the younger crowds!"


---
---
5- Vintage Stylings
Wilkes explains: "The popularity of antique and vintage fine jewelry has been on the rise. Instead of waiting to inherit grandma's engagement ring, consumers are actively seeking out this jewelry for its uniqueness, eco-friendly elements and for the thrill of the hunt. Conversion jewelry, in particular, is trending. Women are either purchasing, for example, rings that have been converted from stick pins or buying 'as is' and taking them to their jeweler. Trademark Antiques and Leola Revives (both Etsy shops) are rocking it in the conversion sector."
---
Bringing It All Together: Merchandising Tips
Keep in mind that adding jewelry to your merchandising mix is a great way to delve into Crossover Merchandising.
Here are some tips to ensure that your visual presentation is on point and generates sales:
1- Create a Narrative with Your Display:
Wilkes, of the Gem Corps, explains: "I love it when retailers, especially of contemporary jewelry, tell a story with their displays. My favorites are the museum-like vitrines, showcasing individual designers much like a gallerist would, complete with a designer bio plaque. Jewelry is such a personal item, and knowing the story behind the piece enhances that experience. Esqueleto in Oakland and Los Angeles is a standout for me."
2- Group Gemstones Together
Wilkes continues: "As for antique and estate jewelers, displaying by gemstone type is personally the easiest for the eye to take in, especially in a store that has a lot of merchandise. As consumers start to become savvier about jewelry periods, thanks to institutions such as Lang Antique & Estate jewelry in San Francisco, it's helpful to merchandise by era and type. Doyle & Doyle in NYC has also earned an A+ for their merchandising."
3- Focus on Product Knowledge: The Power of Helpful Content
Looking for a great visual to place beside your jewelry display? Author Jinnie Lee has developed an exquisite instructional booklet, "How To Wear Jewelry: 55 Styles," with illustrations by Judith van den Hoek. It's a perfect way to communicate with customers and give your products some actionable context. Customers and staff will appreciate the additional information about the jewelry, or the "how to wear it" ideas.
ASD Insider Tip: Retailers need to educate their floor staff to provide expertise and educational content to their customers. Product Knowledge to the staff is super important.
After all knowledgeable, engaged staff = strong sales.
Henri Myers of MAISON10 agrees: "The best way to increase sales is to really know and understand the concept of the store, but also having product knowledge. This works best for selling items like fragrances and leather goods, as well as jewelry."
4- Keep It Simple for Maximum Impact:
Myers has a very clean aesthetic where all products hold center stage.
"When merchandising the store, I like to keep it simple, making the product speak for itself."
---
Find it at the next ASD Market Week: Vendors
Modern Opus (handmade jewelry) – Booth #N2968A
Davinci Collections (stone bead, Turkish jewelry) – Booth# N3243
OMG Blings (lariat, layered necklaces) – Booth# N2563
India Gems & Beads (colored stones) – Booth# N3101
YTC Group (simple, understated, less bling) – Booth# N2900
---
Are you a retailer or online seller? Shop the largest wholesale jewelry and accessories show on the West Coast inside ASD Market Week in Las Vegas, a.k.a. your Affordable Shopping Destination. Get your free buyer's ticket here.