The Insider caught up with noted Amazon expert, international keynote speaker, and chief marketing officer of Seller Labs, Jeff Cohen, to learn exactly how to select product at a trade show to resell.
Since 2014, Jeff Cohen has helped numerous Amazon sellers significantly improve their bottom lines in his role as the Chief Marketing Officer of Seller Labs and as a compelling keynote speaker at e-commerce and retail conferences around the U.S.
He gave us key questions for Amazon sellers should ask when walking a trade show like ASD, as well as insight into selecting product for maximum profit.
ASD Insider: When walking a trade show like ASD how do Amazon sellers properly select a product and approach merchandise vendors at the show?
Jeff Cohen: A lot of sourcing actually begins before you even get to a show. Pre-show research is very important. It can be difficult to do on-booth sourcing without adequate preparation so before going to a huge trade show like ASD, sellers should have a clear understanding of what categories they want to sell in. What type of categories, product price points, and what kind of ROI I'm looking for? Ideally, sellers have researched the exhibitors, made appointments, and started a relationship prior to going to ASD.
AI: What advice do you have for first-timers?
JC: Temper your expectations if it's your first time. Trust-building is very important. For example, once you can place an order, pay the invoice promptly. People who have existing relationships do the best! Also, there are 3 main ways to purchase product at a trade show to keep in mind: 1) Arbitrage, which is non-direct; 2) Wholesale from a qualified reseller; and 3) Private Label. They each come with their own opportunities – and things to look out for.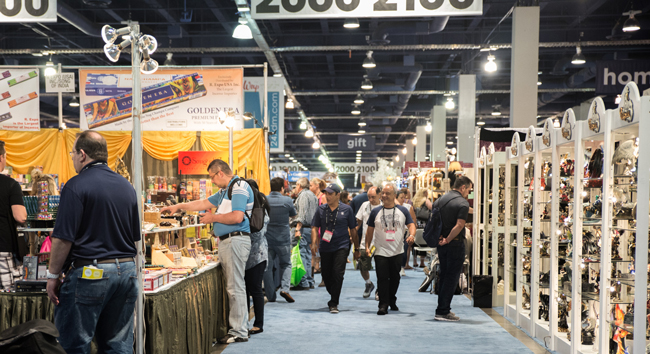 AI: What things do sellers need to look out for?
JC: If you are going to buy products, you're going to have to demonstrate where you acquired the product from and that you have the right to sell them on the channel – and that the company you're buying from has rights to give you those rights. Sometimes that product has lost the chain of "custody." In other words, can they pass you the rights to resell that product? Also, are you only allowed to sell to physical locations? Amazon is strict on brand trademarks and they don't want an inauthentic product. That's also why you have to be mindful of liquidation or, "trade show arbitrage." You take on liability as the seller.
AI: Ok, I've done my research and zeroed in on some exhibitors and product categories – what other issues should I prepare for?
JC: Make sure you already know Amazon's rules around certain product categories — and that you're qualified to sell on those categories! For example, in Q4 Amazon limits those who can sell toys by FBA. In some categories, you have to have done a certain minimum amount of sales prior in order to to be you have to be qualified to sell on Amazon. You also have to check with Amazon to see if you'll require a special barcode for bundles.
AI: What kinds of product development conversations do I need to be having at the show that can maximize my opportunities?
JC: Ask yourself, "Can I build my own unique product with the vendor?" I would also ask if I can private label the product and if can I put my own packaging on it. Being able to build unique product with a vendor can be very profitable and a boon for the relationship. The other conversation I would have is around minimums. Vendors may be wary but when
you test small quantities and they sell-through quickly you obviously have much better negotiating power the second time around. And of course, now that you've done your research, ask if you can get wholesale pricing. Also, after you've walked ASD, spend some time in the importing and sourcing part of the ASD show to meet international factory reps.
AI: I found a product and vendor on the show floor and I'm ready to pull the trigger – what do I do next?
JC: The next thing you can do is actually scan the product's barcode to gather basic information on how it's selling. You'll need to ask the vendor if it's cool to do this first! But ultimately it's information that can benefit you both. Some of the product scanners for this out there are Scan Power, Amazon's own scanner. Scan Power is also very powerful because it provides more data on more sellers.
AI: What am I looking for and how am I using this scanned product information?
JC: Ultimately you want to see what the "sales velocity" on Amazon is, how many people are selling it, and the pricing. Do the math. Ultimately you want to create your own criteria — MAP, or you Minimum Advertised Price based on the results you're seeing.
AI: How do I know if a product has a high sales velocity?
JC: You're looking for the Best Seller Rank or "BSR". A BSR indicates how well an item is selling within its product category. The lower the Best Seller Rank or "BSR" the higher the sales velocity and the more units are selling for that product. Your goal should be to make sure the product you've scanned has a low BSR.
AI: What drives BSR?
JC: Amazon derives BSR from sales conversions connected to authentic customer reviews, which increase trust and the keyword terms people use to search for the product you just scanned. Once you've scanned a product at a show your vendor partner and you can discuss pricing. For example, if the product has high sales velocity and is priced at $19 plus fees – is that margin workable? It's a very transparent process. That said, with a hot selling product, you'll really need to create a high-impact product listing to make it work. You'll be competing for Amazon's buybox.
AI: Why are trade shows like ASD so beneficial potentially to Amazon sellers?
JC: You're going to get your best deal with them talking to them in person at ASD. You can work on pricing together and develop a personal relationship where you can build trust quickly.
Coming Soon: Part 2 with Jeff Cohen – Creating a Killer Amazon Product Listing
Jeff Cohen is a high-level Amazon selling expert and Chief Marketing Officer for Seller Labs which provides best-in-class software to help Amazon sellers streamline their businesses. He is also a regular speaker (to packed rooms) at ASD Market Week. Contact Jeff directly to learn more.
By Jed Wexler
---
Are you an Amazon or marketplace seller? Get your free badge here to attend ASD Market Week March 11-14 in Las Vegas, and discover great vendors and amazing wholesale products at incredible margins.
---