Pinterest has become the place for retailers to strike trendspotting gold – it's also a crucial platform to help grow your own community of shoppers. Here are tips to make sure all the time you spend getting addicted to Pinterest pays off. And you will get addicted.
When Pinterest launched in March 2010, it started out as a "virtual corkboard." It has since morphed into a visual discovery tool supercharged by intent-to-purchase behavior, with over 150 million monthly users.
Pinterest is also highly optimized for search intent inside the platform and in Google results.
If you're not already using this essential (and free) online platform to source trends and promote your brand or shop – now's the time to start!
Here's how to use Pinterest for your business and grow sales at your shop or site. But first…
Why Pinterest? A Quick Look at the Numbers
Pinterest accounts for 25% of retail referral traffic (Rich Relevance).
87% of pinners have purchased a product because of Pinterest (Omnicore).
93% of Pinners have used the site to plan for a future purchase (Omnicore).
150 million monthly active users, 81% of which are female (Pinterest).
72% of pinners use Pinterest to decide what to buy offline (Omnicore).
U.S. Pinterest users are more likely to live in Midwestern states than other social media users (Internet Marketing).
On Pinterest, retailers and online shop owners have some great options to spot products and drive sales.
In a nutshell, here's how Pinterest can help you:
Search and learn about trending colors and products for the upcoming season.
Get inspired by what influencers and bloggers are sharing.
Learn more about your demographic and customer base.
Promote your products and your shop.
Generate sales and website traffic.
See who's "pinning" you so you can engage with them.
Get Your Pin On and Find Retail Business Success
Janet E. Johnson, Social Media Expert & Founder of the Janet E. Johnson agency, gave us these B2B Pinterest Tips:
1. Pin actual photos from your website (product, blog, and team photos).
"Pin" images from your own website to your brand's dedicated Pinterest account. "This brings Pinterest users directly back to your online shop," Johnson explains.
2. Use keywords, not hashtags.
Hashtags are not relevant on Pinterest, but keywords are. This is because Pinterest acts like a search engine more than any other social media channel. Think about the keywords you would use on Google to search for the products you're pinning – and use these keywords in the pins' descriptions in order to direct users where you want them to go.
"Keep in mind that on Pinterest, everything is about keywords. Pinterest is a social bookmarking site but also truly a search engine." – Janet E. Johnson, Social Media Expert
3. Create these Pinterest "Boards" — the way a retailer would merchandise them.
Create a board of your employees, especially those who are always at your trade shows!
Pro Tip:
Titles for Pinterest boards should be simple, direct, and keyword-driven. Save the quirky copy for your website and marketing materials.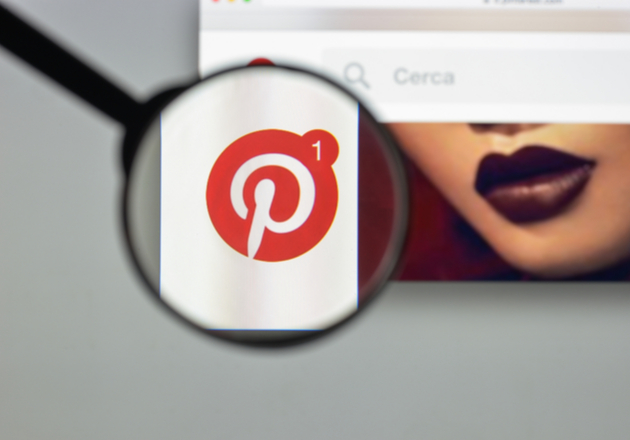 4. Make sure what you "pin" is what you get.
Be sure to pin a specific product and direct people to the specific page on your website where they can purchase said product.
5. Consider investing in Promoted Pins and/or Buyable Pins.
If you have some extra dollars in your marketing budget, consider running some Promoted Pins to increase your reach and exposure. Promoted Pins are like regular Pins, only you pay to ensure they are seen by more people. Buyable Pins allow people to buy products directly from Pinterest.
6. Curate other people's content.
"Repinning" other content you find will drive traffic and followers to your Pinterest page — and establish your company as a go-to industry authority.
7. Convert your personal Pinterest account to a "Business" account — ASAP.
This allows you to put money behind a pin and deeper access to analytics on how your pins perform.
---
---
Pinterest: A Deeper Dive Into Sales Tactics
Be Helpful to Other Pinners – Rich Pins and Engagement
Pinterest's unofficial motto is "be helpful." Meredith Rodriguez, the Los Angeles Partner Manager at Pinterest, stresses the urgency of being helpful on Pinterest to gain success.
Because Pinterest is not as social as Instagram or Twitter, it's less about having a conversation and more about finding useful content for your own use.
Rodriguez suggests adding helpful tidbits from outfit suggestions, informative captions, and relevant links. The more helpful your pin is, the more it will circulate amongst users.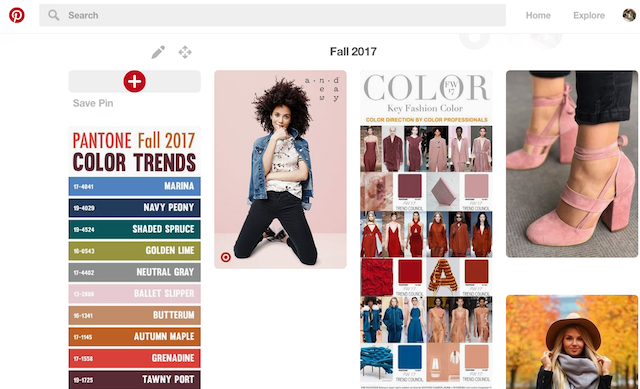 Use Specific Keywords to Search the Pinterest Universe and Spot Trends
Like hashtags on Twitter and Instagram, Pinterest aggregates pins by keyword. Pinterest turns key terms such as "fall fashion trends," into individual words, i.e., "fall" + "fashion" + "trends."
Pinterest houses content about everything from weddings to sports: make sure that you use narrowly targeted and specific terms. If you use excessive keywords in your searches, you'll get too much thrown your way and you won't be targeting a specific and interested audience.
---
ASD Insider Tip: Want to see who is already pinning your website content so you can then engage with them? Go here. (Replace YOURWEBSITEURL.COM with your own web address to see pins of your content.)
---
Create, Curate, and Diversify Your Pin Content to Increase Sales
Fill your pinboards with pins of original photos of your own products, collages of your products, your shop, and catalog images.
To balance their original content, successful pinners also combine and curate "found" content.
Mixing original content and product shots with aspirational images helps your pins come up in searches.
Fashion retailers Top Shop and Kate Spade do this by mixing product, editorial images, and on-brand inspirational photos. This gives your potential customers context of how your brand can integrate into their lives and how they can best use your items.
ASD Insider Motivation: Is it worth it? According to a recent Piquora study, 50% of visits to Pinterest content happens after 3.5 months of a pin being posted. The half-life for content on Twitter and Facebook is only somewhere between 5 minutes and 80 minutes. That. Is. Not. A. Misprint.
Optimize for Mobile – Maximize Pinterest for Business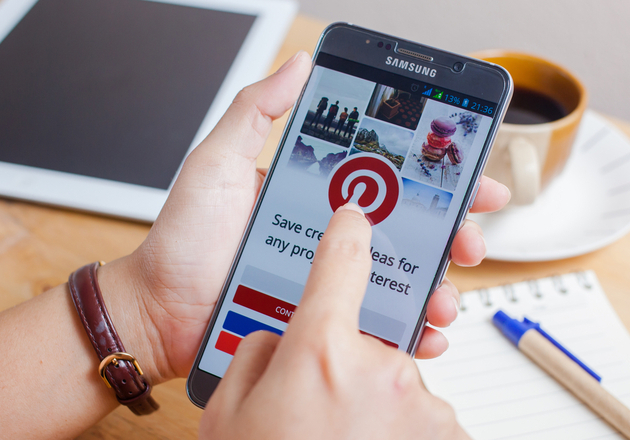 Did you know 80% of Pinterest's traffic is mobile?
It makes sense since the app is incredibly easy to use and navigate. If you create a Pinterest account for your brand or store, make sure it's mobile friendly with easy to read 100-word captions, and link to the product page (not just your homepage).
Remember, your first two boards will show up before the scroll on mobile. You can always rearrange your pin boards so the ones you want to focus on come first.
Integrate Your E-commerce Platform with Pinterest to Increase Sales
Are you aware of the fact that Pinterest sends the second most traffic to e-commerce sites, second only to Facebook?
One of Pinterest's newest features allows users to purchase directly from Pinterest. This is a great way to retain customers as they come across your pins rather than first hope they click in your caption, then go to your site, and only after that, complete a purchase.
Pinterest currently works with popular E-commerce platform Shopify, and will be integrating more platforms soon. This "buy button" is changing the Pinterest game, especially for brands and retailers.
The Takeaway – Pinterest is Crucial for Retail Success
Whether it's Facebook, Instagram, Pinterest, Twitter, LinkedIn or your website, having a clear, strategic presence will help buyers find you fast — and can significantly impact offline sales activity.
And Pinterest is a great channel to focus on, especially if you own a retail shop.
---
Looking to gain more social media tactics like this and fill your retail shop with the right high-margin inventory to promote? ASD Market Week features the largest wholesaler beauty, fashion, gift, and accessories show on the West Coast, March 11 – 14, 2018 in Las Vegas. Meanwhile, follow ASD on Pinterest.
---