Amazon recently started blocking shipments to its warehouses on items that are not considered essential products. As a seller, the only items being accepted at the warehouses are those in high demand and classified as "essential."
In an email sent to Amazon sellers and vendors, the company stated that they are prioritizing shipment of six categories: baby products, household and health items, personal care and beauty items, scientific and industrial, and pet supplies.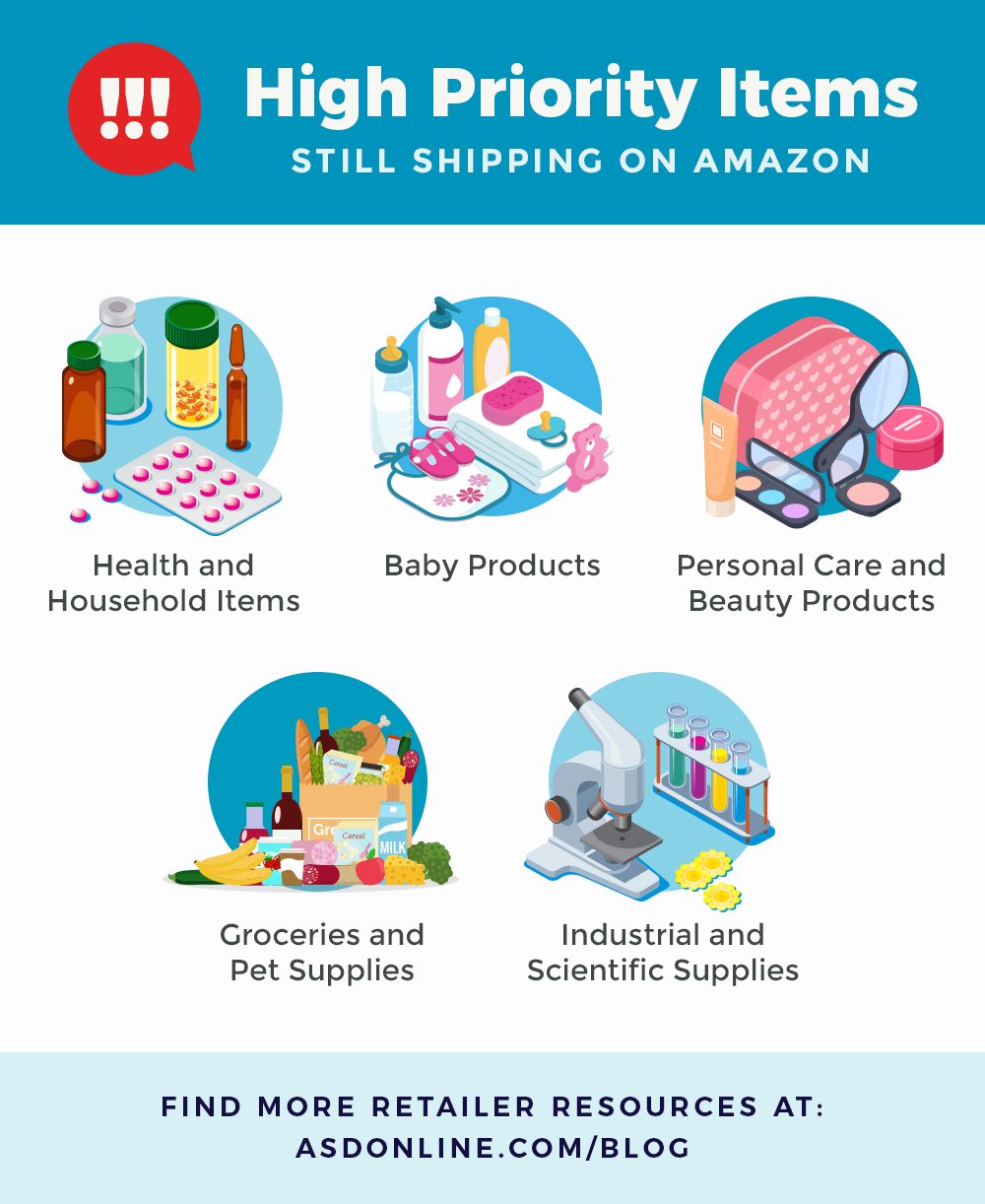 This means that those sellers who depend on the storage and delivery network offered by Amazon for a fixed fee, known as Fulfillment by Amazon, are no longer able to ship their "nonessential" products to Amazon. This also applies to wholesale vendors that ship products to Amazon who then sells them at a marked up rate.
These changes, which will be in place through at least April 5th, have led Amazon sellers and vendors to ask a variety of questions so that they can figure out how to navigate the channel now. The ASD Market Week team has been watching the questions surrounding selling on Amazon. Here are the most frequently asked questions and answers as to what sellers want to know now.
---
Why is COVID-19 a big deal for Amazon vendors and sellers?
Whether you think the virus is the flu or something that could cripple the economy, the reason you should care about the virus is that an Amazon business relies on outsourced logistics. Even if you only sell in the U.S. what happens in other parts of the world may impact your ability to source, design, and sell products.
Because Amazon is likely a big source for your revenue, if Amazon fails, your business will fail. Changes that Amazon makes in response to COVID-19 will also likely impact your business. The implications of a full-blown pandemic will likely impact the financial, transportation, retail, healthcare, logistics, event planning, and other industries that ultimately have an effect on your business and revenue.
---
What products are being accepted?
Right now, Amazon has placed a freeze on nonessential inventory items that would typically enter their fulfillment centers. Only items in the following categories are being accepted at this time: baby, household and health, personal care and beauty, grocery, scientific and industrial, and pet supplies.
---
What do I do if I already have a shipment on the way?
If you created your shipment before March 17th, Amazon will still accept your inventory and add it to their supply chain as normal. Orders placed after the 17th will not be accepted.
---
What about inventory still at port?
If the inventory that is in transit to an Amazon fulfillment center to replenish inventory was placed before March 17th will still be accepted at the Amazon warehouse.
---
Is Amazon suspending/freezing fees?
So far, Amazon has not announced whether they are suspending fees for Amazon sellers impacted by these changes. However, they did mention that they may temporarily disable its IPI, Inventory Performance Index. The IPI is part of what measures the account health metrics of a seller and is the score that Amazon uses to determine how much inventory a seller can send to Amazon. Amazon also notified sellers in the U.S., UK, France, and Italy that they would be waiving April's long-term storage fee. At this time, it is unknown whether the waiver will extend past April.
---
Can I take my inventory out of an Amazon Fulfillment Center?
The answer is yes, but it could take a while. An FBA seller that wants their inventory returned to them quickly is likely out of luck. Amazon recently released an email that stated that removal operations have been paused temporarily at some of their fulfillment centers. This doesn't mean that you can't submit a removal order, but it means that the request will likely take longer than usual.
---
What products should I sell during this pandemic?
If you have the ability to shift your sales to different items, essential products would likely be a good move. Because people are isolating themselves during the crises, think of products that a person might need to work from home as well as those that have children staying at home that may need to homeschool.
---
Can people become infected with COVID-19 through packages?
Studies have shown that the coronavirus can survive on cardboard for up to 24 hours. With that said, many carriers are implementing additional precautions to prevent the spread of the virus. The World Health Organization said there is a low risk of transmission through packages, but UPS has increased monitoring of its employees for sickness and is complying with government mandates. FedEx is taking extra precautions to ensure that deliveries are safe, and DHL released a press release explaining the measures they are taking to ensure that deliveries are safe.
---
What is Amazon doing to keep employees and customers safe?
Amazon is closely monitoring the impact of COVID-19. They have increased the intensity and frequency of cleaning and disinfecting at all sites and have adjusted fulfillment centers so that employees can maintain a safe distance away from co-workers.
---
What is Amazon doing about price gouging?
Amazon has been monitoring prices to ensure that prices are not artificially raised on necessary products during the pandemic. They have removed and/or blocked thousands of items in recent weeks to ensure their policy regarding price gouging is being followed.
---
How should people handle the packages they receive?
The first step is to wipe down the package with disinfectant. Most Amazon packages have two pieces of packaging. An outside shipping package and the inside item. Ideally, the item should be removed from the shipping box and that box disposed of immediately.
Next, the inside package should be wiped down with a disinfectant wipe, as well as anything else the package has touched. The last step would be to wash your hands. If that isn't enough, a package can be left outside for a period of time. Since the virus only lives on cardboard for 24 hours, it could be left outside in a remote location until it is safe to bring inside.

---
The pandemic is rapidly shifting all over the globe and is already having an impact on many businesses. As this becomes the new norm for a while, it is important that you stay on top of the latest updates from Amazon. We recommend that sellers use this time to be creative and find alternative means to manage and operate your business.
Each week, the ASD team will be posting an update on what's happening with Amazon to help sellers navigate this crisis here on our blog. You can also follow what's happening in retail and COVID19 on our resource page or join the conversation on Facebook.