The COVID-19 pandemic hasn't been easy on anyone. E-commerce sellers have had it particularly hard, especially those who use Amazon as their primary platform. Because so many people have been isolated to their homes, Amazon has become a critical means of delivering supplies and food, but they are struggling under the weight of the demand.
To ensure that high-priority items can still be delivered to their customers, Amazon has changed their transportation, supply chain, logistics, and third-party seller processes in order to prioritize the stocking and delivery of items that are considered high priority for customers.
High priority items include health and household items, baby products, personal care and beauty products, groceries and pet supplies, and industrial and scientific supplies. In addition, Amazon has suspended Prime Pantry, a service that allows the rapid delivery of household and grocery items.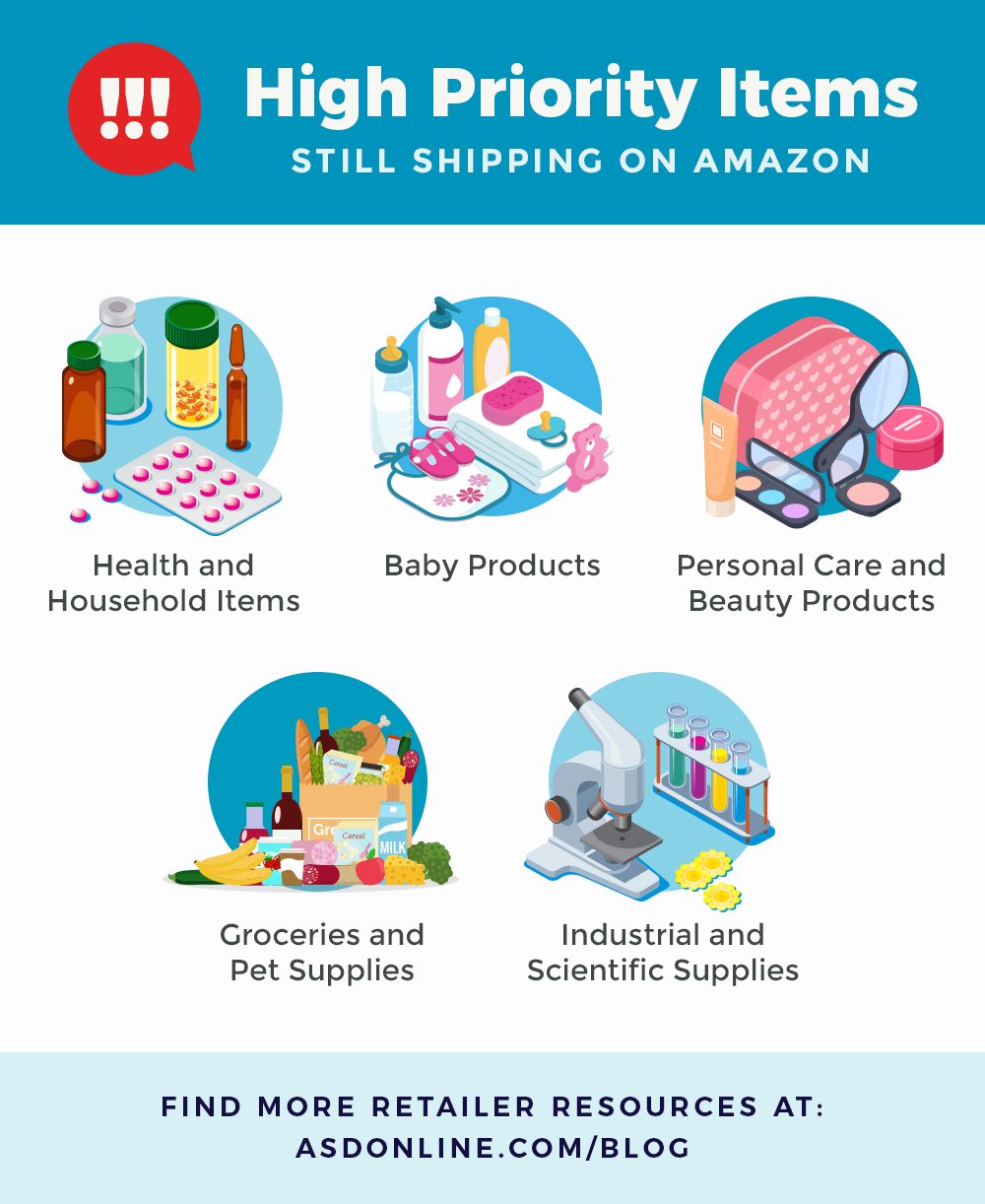 Fortunately, Amazon is only placing the freeze on receiving non-essential items until April 5th, and products that are already at Amazon's fulfillment centers can still be sold and shipped. There are also no restrictions on merchants that fill their own products.
If Amazon were to completely stop deliveries, it would be catastrophic. Most small e-commerce businesses rely on Amazon not just for selling their products but for managing the operations of the business behind the scenes. Many shipments are managed via Amazon's infrastructure and disruption of that could destroy small business revenue.
Small businesses (which on average make about annual sales of $90,000 from selling on Amazon) are losing money because the big brand products are being prioritized for shipping. This means far less sales revenue for small businesses that rely on Amazon.
---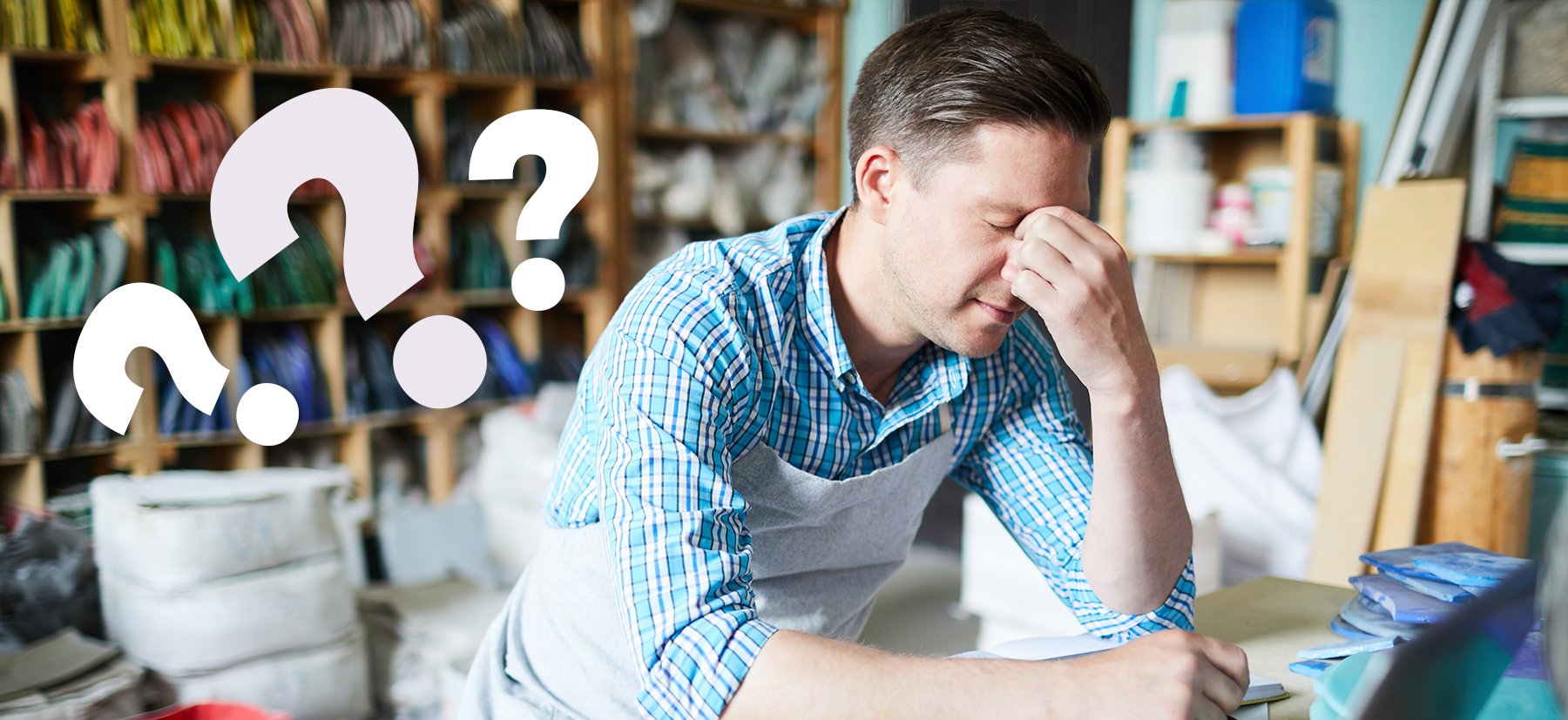 What Is a Seller to Do?
The first thing that small e-commerce businesses need to take into consideration is how to protect themselves against disruption by the virus. This means managing your expectations, monitoring the situation, and being proactive in minimizing the impact the virus could have on your business.
Consider revising your 2020 budget and adjusting your forecasts and targets, at least for the next several weeks or months. There is no reason to waste resources on targets and goals that may be impossible to achieve.
---
Short-Term Objectives
Start planning an alternative for warehousing and distribution. There are a variety of other platforms, such as The Grommet and Shipwire, Walmart or eBay, that can work well for small businesses.
Ensure that your supply chain won't change. Many suppliers may prioritize orders from larger clients, so you may have to anticipate longer lead times. Stay updated and monitor the situation directly through your supplier. Be prepared for shipping delays, too. Ask your suppliers to release your items earlier than usual or consider buying larger quantities. This will keep you from running out of inventory and may help make your shipment a higher priority than smaller orders.
Manage your inventory. If you think you may run out of inventory, consider adjusting your pricing and promotions to slow down your sales. Also, think of ways that you can maximize your profit (in an ethical manner) on your current inventory. This is the perfect opportunity to strengthen your relationship with your supplier to help keep information flowing.
---
Medium-Term Objectives
Work to set up alternative sales channels. Open up additional retail accounts, build traffic to your website, and create an online community. This will help your product get additional distribution, recognition, and sales.
Diversify your supply base. This is the time to diversify your supply base, especially if China has been your main source. Consider other countries such as the U.S., Vietnam, Turkey, India, Mexico, or Australia. Bear in mind that these markets may not be able to produce the variety of products that China does, however, in certain categories, they may be even more competitive than China. For example, India specializes in eco-friendly products, gifts, fabrics, leather, and cotton-based textiles.
Quality control. If you continue to work with Chinese suppliers, they may be working on a backlog of production due to fewer staff. Some workers may not have returned to work yet due to the virus. As a result, some suppliers may cut corners on quality, so be certain that you are paying more attention to quality control.
Consider Fulfillment by Merchant (FBM). It works a bit differently than FBA but could be a temporary option. When a sale is made, Seller Central will notify you and you have 24 hours to ship the items. You can purchase shipping services through Amazon and you will have to pick, pack, and ship your own goods. There are also more risks with FBM. The costs can be higher if you don't already have such an operation in place, shoppers can leave you negative feedback based on the quality and speed of your shipment, and you have to handle your own customer service issues.
---
Long-Term Objectives
Think about new products to sell online. Consider developing products that you've never, and would never, sell on Amazon. Retail accounts are often easier to open if you tell a store owner or buyer that you won't undermine them by selling their product on Amazon. They work hard to buy and sell items and don't want to help you stock a great product just for you to turn around and sell it on Amazon Prime. If you want to sell on Amazon, consider selling last year's models or overstocks. Another option would be to develop exclusive or premium versions of your products to sell locally.
Plan for customer service. While this likely won't be top on your priority list, you need to be prepared to address concerns and questions from your customers. They are being bombarded with updates, some of which may not be true. Be prepared to answer their questions about shipping delays and the safety of opening the shipments they receive from you. Let your customers know that you have things under control and that you are doing your best to stay on top of things.
---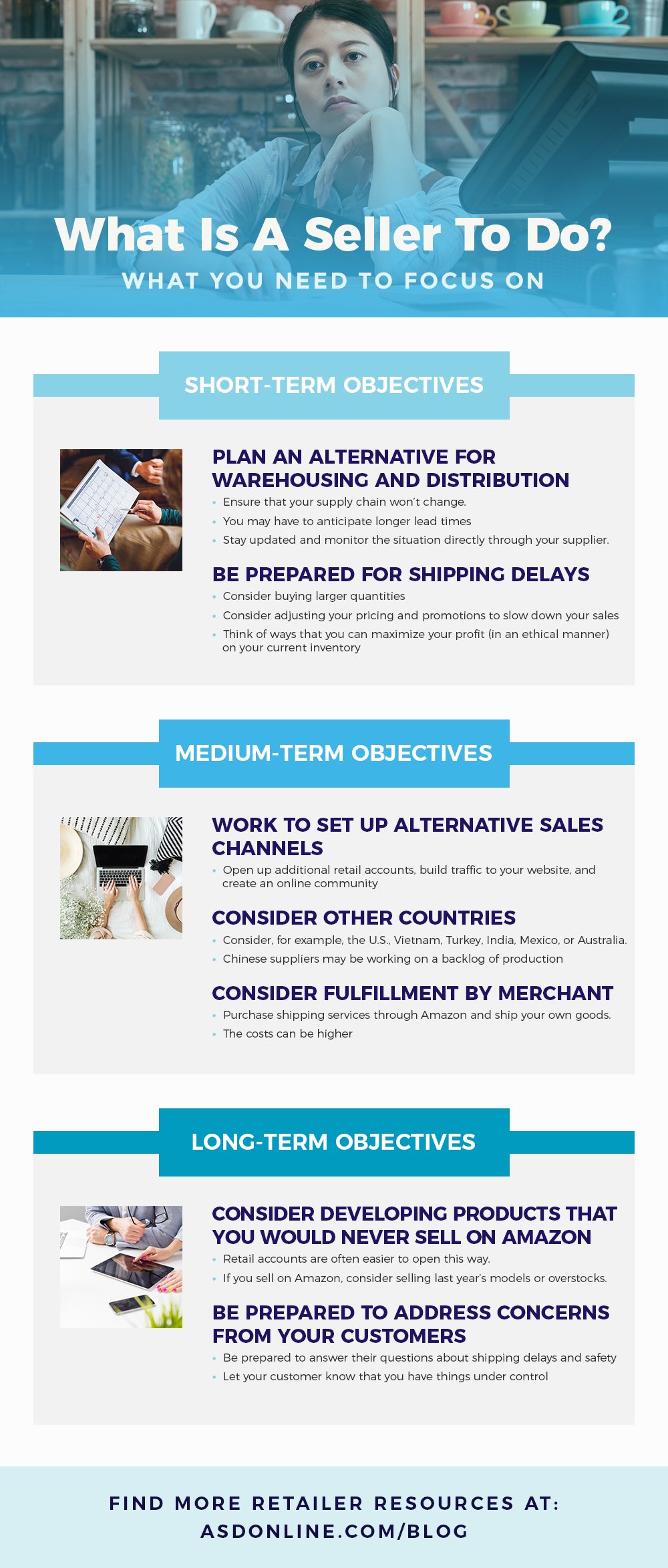 There are always going to be risks for small businesses selling online, especially on Amazon. With a few short, mid, and long-term objectives in place, many small e-commerce retailers can ride out the storm. This is also a reminder that all businesses should have a "rainy day" contingency plan in place. If online retailers can ride the wave of uncertainty, there may be a light at the end of the tunnel according to some experts.
Many people are ordering items online for the first time and it is likely that a significant number of them will continue to do so even after the pandemic subsides. The time being homebound is likely to lock in new behavior which will shift a large number of consumers to order things online that will then be delivered to their home or need to be picked up at the store.
Each week, the ASD team will be posting an update on what's happening with Amazon to help sellers navigate this crisis here on our blog. You can also follow what's happening in retail and COVID19 on our resource page or join the conversation on Facebook.