Last week, Congress passed the Stimulus Package(s) known as the Coronavirus Aid, Relief and Economic Security (CARES) Act. In order to help small businesses understand what it meant for them, First National Bank and Cohen & Co. held a webinar last week to discuss the CARES Act and what it could mean for small to medium-sized retailers. Gary C. Baker, founder and CPA of Chesapeake Business Advisors LLC, broke down what this means for businesses seeking loans and assistance. Here's what he had to share:
What the CARES Act Means for You as an Individual:
Individuals in the U.S. will receive a one-time stimulus check; these begin processing in about three weeks.
Individuals with less than $75,000 in income and married couples with less than $150,000 will be entitled to the $1,200 and $2,400 checks (respectively).
Each child of eligible taxpayers will entitle the parent/guardian to an additional $500 per child.
The Department of the Treasury will determine eligibility based on your most recent tax filing.
What the CARES Act Means for You as a Business:
There are two types of relief loans available nationally. There are also several states and local relief opportunities for business (see our complete list on our COVID-19 Resources Page). This article will focus on the federally available loans since they are more broadly available. The Small Business Association (SBA) now offers two types of loans for retailers impacted by the coronavirus (COVID-19):
SBA 7(a) Program Loans (also known as PPP Loans)
SBA EIDL Program Loans (Economic Injury Disaster Loans)
Both of these loans are designed for retailers (and all small businesses) to offset the impact of COVID-19). And unlike other SBA loans, owners do not have to put up collateral or personally guarantee the loans. Businesses also are not required to search for a loan elsewhere before applying for the SBA loan.
---
Understanding SBA 7a (PPP) Loans
Take note that eligibility includes independent contractors, sole proprietors/self-employed persons, and franchisees. This SBA 7(a) loan uses are broadly defined and can be used for things such as payroll, rent utilities and other operation related costs.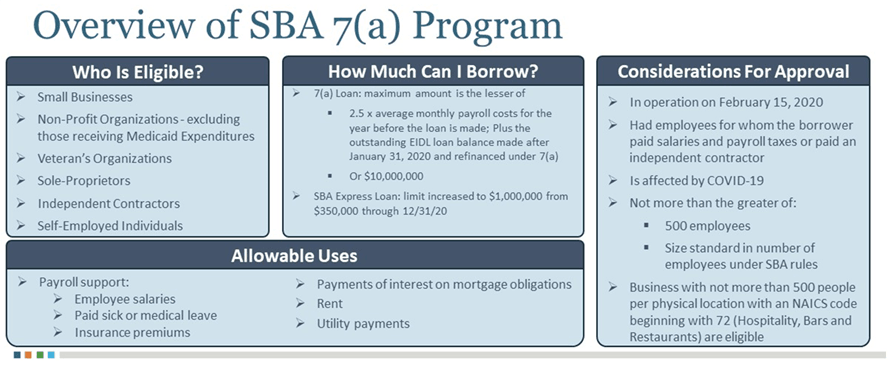 How these loans will work is still subject to guidelines that individual banks and credit unions will be issuing this week. In order to find out what they are, talk to your local bank, make sure they are a qualified SBA lender and discuss terms. Remember, these loans are issued by local banks, not the SBA itself. Check out a list of some of the SBA's most active lenders (there are over 1800 approved lenders), along with links where you can apply here.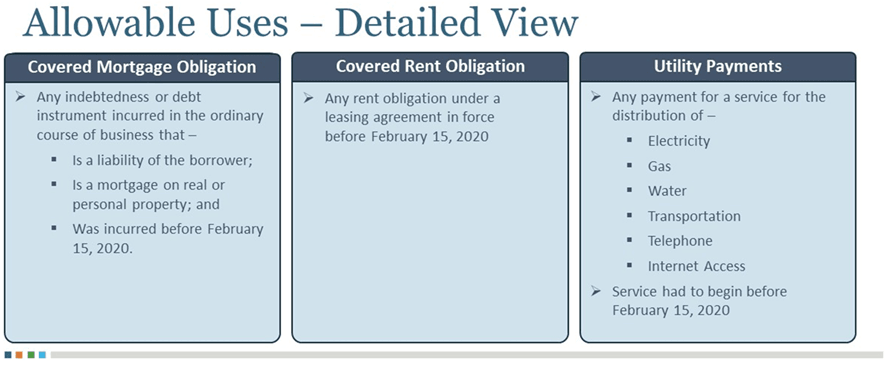 Loan terms are intended to be structured as: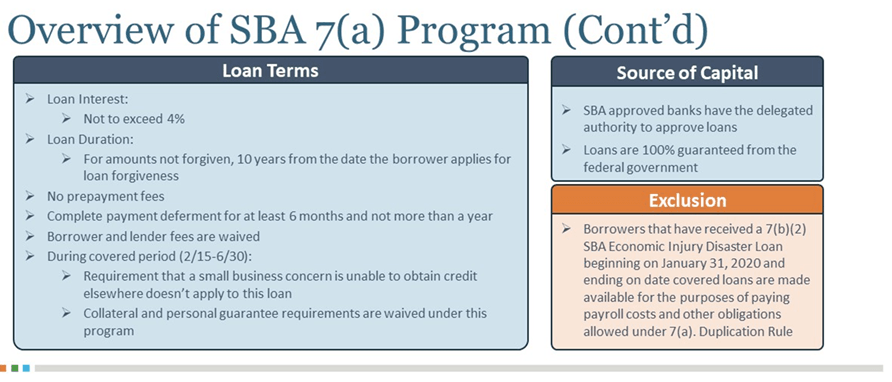 The loan application process is anticipated to work like this: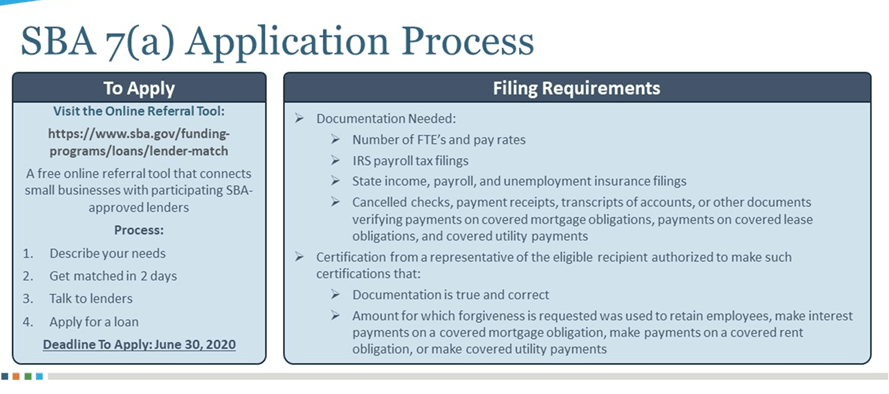 Pro Tip: Talk to your relationship banker NOW to let them know that you are interested. With these being forgivable with legitimate costs and reduced receipts, why not.
---
Understanding SBA EIDL Loans
The second type of loan that's available are the SBA EIDL loans. These loans are aimed at providing working capital. These loans will need to be repaid. While the provisions and terms have been eased, it may be better to apply for the SBA 7(a) loans as they can be forgiven if qualifications are met.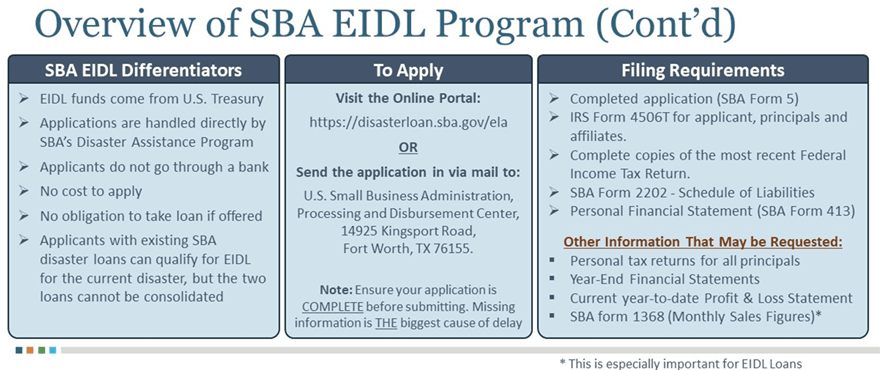 What makes the SBA EIDL loans different from the SBA 7(a) loans: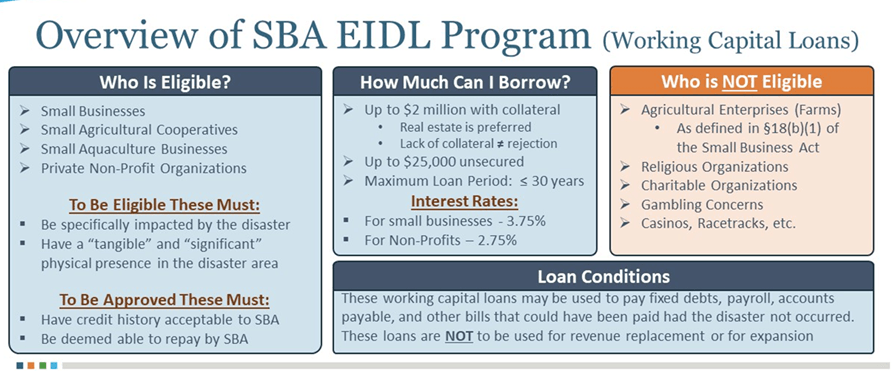 SBA and Banks Will Monitor For Fraud
Please be advised, there are legitimate controls to avoid manipulation of the loan forgiveness. For example, your payroll costs are tied to and contrasted with your pre-coronavirus costs. Also, your leases and utilities have to have been contracted for prior to 2/15/2020, they will review all of this. I would hope no one would try to take advantage to get more than they should legitimately be entitled to.
Retain Documentation For Loan Forgiveness
You will also want to retain and provide supporting documentation when you apply for loan forgiveness. Costs related to payroll, including health care, mortgage or rent and utility payments incurred in the eight weeks after you receive the loan can be deducted from the loan amount and not repaid. However, if you reduce your headcount in that time, that will also decrease the amount of loan forgiveness. Adding headcount will increase the amount forgiven. Independent contractors' wages can be included as employee payroll costs in the loan.
Where To Go From Here
These loans essentially "deputize" small businesses to act in distributing stimulus relief, in lieu of having the state unemployment offices (which are clogged, overwhelmed and largely ineffective in getting compensation out to affected employees/citizens). In my opinion, these loans will provide more equitable and immediate relief. These businesses, independent contractors and self-employed should also go to their banker to discuss options (understanding that these are the requirements). If need be, you should also reach out to the traditional unemployment offices to discuss your options/solutions.
To read and find out more about SBA loans, visit the SBA website. To find out more information on the tax breaks and benefits, visit the U.S. Chamber of Commerce website. If you want to find out how to convert business loans to grants, here's the process. You can also watch this video to help you determine how much you need.
---
Gary C. Baker is a tax expert and certified CPA at Chesapeake Business Advisors LLC. With 30 years of experience, Gary works a diverse group of small and medium-sized businesses to navigate tax laws and financial matters. He can be reached at gary@chesapeakecpa.pro.