At ASD Market Week, retail buyers can shop the largest selection of wholesale fashion footwear available in Las Vegas.
Just like accessories and jewelry, affordable footwear is an important part of any fashion retailer's product assortment. According to IBIS, fashion footwear sales have increased 15 percent in the last two years and are expected to reach over $32 billion dollars of in-store sales. Fashion footwear allows your customers to follow current fashion trends without a big investment in a pair of pricey shoes they'd wear for one season.
As the leading affordable footwear trade show, buyers have the chance to meet with hundreds of vendors from around the world who carry any type of footwear your customers regularly buy. If you want to test out new footwear categories or design your own private label shoes, ASD is your one-stop shop for men, women, and children.
TYPES OF FOOTWEAR YOU WILL FIND

You'll find all types of footwear at ASD. Here's a sample of what you'll see: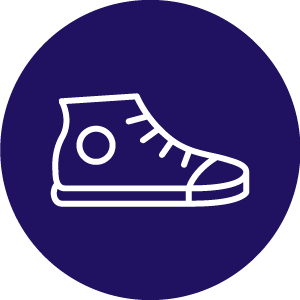 FOOTWEAR RETAILERS THAT
ATTEND ASD
Here's a sample of some of the stores that regularly attend our show each year:
2 Bella
10 Dollar Mall.com
10Spot/ Madrag
A'gaci
Akira
Alexander's Store
Altar'd State
Amazon.com
Ann Marie's Hallmark
Annie Sez
Asian Trends
Aysha
Bargain Club
Bealls Outlet
Bed, Bath, And Beyond
Belk's
Bijuju Accessories
Boscov's
Boyd Gaming Corp.
Burlington Coat Factory
Cititrends
Coppel
Curacao
Dii Stores
Drysdales
E-mart
Earthbound Trading Co.
Fabco Shoes
Fashion To Figure
Fashion Q
Five Below
Forever 21
Francesca Collections
Fredrick's Hallmark
Fuego
Gabbriel Brothers
Gen X
Gloss Boutique
Greatlookz
Groovys
Hermanos Batta
Hot Rags
Hottie World
Ideation Inc.
Integris Health
Jeans Warehouse
Jet.com
John's Shoes & Accessories
Kirlin's Hallmark
Kress
Harley-Davidson
Lazzaro Jewelry
Liberty Shoe Warehouse
Lillian Vernon
LOB
Lot Less Closeouts
Love Culture
Lulus.com
Marke 21
Marshall Retail Group
Mad Hatters Superstore
Melrose Family Fashions
Mercado Libre
Morongo Casino
National Stores / Fallas
Newbury Comics
Overstock.com
Parsons
Patricia Field
Povisa
Private Gallery
Quips N Quotes
Rainbow Apparel Companies
Runway Fashion Exchange
Sam Moon
San Diego Trading
Schwesers Stores
Sears Guatemala
Serena Fashions
SFO Forecast
Sheik Shoes
Shoedazzle
Shoe Gallery
Shoe Warehouse
Sixty.com
Stage Stores
Suzy Shier – Canada
Telco Stores
The Famous Mart
The Paper Store
The Warehouse
Tilly's
TJ Maxx
Todo Moda
Wakefields
Waldos
Walgreens
Williamsburg Pottery Factory
Windsor Fashions
Winners
Woolworths Barbados
Zulily
ASD Market Week is the most comprehensive B2B trade show for retailers.
Shop the widest selection of high margin products and on-trend merchandise - all at one place, at one time - with unprecedented access to over 1,800 vendors. Whether you have an online store, a brick-and-mortar business, or both, ASD is truly the wholesale buying event that can't be missed for any small to large sized retail, e-commerce, distribution, or importing business. 
Join us to connect with buyers and vendors live.