EXHIBITOR TOOLKIT
Find information on deadlines, rules, regulations, ordering furniture, and services.
This area is for current exhibitors only.
EXHIBITOR DASHBOARD
Start making valuable buyer connections today! Use the exhibitor dashboard to connect with buyers and find other valuable information.
SERVICE MANUAL
Your #1 resource for planning a successful exhibiting experience. Find shipping information, online ordering, and more.
EXHIBIT STAFF BADGES
All personnel accessing on the show floor are required to wear an "EXHIBITOR" badge at all times. For more information, visit the link below.
Free Custom Promotional Tools
Drive traffic to your booth with customizable graphics that can be added to your company blog, social media sites, the home page of your website, in email campaigns, newsletters, brochures and anywhere else where you'll want to be visible to buyers.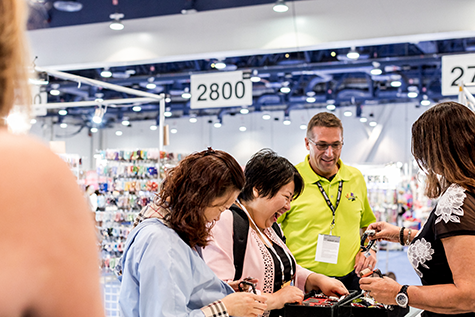 Do you have VIP buyer(s) you'd like to see at the upcoming ASD Market Week?
Nominate them through our VIP Hosted Buyer Program, and if they qualify, we will pay for their hotel and give YOU the credit. Please fill out the form below to nominate up to five key buyers you would like to see at the show. If you have any questions on the VIP Hosted Buyer Program, reach out to Pam Thompson, Attendee Concierge Specialist, at pam.thompson@emeraldx.com or at 623-544-0371. Spaces are very limited, so nominate your VIP today!
ROI Calculator 
With our ROI Calculator, in just 5 short minutes you can calculate your company's Buyer Interaction Capacity, Cost Per Interaction, Breakeven Point, Potential Sales and Return on Investment (ROI) for the investment you are making by participating in ASD Market Week.
New Exhibitor Resources
As a NEW exhibitor to ASD Market Week, we want to provide additional resources, tips, and best practices that will optimize your first-time exhibiting experience and make a lasting impression on the thousands of ASD buyers. Learn how to attract buyers to your profile by updating the Show Planner or take some time to share your product and story with thousands of ASD buyers. We also have some onboarding videos and good reads to get you started.
SHOW MOVE IN/MOVE OUT SCHEDULE
IMPORTANT EXHIBITOR FORMS
Coming Soon 
KNOW THE RULES
Exhibitors must abide by all booth rules and regulations as outlined within the service manual and exhibit space contract. Please be sure to review all ASD Market Week rules and regulation to avoid costly violation fees onsite. The ASD Market Week Service Manual contains important show information, rules and regulations, discount deadlines and all show services.
Did you know…
Freeman labor must install ground supported signs over the 8' drape line.
Hand carts and dollies are not permitted for exhibitor use.
Electricians must install all under-carpet electrical and manage distribution to all power points.
Banners, telescopic rods, etc., over 8 feet must be installed by Freeman.
Boxes, crates or packing material may not be stored anywhere in your booth.
Banners and flags may not exceed 12ft in height.
Cameras and video cameras are prohibited on the show floor.
During move-in and move-out, children under the age of 18 are NOT allowed on the show floor. On show open days, children under the age of 16 are NOT allowed on the show floor. Show management reserves the right to request proof of age for any person and restrict minors from the exhibitions floor at any time on any day for safety and liability reasons. No baby strollers are allowed on the exhibit floor.
Be sure to familiarize yourself with all ASD Market Week rules and regulations as provided in the Exhibitor Service Manual as they will be enforced.
Health & Safety
Review our most up-to-date health and safety guidelines for ASD Market Week here.
EARLY TEARDOWN POLICY
Early Breakdown Warning – Enforcement & Penalties
Early booth breakdown is strictly prohibited. An exhibitor is in violation of early breakdown if they start to break down their booth, remove product from their shelves, box up product and are unable to conduct business in their booth PRIOR TO 4:00 PM on Wednesday, August 23, 2023. Show Management will have teams of staff on the show floor the last day to enforce compliance of this policy. If your booth is breaking down, we will take photographs and your company will receive a fine of $500 for first time violators, $1,000 fine for 2nd time violators and 3rd time violators will forfeit opportunity to participate in the show.
Dollies, carts and other move-out equipment are not allowed on the show floor until after 4:00 PM on Wednesday, August 23, 2023.
STAFF BADGES
To ensure the safety and security of our exhibitors and attendees, ASD has put in place new badge allotment and pickup guidelines.
ASD MARKET WEEK does not mail badges. Each member of an exhibiting booth staff may only pick up their individual badge, and MAY NOT pick up any other badges for their group. Each staff member will receive an individual email confirmation to the email address provided during registration. Each person must bring their confirmation, business card and a photo ID to the BADGE PICK UP counter at registration to receive your badge.
Please be advised that when ordering your company's Exhibitor Badges, you should ONLY be registering your company personnel that will be working your booth at the Show and SHOULD NOT be registering any other members of the industry who are not employed by your company.
The authorized contact is the only staff member who can make additions and changes to your original badge request, both in advance and on-site at the Show. As an authorized contact you certify that the persons listed on Exhibitor Badge Registration are bona fide employees of your company. All violations are subject to a $500 fine. Any Exhibitor or authorized contact of an exhibitor found to be in violation of the show badge regulations is subject to a fine as well as the possible loss of their booth space.
All personnel accessing the show floor are required to wear an "EXHIBITOR" badge at all times. Each company is allotted 3 badges per 10 x 10 booth. If you need additional badges, there is a $60 administrative fee per badge. Lost badges are $100 to reprint. Your badge(s) are the property of ASD, and are non-transferable and may be revoked at any time. Please note that if you misplace your badge you are jeopardizing the security of ASD.
ASD is committed to ensuring the authenticity of exhibitor and attendee badges. Please be sure to keep your ID on your person at all times, as we will require you to show it each time you enter the hall.
If you have any questions or changes to your registration information, contact us.
ASD OFFICIAL AUTHORIZED VENDORS
Hotel & Travel – OnPeak
Attendee/Exhibitor Email Provider – Reach Marketing
Email List Rental Provider – Reach Marketing
Lead Retrieval – Maritz Global Events
Onsite Promotion – Expomarkit
Attendee/Exhibitor Registration – Maritz Global Events
General Service for Onsite:

Furnishings, Freight, Labor – Freeman
Electrical – Freeman

Onsite Catering – Centerplate
IMPORTANT – You may be contacted by third party companies purportedly offering services related to the event. Please be aware that, despite potentially confusing language in their solicitations to you, many of these companies are not affiliated in any way with the event, are not endorsed by us, and may be offering services that are either subpar, misleading, or fraudulent. We do not in any way endorse or condone these companies and we are not responsible for their behavior. Any business arrangements regarding the event that you may make through unaffiliated third-party companies are at your own risk and expense.
ASD POLICY FOR HEMP, CANNABIS, VAPE & KRATOM PRODUCTS
Emerald/ASD Policy for Hemp, Cannabis, Vape & Kratom Products
Strict Compliance with Venue Requirements
THC (from Cannabis) & Delta 7,8,10:
*THC (from Cannabis) & Delta 7,8,10 containing products may not be sold, promoted, displayed, or distributed (no sampling). Smoking or consuming cannabis products is strictly prohibited.
*NRS 453.139  "THC" defined.  "THC" means delta-9-tetrahydrocannabinol and any structural, optical, or geometric isomer thereof, including, without limitation:
1.  Delta-8-tetrahydrocannabinol;
2.  Delta-7-tetrahydrocannabinol; and
3.  Delta-10-tetrahydrocannabinol.
(Added to NRS by 2015, 3085; A 2021, 3155)
CBD (Cannabidiol) & Hemp-Based Products:

Edible / Ingestible CBD products (tinctures, gummies, pills/capsules, beverages, food, etc):  No personal sales, giveaways, or samplings (wholesale order-writing only):  No edible / ingestible CBD products may be sold, distributed, or sampled at the LVCC, regardless of THC concentration level. Enclosed displays of sealed CBD products will be allowed and must be monitored by the exhibitor to ensure that CBD products are not removed from the display at any time.
Vaping or any form of smoking of CBD is prohibited. Vaping or smoking of CBD or any product is strictly prohibited within the LVCC.
Non–edible CBD products (oils/topicals): Sampling allowed. Non-edible/ingestible CBD products may be distributed as free samples, provided product is not adulterated or misbranded.
Hemp Products: Exhibitors may only distribute samples or take orders for delivery sales of Hemp products, if they comply with the requirements of NRS Chapter 439.532 – Testing and labeling of certain products containing cannabidiol; regulations. [Effective January 1, 2022.] and all applicable federal laws.
Kratom:

No personal sales, giveaways, or samplings (wholesale order-writing only) for any Kratom products (and any similar product extensions). No Kratom products (and any similar product extensions) may be sold, distributed or sampled at the LVCC. Enclosed displays of sealed Kratom products may be allowed and must be monitored by the exhibitor to ensure that products are not removed from the display at any time.
Smoking/Vaping Policy:

Smoking (including cigars, Vape devices, and E-cigs) is NOT permitted in the exhibit hall or any area inside the Las Vegas Convention Center (lobby, registration areas, restrooms, meeting rooms, waiting areas, etc.)​​​​​​.
Enforcement of Policies
Emerald staff/security must actively monitor and prohibit the sale of edible / ingestible CBD products and THC products onsite.  Any exhibitor who violates policy will be immediately evicted from trade show floor.
NEW! ATTN: TOBACCO VENDORS AT ASD – YOU NEED AN EVENT SPECIFIC TOBACCO LICENSE
Please be aware that, under Nevada Law, it is mandatory that all exhibitors displaying/distributing cigarettes and/or Other Tobacco Products (OTP*) must apply for an Event Specific License from State of Nevada Department of Taxation. This includes current Nevada Licensees. The application is free and must be submitted at least 30 days prior to ASD. If your application is not approved and/or you do not receive the approval letter before the show, you are not allowed to sell or distribute any tobacco products.
*OTP includes and is not limited to: cigarettes, other tobacco products, alternative nicotine products, vapor products and/or their components; electronic nicotine delivery system, E-Juice products (including zero-nicotine)
Download the Application for Event Specific Tobacco Licensing: https://asd.a2zinc.net/August2023/CUSTOM/ASDA2023/EventSpecificExciseForm-Cig%20OTP.pdf
Submit your application asap directly to the State of Nevada, Department of Taxation:
Email: Taxation-AdminMSA@tax.state.nv.us
Subject Line: ASD MarketWeek 2024 Vendor
We recommend that the Event Specific License is on display in your booth so the Department can see it while walking around the show. If it is not on display, then it must be available upon request.
HELPFUL EXHIBITOR INFORMATION
Get tradeshow ready with these valuable tips and learn Freeman's best practices:
Join us to connect with buyers and vendors live.