PRODUCT & BUYER CATEGORIES
ASD Market Week brings the world's widest variety of  wholesale merchandise together in one efficient trade show that's as easy to shop as it is to love. ASD is loaded with quality choices at every price point. This well established trade show continues to grow, attracting tens of thousands of loyal buyers from every retail and distribution channel across the globe.
Retail buyers range from Mass Merchants to Independent Specialty Stores, from Convenience Stores to Department Stores, from Hotels and Resorts to Carwashes, from Airport Gift Shops to Dollar Stores.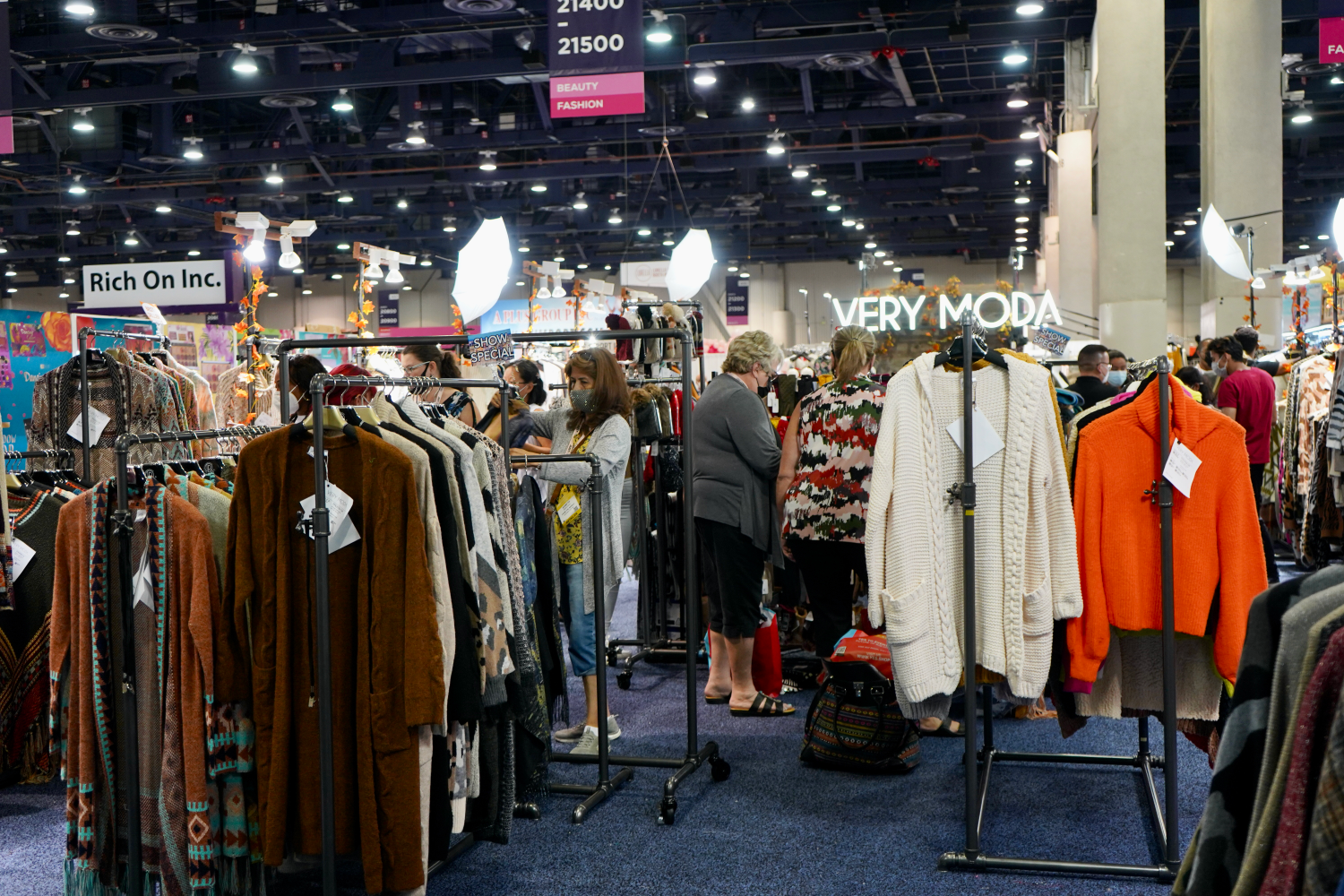 BUYER TYPES AT ASD MARKET WEEK
If you are a buyer in a specific product category, you can find additional information here on how to best make ASD Market Week work for you, as well as find a general overview of the goods found in each one of our show areas.
Find great products for your store, no matter what you sell!
PRODUCT CATEGORIES: NINE SHOWS. ONE LOCATION.
As you can see from the list above, there is something for every buyer at ASD. Here is an overview of the types of products you will find in each one of our show areas. Looking for something specific or need more information? Use our SourceDirect factory matchmaking program or our ASD matchmaking program to set up a customized buying experience for your store.
Gift + Home Accents
Art, Craft, & Hobby • Dolls & Figurines • Gourmet & Specialty Food • Pet Products • Promotional/Imprinted Items • Religious & Spiritual • Stationery, Cards, Gift Wrap • Military Collectibles • Wedding & Bridal
Licensed Merchandise
Collegiate & Major League Sports • Characters, Brands, Entertainment
Holiday/Seasonal
Christmas • Halloween • Other
Home
Bed & Bath • Furniture, Lamps, Lighting • Housewares, Kitchenware, Tabletop • Small Appliances • Interior Décor • Outdoor, Lawn, Garden Décor • Floral & Floral Supplies
Cash + Carry
Jewelry + Gifts to Go
Sterling Silver • Accessories & Costume Jewelry • Gifts to Go
General Store + Closeouts
General Merchandise
Automotive • Electronics & Accessories: Cellphone, Bluetooth, Ear buds, Wireless Speakers, Carry Cases • Equipment: Tablets, Cameras, PDAs, DVD Players, TVs, MP3 Players • Personal Security/Tactical Equipment • Sporting Goods • Camping/Outdoor Recreation • Closeouts & Liquidation • Dollar Store Items • Office & School Supplies • Home Improvement: Hardware, Tools • Travel Accessories
Fashion + Accessories
Accessories
Costume Jewelry • Handbags • Hats & Scarves • Sunglasses & Eyewear • Small Leather Goods • Watches
Shoes
Sandals • Fashion Heels • Casual • Rain Boots
Beauty + Fragrance
Cosmetics • Nail and Hair Products • Styling Tools • Fragrance • Spa Equipment & Treatments
Convenience Store
Snacks & Energy Drinks • Lighters & e-Cigarettes • Travel Size Productions • Over the Counter • Adult Novelty • Herbal Supplements
Alternative Lifestyle
Hemp • CBD • Smoke • Vape • Pipe • Tech • eCigarettes • Vapor/Tanks/Mods • Hookahs/eHookahs • eLiquid • Pipes • Lighters • Smoking Accessories • Enhancements • Herbal Supplements
Souvenir + Novelty
Toys • Games • Puzzles • Collectibles • Keepsakes • Novelties
SourceDirect at ASD
Gifts & Handicrafts • Consumer Electronics • Fashion Accessories • Home & Garden • Apparel & Footwear • Outdoor • Beauty • Toys & Novelties • General Merchandise • Smoke Accessories
Join us to connect with buyers and vendors live.