Getting to the Covention Center
Show Location
Las Vegas Convention Center
3150 Paradise Road
Las Vegas, NV 89101
P: 702-892-0711
Directions to Las Vegas Convention Center
Parking at the Convention Center
The current parking fee is $10.00 per space with in and out privileges. Anyone leaving the Las Vegas Convention Center and planning to return the same day can get their ticket stamped for re-entry. Where allowed, vehicles taking up more than one standard parking space will be charged accordingly upon entry when paid parking is in effect.
Let the Las Vegas Monorail be your Transportation Solution! The Las Vegas Monorail provides a quick and reliable transportation alternative for leisure and business travelers on the Las Vegas Strip. Directly connected to several Strip resort hotels as well as the Las Vegas Convention Center, the Monorail is the easiest, fastest and most convenient way to get from one end of the Strip to the other in just minutes. Trains arrive every few minutes at each of our seven stations: MGM Grand Station, Horseshoe/Paris Las Vegas Station, Flamingo/Caesars Palace Station, Harrah's/TheLINQ Station, Boingo Station at Las Vegas Convention Center Station, Westgate Las Vegas Station and SAHARA Las Vegas Station. The system is open 7 a.m. to Midnight Monday, 7 a.m. to 2 a.m. Tuesday through Thursday and 7 a.m. to 3 a.m. Friday through Sunday. 
The Las Vegas Monorail is offering ASD 2023 attendees exclusive fare discounts. Purchase exclusive discounts here and Let your phone be your ticket to ride! Skip the line and scan your phone right at the gate (paper tickets are still available at ticket vending machines and customer service desks on the station for full price). Use the Monorail to travel the Strip and to the convention without the hassles of traffic and wasted time. In minutes, Monorail riders can travel the Las Vegas Strip in a safe, clean, and climate-controlled environment. 
Moving Around the Convention Center
Vegas Loop at Las Vegas Convention Center
The Las Vegas Convention Center also offers fast, convenient, free on-campus transportation!
Looking to travel around the Las Vegas Convention Center campus? Vegas Loop at the Las Vegas Convention Center quickly transports passengers throughout the 200-acre Las Vegas Convention Center campus in a fun and convenient way, free of charge. The system consists of two one-way, .8-mile-long tunnels built to accommodate all-electric Tesla vehicles driving at speeds of up to 35 mph. Four passenger stations offer convenient access between the new West Hall and the existing campus (North/Central/South Halls). Typical walk time between the West Hall to the existing North/Central Hall can take up to 25 minutes. The same trip on LVCC Loop takes approximately 2 minutes
Attendees can access Vegas Loop at Las Vegas Convention Center via four stations:
South Station – Adjacent to South Hall, this station is located aboveground
Central Station – Near the Central Hall Main Entrance, this station is located belowground and is accessible via escalator or elevator
West Station – Adjacent to West Hall, this station is located aboveground
Riviera Station – At the North side of the West Hall closest to Elvis Presley Drive, with direct access to Resorts World. This station is located aboveground.
New for 2023
The Vegas Loop has officially opened the Resorts World Passenger Station, providing direct access to and from the Las Vegas Convention Center. Riders can now access the Resorts World station from any of the Convention Center stations (South Station, Central station, West Station and Riviera Station).
There is currently no charge to travel between stations at the Convention Center or from The Convention Center to Resorts World Station.
Click here  to purchase tickets for rides departing from Resorts World. Hours of operation will vary based upon event calendar at the Las Vegas Convention Center.
ASD Campus Shuttle
Service between North/Central and West Halls from 9:00 AM to 6:00 PM Sunday through Tuesday, and 9:00 AM to 4:00 PM on Wednesday.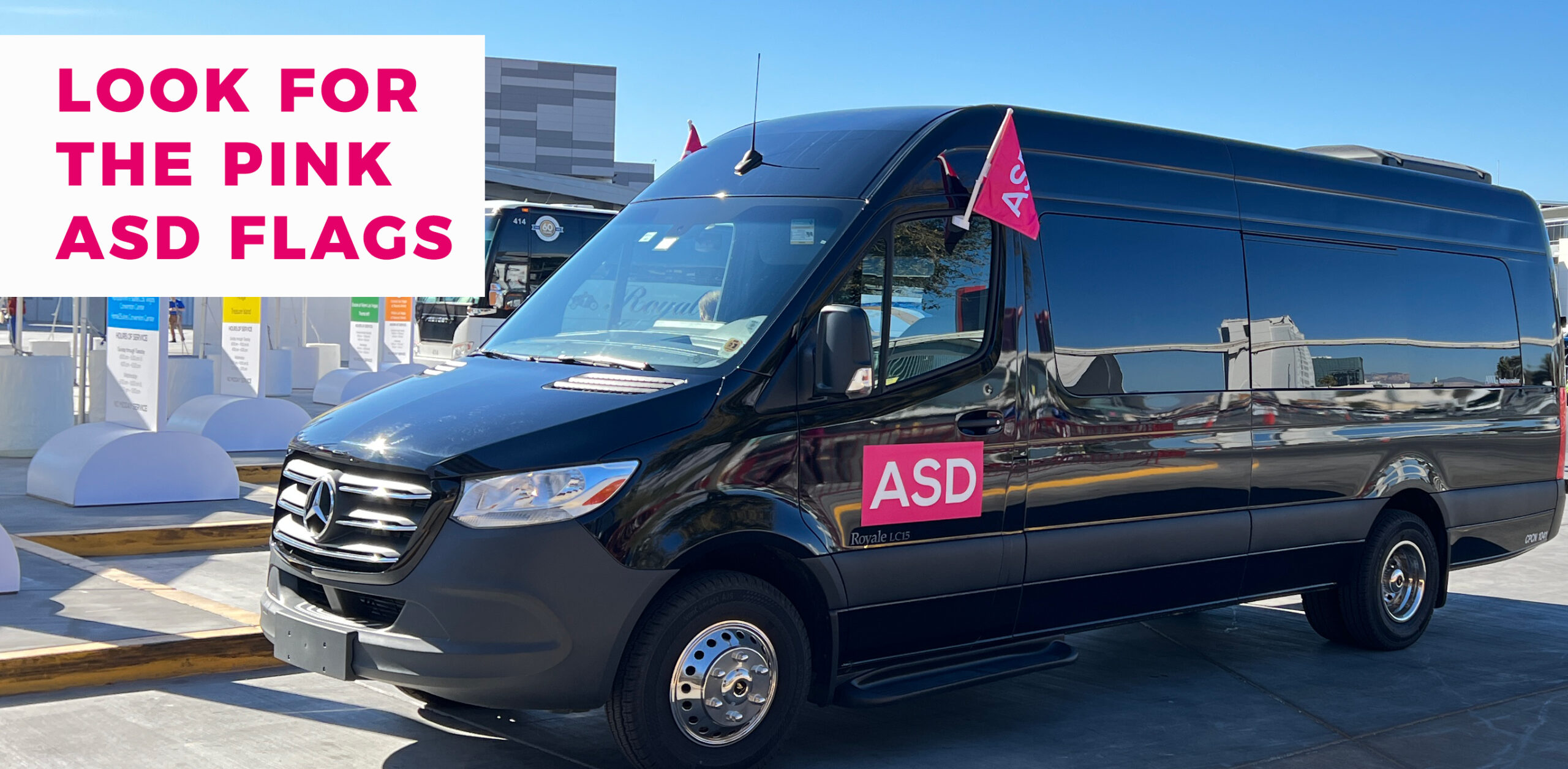 If you are looking to reserve a scooter for ASD Market Week, you can reserve online at www.scootaround.com or by calling 888-441-7575.
Join us to connect with buyers and vendors live.