PARTY / PAPER / CARD / STATIONERY
ASD is one of the longest-running wholesale party supply and paper goods trade shows in the U.S.

Are you a party supply store, or do you operate a seasonal business that sells holiday merchandise? Does your business sell paper goods, party favors, or cards and seasonal items related to important events and holidays found around the globe? Well, then as a seller of products that inspire happiness and holiday delight, you'll want to check out ASD!
Whether you're a buyer looking to find that next "it" line of inspirational cards or you're a distributor looking for large quantities of closeout, seasonal merchandise at a low price, you can find party supplies and paper goods products to fit the needs of any customer you may have.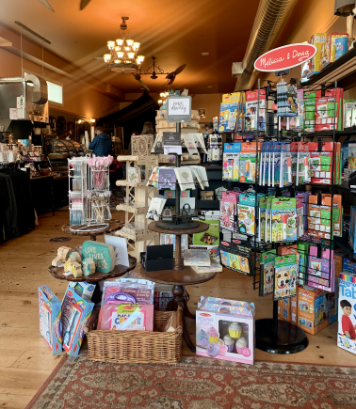 TYPES OF WHOLESALE PAPER AND PARTY MERCHANDISE YOU WILL FIND
You'll find all types of wholesale stationery, paper, and cards at ASD. Here's a sample of what you'll see:
Balloons
Birthday Supplies
Christmas Decorations
Gift Boxes and Gift Bags
Greeting Cards
Halloween Decorations
Hanukkah Decorations
Holiday Cards
Paper Plates
Party Favors and Supplies
Ribbons
School Supplies
Quinceañera Decorations
Thanksgiving Decorations
Wedding Supplies
Wapping Paper
STATIONERY RETAILERS THAT ATTEND ASD
Here's a sample of some of the stores that regularly attend our show each year:
Aahs
Ace Hardware
Amazon
Ameristar Casinos
Bavarian Inn Lodge
Bay Retail Enterprise
Bonanza Dollar General
Boyd Gaming Corporation
Calendar Club
Calgary Zoo
Canadian Museums Assoc.
Caesars Entertainment
Circus Circus
Coach House Gifts
Country Club Lanes
Dennys Wigwam
Discovery Children's Museum
Dollar Days International
E-mart
Eastside Cannery Resort & Casino
Elam's Hallmark
Event Network
Family Entertainment Group
Fossil Rim Wildlife Center
Gabriel Brothers
Gordman's
Hallmark
Four Season HotelGabriel Brothers
Gordman's
Hallmark
Hastings Entertainment
Henry Vilas Zoo
Hobby Lobby
Hoover Dam Store
Ideation
Jet.com
Kelly's House and Home
Kidding Around Toys
Kirlins Hallmark
Lake Powell Resorts & Marinas
Lowry Park Zoo
Mars Retail Group
Marshall Retail Group
Medieval Times
MGM Resorts
Morongo Casino
Museum Store Assoc. (MSA)
Nevada State Museum
Old Mission San Luis Rey Gift Shop
Omaha Zoo
Pacific Gateway Concessions
Party City
Reptile Rescue of SoCal
Rock And Roll Hall of Fame Museum
San Diego Zoo Sedgwick County Zoo
Six Flags
SFO Forecast
Shoshone Museum Assoc.
SLS Hotel
Southwest Buying Group
St. Louis Zoo
The Paper Store
The Paradies Shops
The Walt Disney Company
Toys Landia
Toy World
Treasure Island
True Value
UCLA Bookstore
USC Bookstore
Wet N Wild
ASD Market Week is the most comprehensive B2B trade show for retailers.
Shop the widest selection of high margin products and on-trend merchandise – all at one place, at one time – with unprecedented access to over 1,800 vendors.
Whether you have an online store, a brick-and-mortar business, or both, ASD is truly the wholesale buying event that can't be missed for any small to large sized retail, e-commerce, distribution, or importing business.
Join us to connect with buyers and vendors live.