What first impression does your retail store make on customers? Is it driving them to come inside? Is it leading them to browse effortlessly and comfortably? Are they able to easily locate what they're looking for or do they leave in frustration to find it elsewhere?
Considering that customers subconsciously make judgments about retail stores in 10 seconds or less, first impressions are key to creating loyal customers and repeat sales. One of the easiest and most effective ways to provide that positive impression is through in-store visual merchandising.
Visual merchandising is the unseen salesperson in your store. Often, it can be the decision-making factor between a customer who is excited to enter and shop your products, and one who walks in once and never returns. Or even worse, doesn't bother stepping inside.
Because of this, it is necessary to include visual merchandising in your overall strategy. A well-thought-out plan that creates merchandising magic for you and your revenue goals.
Below are steps on how to merchandise products for an unforgettable and profitable in-store experience for you and your customers.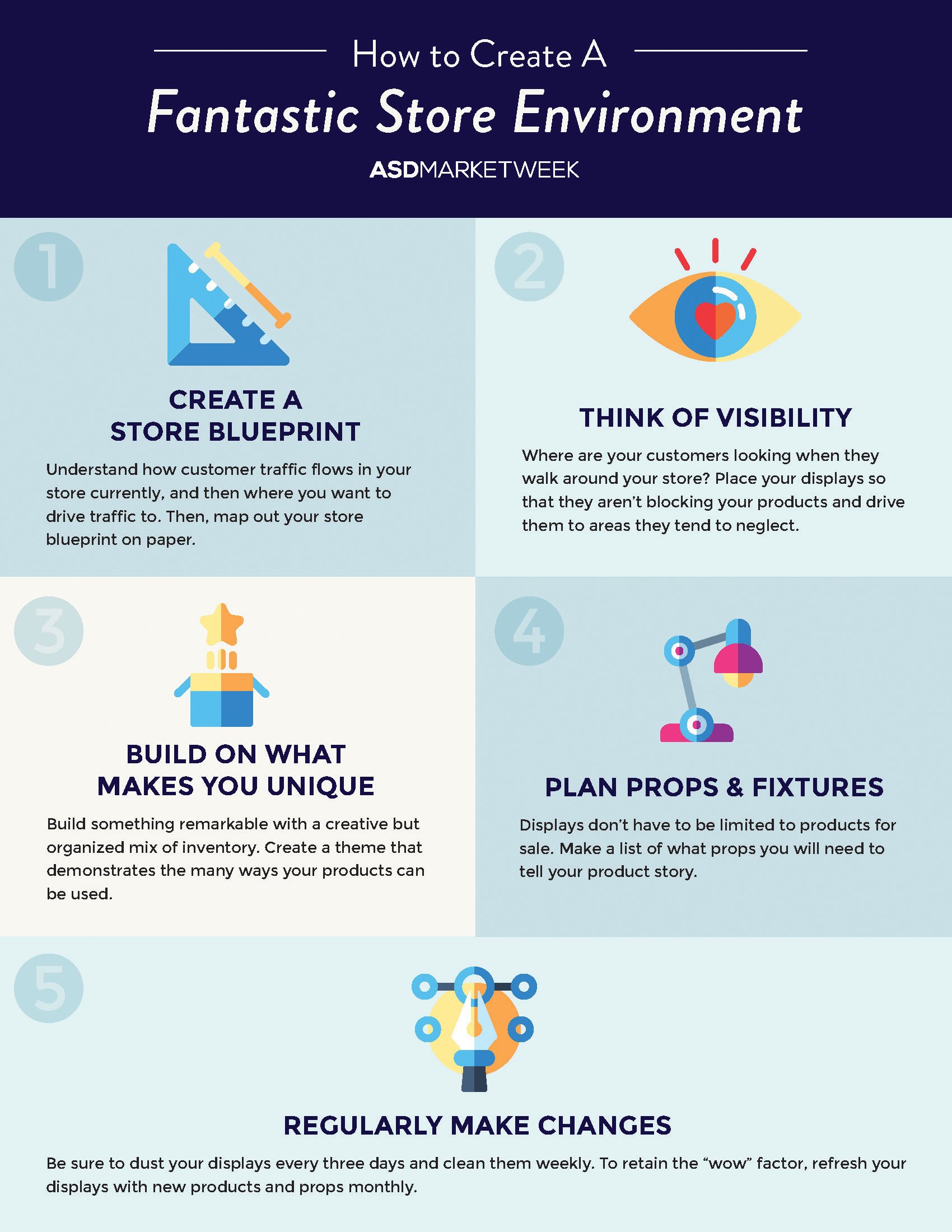 ---
Step #1: Create a Store Blueprint
Something to consider – most customers tend to follow the same patterns when shopping.
In general, most need a 5 to 15-foot decompression zone to get their bearings when they first enter a store. Then, they tend to veer to the right when beginning to shop.
But take some time to understand how customer traffic flows in your store. This will help when mapping out the basics. Or choosing the right floor plan for your products and target customers.
First, identify key traffic areas and where customers stop when entering your store. Do they move to your accessories section at the left of the store or do they walk through each aisle?
Now answer this important question. Are your customers being directed to the sections of your store that you want to drive traffic to? Based on the kind of store you have, you might have more success with a different retail store floor plan.
Once you have decided your store flow, begin mapping out your store blueprint on paper. Constructing your store blueprint with an awareness of customer behavioral patterns you need will be your kick-start in creating a shopping experience that incites more from your customers.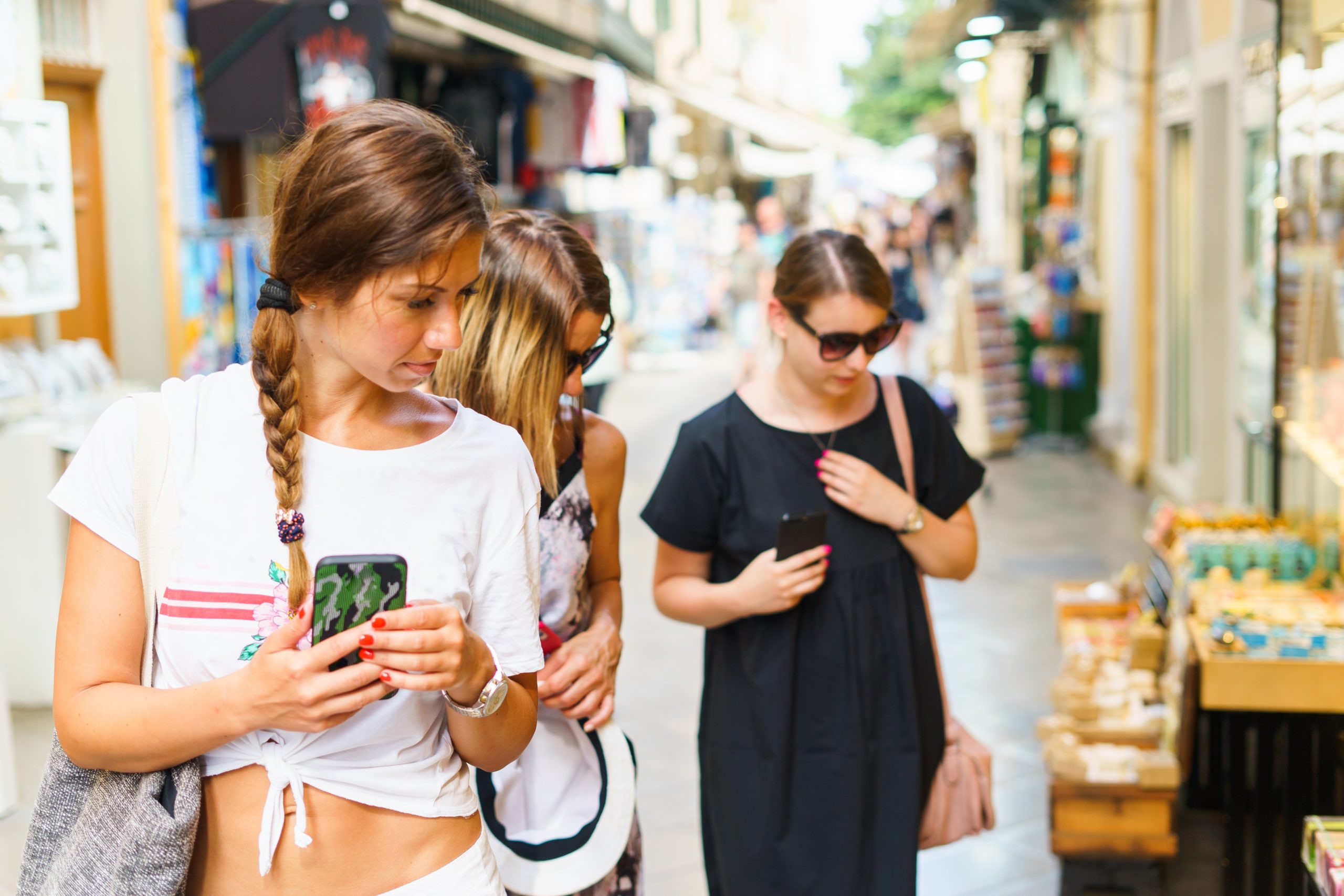 ---
Step #2: Think of Visibility
If your floor plan directs your customers' flow, your displays consider your customers' line of vision. Where are your customers looking when they walk around your store? Your displays should be a major draw for their eyes and attention.
At the least, they should be placed in a way that isn't blocking your customers' view of your products. For example, if you're using walls to display your inventory, keep tables and fixtures low enough that customers can see behind them.
At their most powerful, they should be exciting, eye-catching, and driving bodies in your store for longer amounts of time.
Encourage the flow of customer traffic by placing compelling visual displays in areas of your store that your customers tend to neglect. And to avoid visually overwhelming your customers, merchandise products from light to dark, small to large, and left to right.
---
Free Resource: Expert insight on taking your store merchandising a step further. Download now. 
---
---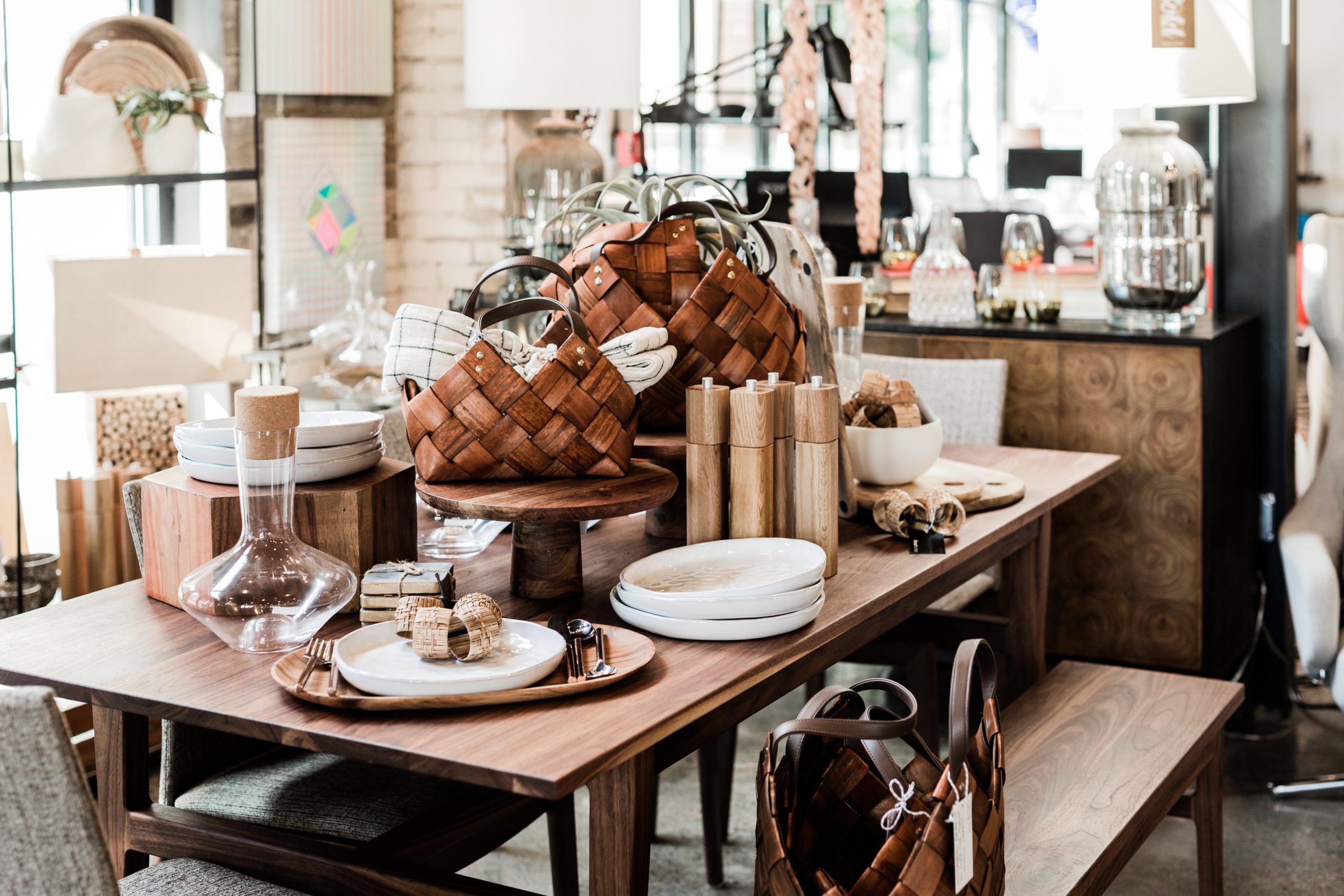 ---
Step #3: Build on What Makes You Unique
Now that you have established your floor plan and visibility in terms of driving customer flow, it's time to create an experience your customers will remember you for.
In 2018, only 14.3 percent of total retail sales were represented by e-commerce. That means customers still prefer to buy in brick-and-mortar stores. But when customers go to brick-and-mortar stores today, they are looking for remarkable retail experiences, not the same old thing.
This allows you the opportunity to provide them with something different. Try jazzing up your retail displays with a creative but organized mix of inventory.
Georganne Bender, retail expert and consultant, suggests:
"Be eclectic. Don't just focus on one thing. For example, a handbag display that's just handbags is boring. Think about other things a woman might carry with her during the day – a wallet, a makeup bag, a necklace, or a scarf. Display these things together to tell a story."
There are endless opportunities to play up your product features without saying a word. Don't be afraid to let your imagination run wild.
Create a theme that demonstrates the many ways your products can be used in your customers' everyday life or an idea of what your products will look and feel like in your customers' homes. Props, wall murals, and techy interactive displays all give your customers something a little more interesting to enrich their shopping experience and make your store stand out from the rest.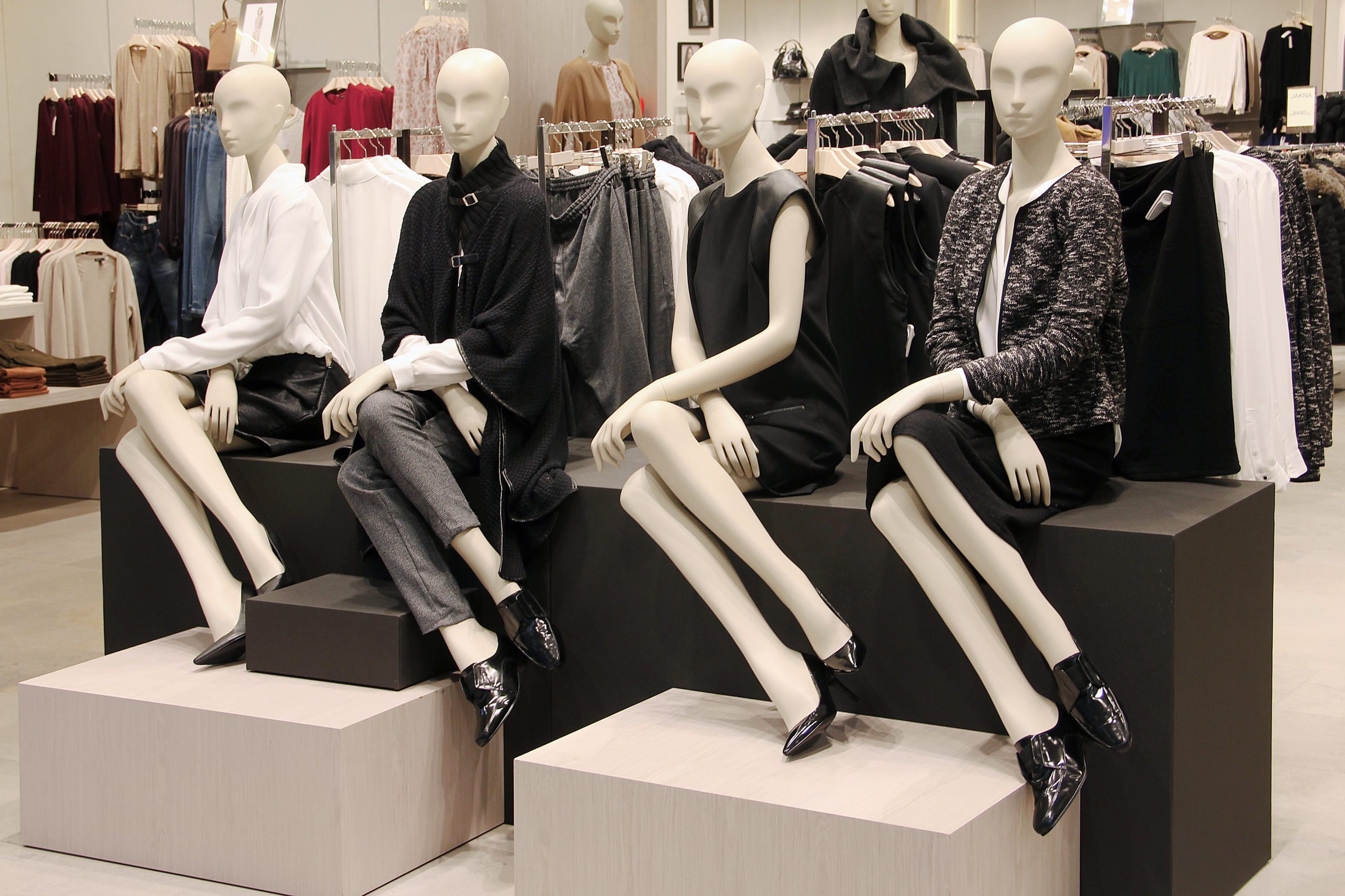 ---
Step #4: Plan Out Your Props and Fixtures
"A great visual merchandising tactic is to contextualize your products by lifestyle. Dover Street Market does this brilliantly styling new season pieces with the right selection of accessories, art, books, fragrance, and homeware, acting as (shoppable) props. Anthropologie is also a great example – a well-placed scented candle, silk scarf or vase can instantly increase basket spend," said Cate Trotter, Insider Trends.
Displays don't have to be limited to products for sale. When planning out your store's display props and fixtures, ask yourself what message or theme you are trying to get across. What is it about your product features you would like to call attention to?
What is your products' story? By mapping out your story ahead of time you can create a cohesive visual in-store experience with your props and fixtures without the risk of bordering on kitsch.
From there, make a list of what props you will need to make your in-store displays work. This is the step where you can have some fun and showcase your store's unique personality. So, again, don't be afraid to go a little off the beaten path. And don't forget to consider how your customers' eyes will travel around your store in the process. Remember, visibility comes first when choosing prop and fixture heights.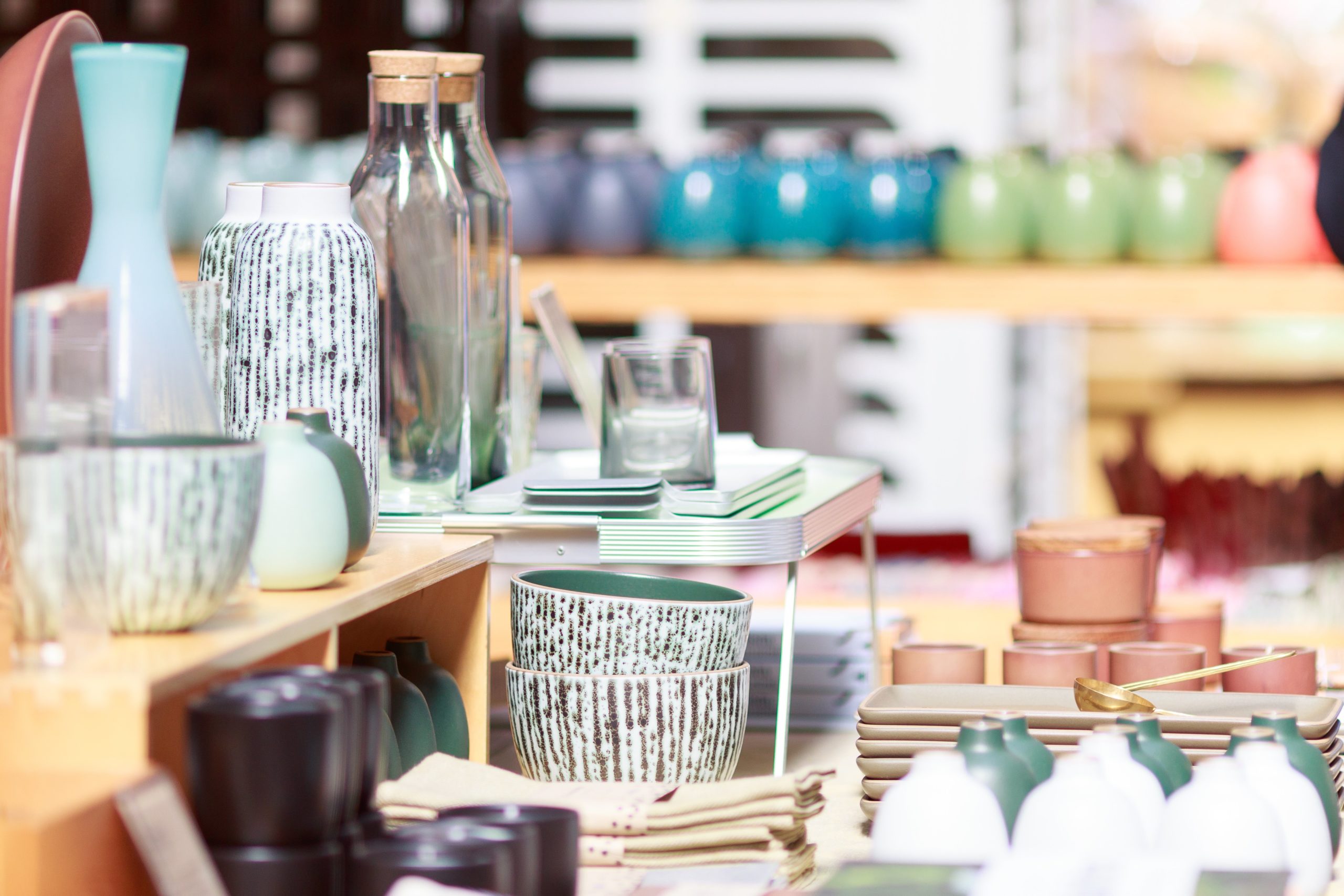 ---
Step #5: Regularly Change Your Displays
So, you've taken some time to plan your customer flow with the store layout and visibility. You've created displays full of captivating themes, and you've carried out a merchandising plan you can be happy with.
Sorry to say, but now's not the time to get comfortable. Your in-store displays need to engage your customers every time they come into your store to capture customer interest from first-time visitors and achieve the most conversions from regulars.
Be sure to dust your displays every three days and clean them weekly so they look fresh and appealing to every customer every time. A little extra display maintenance can go a long way towards engaging new customers and encouraging customer loyalty.
And to retain the "wow" factor you get from all your planning, you must refresh your displays with new products and props at least on a monthly basis.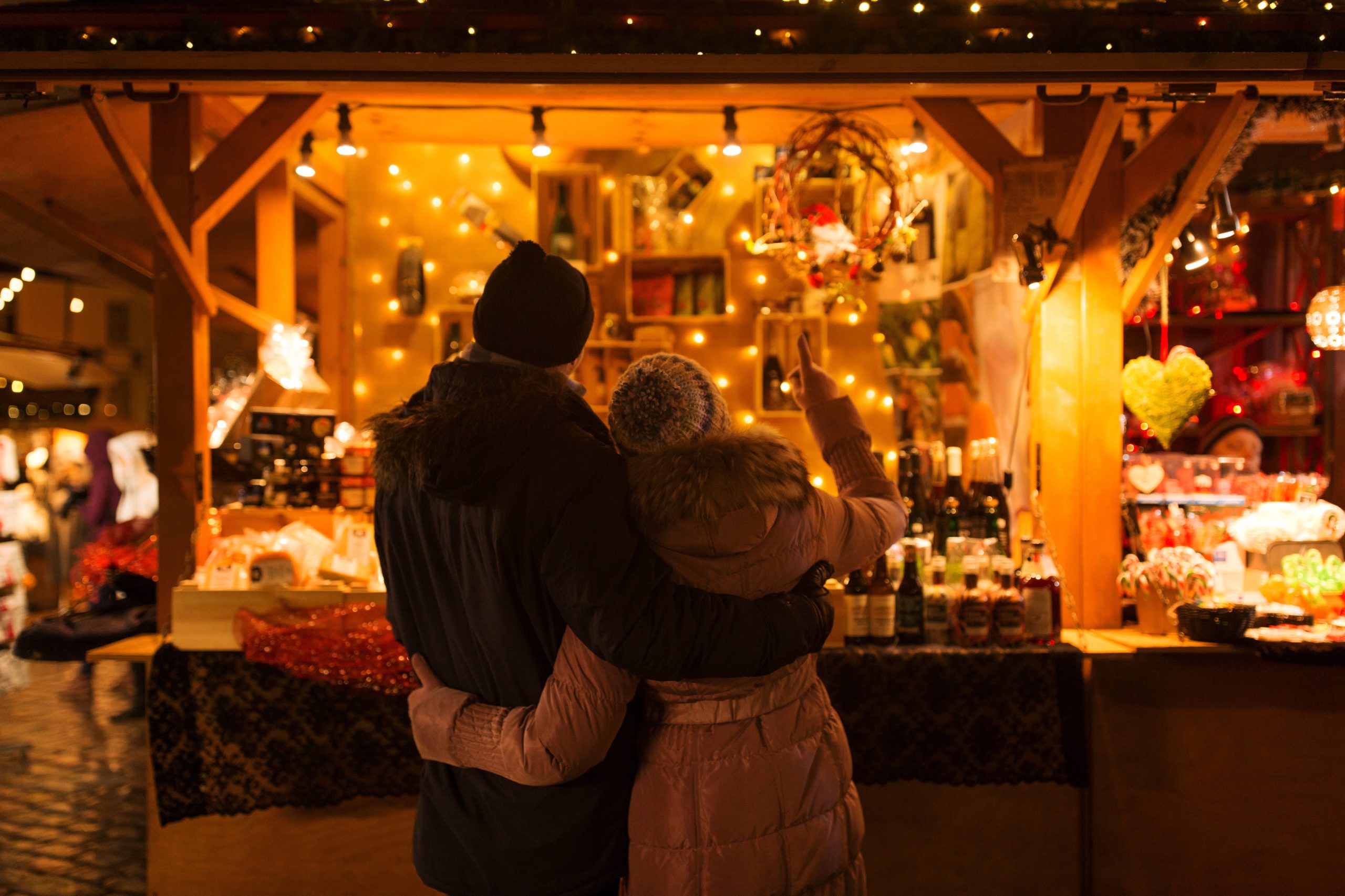 How you merchandise your space sets the tone for your customers' in-store experience. Choose your displays, props, and fixtures with an awareness of how you want to direct traffic throughout your store to encourage browsing and ultimately boost in-store conversions.
---
Interested in attending ASD Market Week, where you can learn everything you need to build your business and increase profitability for your company? Register today.
---
*Updated by Gina Lemon. Gina Lemon is a writer focused on B2B marketing. She is an Email Marketing Manager at Emerald Expositions, for ASD Market Week. Born and branded in Virginia and Maryland, she spends part of her days looking for ways to use her music degree. The rest of her time writing content to help retail businesses succeed.