SEO, SEM and email marketing are usually the top three best performing marketing channels for retailers in terms of generating customer sales. Here are 10 expert tips for creating emails that convert into sales revenue.
---
With so many advanced marketing tools at our figure tips and new ones continually becoming available, people have been expecting the death of email marketing for years. Email marketing is now one of our oldest forms of communication; even with the advancements with chat, social media, and AI, you would think email would get left behind. But it hasn't. 
Marketers still understand the power of email marketing with 59 percent who say email is their biggest source of ROI. Contrary to what's been said, email marketing isn't going anywhere, and if you're not using email to connect with your customers and bolster your sales, your business is missing out on a lot of potential.
What is Email Marketing? And Why Does It Work So Well?
Email marketing is the practice of using email to communicate, usually with the purpose of soliciting business or other conversions, to one or more people. Since 1978, companies have been using emails to sell their products, and its effectiveness continues to impress. Think about it, everyone you know has an email address. Practically everything you sign up for requires an email address, and it is arguably, the most direct line to a person. So many business owners think other marketing channels bring bigger results, but that's not always true. For example, 90 percent of email gets delivered, but only 2 percent of your Facebook fans see your posts in their News Feed. Here's how you can make email marketing work for your business.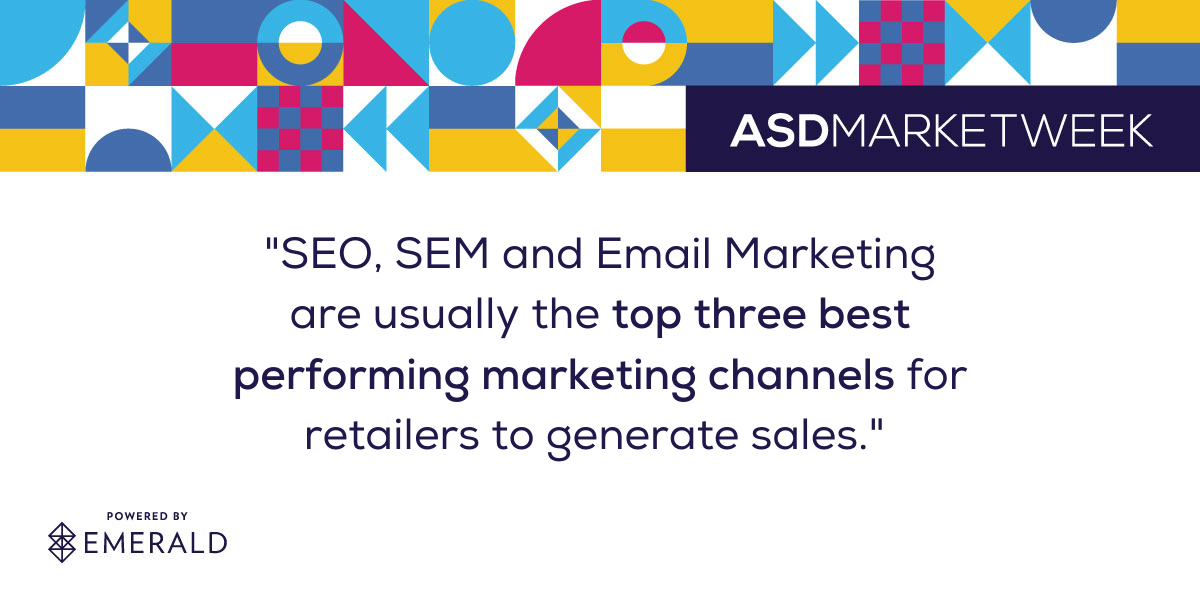 Email Marketing Tip #1: Segment Your Subscribers
One of the least effective things you can do is send out generic one-size-fits-all emails to your subscribers or prospective customers. Your customers are all different. They have different desires, locations, interests, and reasons for being involved in your company. And if you're thinking ahead, you are collecting this data, whether through your sales process or lead captures on your website. This makes it easier to implement the important step of segmenting your subscribers.
Segmenting is the process of breaking down your email lists into smaller lists to target them specifically. 
A simple example would be your apparel company is running a campaign around your predominantly male clothing. Using the customer data you collected, you can separate your male subscribers and send them an email highlighting the clothes they most likely would be interested in. Any data can be used to segment your subscribers; the main takeaway is that you give them information that is specific to their wants and needs and what you are promoting.
Email Marketing Tip #2: Use Email Templates to Create Appeal
Let's face it – most of us are not graphic designers, and we certainly don't have the time to design a beautiful email every time we want to reach out to our customers. But it's so important that all branding – website, social media, flyers, and, yes, email – have a consistent look and feel that allows your customers to get familiar with your company.
Before you send out the first email in your campaign, make your life easier by designing a template. The email template is a creative file that can be reused throughout your entire campaign, which helps your campaign stay cohesive and enhances the quality of every email you send out. These templates can use html code, text, or both, and can be designed from scratch or with the help of email service providers (ESP) like Mailchimp and Constant Contact. Most ESPs add value to their services by offering template options for you to choose and manipulate to your liking. Save yourself the headache and put together your email template as part of your first steps in the email creative process.
Email Marketing Tip #3: Style Your Headers to Increase Open Rates
Email can be a powerful tool to use in marketing, but you must get your audience to open the email first. Let's consider the first elements of an email that your recipients see when going for that coveted open.
From Name: The From Name indicates who is sending the email. It's extremely relevant, especially in cases when the recipient is not expecting the email (in contrast to transactional emails like purchase receipts and confirmations.)
Arguably, even more effective than Subject Lines, the From Name could show that the email is coming from a friend, a favorite brand, or a complete stranger. Although you should not attempt to trick the recipient into thinking the email is coming from a close friend, you do want to humanize your email from the beginning through your From Name. For example, try replacing your company name as a From Name with a real person's name. It could mean the difference between the dreaded ignored email from "XYZ Company" and the opened email from "Tammy from XYZ Company."
Preheader: The Preheader of an email is the text that you see after the From Name and Subject Line but before opening the email in your inbox. Another element that your audience sees first, this is a perfect opportunity to encourage them to open your email. It's best practice for this text to be short, but it gives you a little more room to tell the reader more.
You can use this text however you'd like. Summarize what's inside, use your most persuasive language, or mention the sale you're having (with more details once they open.) Just don't ignore your Preheader and end up with "Having trouble viewing this email?" as your first impression.
Subject Line: Finally, let's not overlook your Subject Line. The Subject Line is another short phrase that your reader will see before opening the email. 33 percent of email recipients open an email based on the subject line. Safe to say – they are not going to open if the Subject Line is not relevant to their needs, it doesn't present a sense of urgency, or it's too generic.
Email Marketing Tip #4: Keep It Simple
We've talked about templates, and they are great for brand recognition, but simple text-based emails work just as well, if not better. Don't get me wrong, visual templates can make your emails look great. They can even entice someone to read through your entire email by directing their line of sight, which is good. But try not to underestimate the power of simplifying the look of your emails. How about trying an email with only text and without graphics? With any marketing, envision yourself as the reader of your communications. When you receive emails, how often do you completely read through flashy, big promotional emails versus emails with clear and friendly copy that holds your interest? 
Keeping that in mind, instead of packing photos and gifs (which, by the way, could have your email going into the spam folder), focus on your email copy and don't be afraid to leave plenty of white space so that your readers' eyes get the breaks necessary to soak in your message.
Email Marketing Tip #5: Personalize Your Email Experience
Like what you want to achieve with segmenting, avoid sending generic emails. Since you have the data, why not use it? At the very least, include the recipient's first name or past purchases in your emails. Speak to your relationship with that person as much as you can. Did they subscribe to your newsletter or participate in one of your events? The more you include personal information, the more you build a connection that is so necessary in effective email marketing.
Not only does that make your email more likely to be clicked on, which only stands to help in your sales, it's now become a requirement from your customers. In fact, 72 percent of consumers say that they only engage with personalized content. More and more customers are steering clear of marketing they deem to be inauthentic. Sending generic emails without any personalization could give your company a reputation it can't walk back. Combined with segmentation, personalization allows you to send the right emails to the right people – which should be one of your goals when it comes to email marketing.
Email Marketing Tip #6: Your Customers Don't Want to Talk to a Robot
While writing copy for your emails, remember to keep it human. No one likes to read emails that sound robotic and unfamiliar. Personally, I find that my most successful emails in terms of click-to-open rate, which is the amount of clicks compared to the amount of opens, come from my approach to writing copy that sounds like I'm having a conversation with an old friend.
That's because people like to be taught, not sold. Before finishing that email, remove at least some of the "promotional" talk and write like the best of the way you generally speak. You wouldn't tell your friend – "Thanks for your inquiry." After the use of personalization to make your email specific, keep in mind how email is still considered a one-to-one form of communication and write like you're connecting with a person.
Email Marketing Tip #7: Use FOMO
Fear of Missing Out (FOMO) is such an effective way to get readers to convert quickly because it adds a sense of urgency to the actions you want them to take. It also adds exclusivity that prompts the reader to convert so that they aren't "left out." Whether it's in the Subject Line or the body copy, FOMO language can be used everywhere, and your favorite brands use it whether you notice it or not.
Is that sale only for a limited time only?
Are people buying this one product off the shelves? 
Do you only have one opportunity to sign up for an event? 
Does it include a countdown graphic that shows how much time you have left to take advantage of these prices? 
All of it is FOMO, and even the smallest stores can steal these ideas to get their own customers to boost their sales quickly. Take a moment to read your email copy before you hit send. Ask yourself if it prompts you to act right away, and if not, see if you can add some FOMO language in there. Don't miss out on this powerful tool the biggest retailers are using. (See what I did there…)
Email Marketing Tip #8: Review Your Emails Before You Hit Send
So you've finished your email, and it targets the appropriate audience, looks amazing, and adds urgency for quicker results. 
Now is not the time to hit send. I repeat, now is not the time to hit send.
One of the cringiest nightmares when sending mass emails is to deploy them only to discover typos, grammar mistakes, and inaccurate information later. As in any marketing piece, it's just as important to check and then check again for any mistakes. Most ESPs allow you to send a test message to yourself or anyone else on your team. Use that feature every time and your company reputation will thank you.
If you're a marketing team of one, it's okay to review emails yourself with a careful eye. But even better, let someone else read them. There might have been something you missed or an opportunity for clarity that another person would notice. In any case, think about how the quality of your brand is affected when the quality of your email marketing is poor? It doesn't look good and your customers will notice if you are consistently sending false information and hard-to-read messages. Don't skip this step!
Email Marketing Tip #9: See What Your Email Looks Like in GMAIL
There are so many options to receive emails these days. You could have customers who primarily use Gmail, Microsoft Outlook, Yahoo!, or countless others. The tricky part is the way each email service displays your email could be different. (This could be another argument for keeping your emails simple.)
That fancy gif you designed? Your customers can only see the first frame, depending on the version of Outlook they have. You took your time finding the perfect font for your text, but unless your customer is a Mac user, they'll get Times New Roman.
Thankfully, you don't have to know the ins and outs of each email service. There are tools available like Litmus and 250ok that allow you to test the design of your emails before you send them. This gives you an idea of what your customers will see, based on the email service they use.
Even better, if your ESP provides you with data on the email services your customers use the most, you can use that information to put some extra love into the email version that looks best in your most popular email services. If a large majority of your audience uses Gmail, let's not waste time getting it perfect in Outlook 2007. 
Email Marketing Tip #10:  Forget Everything. Test Everything.
I've given you the tools to get started on your email marketing journey, but it comes with a disclaimer. In any form of marketing, you should be testing and then adjusting based on your particular audience engagement. Your customers are yours, and they know what they like, and you should know what works for them and the results you are after.
That's why it's so important to test everything – your Subject Lines, your From Names, the day of the week, the time of the day. Test to see what positively or negatively affects your key performance indicators (KPIs) and gives you an idea of what to do next. Most ESPs include reports to help you understand your email's effectiveness. For email marketing, you typically want to track your delivery rate, open rate, click rate, click-to-open rate and conversion rate. This data allows you to cater to your customers even more. 
When you make changes according to your KPIs, be sure to only adjust little by little so that you can identify what's resonating. A/B testing (sending out two slightly different versions of the same email to determine which performs better) comes in handy for quick insight. If you find something works better for your marketing goals than anything I've included in this blog post, ignore it and do it your way. Testing your audience is a crucial step in email marketing.
If you're just starting or at the beginning stages of your email marketing journey, these tips should help. Stay tuned for more marketing tips sure to increase your customer engagement and sales in our marketing 101 series. Plus, if you're experiencing difficulties finding products, tons of vendors can be found in our Online Market every day. Register to start talking to them right away!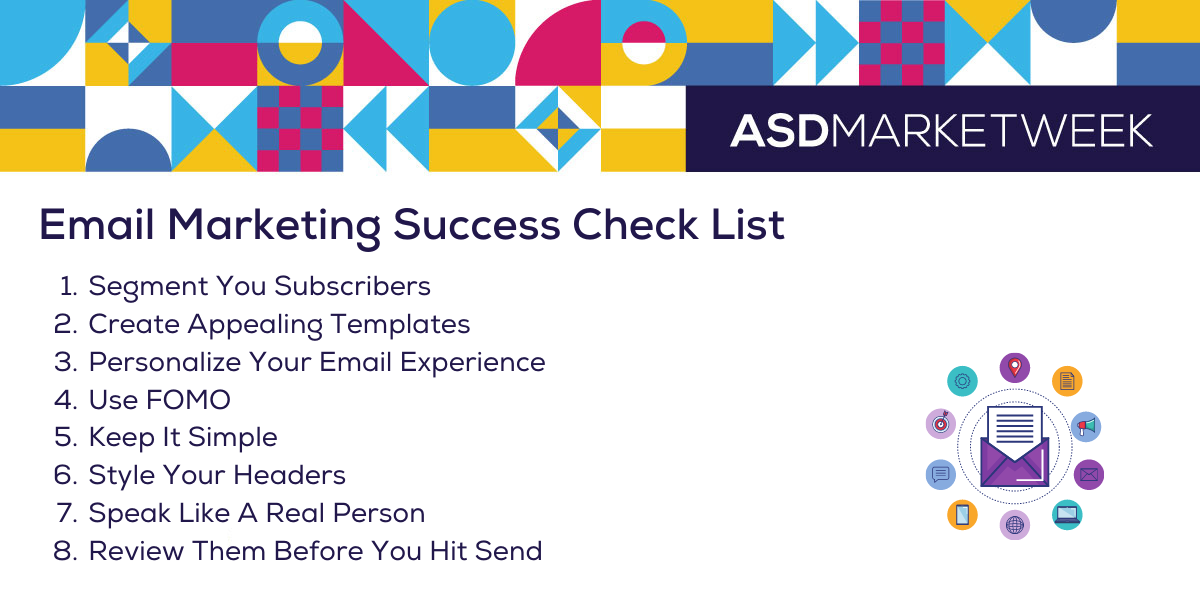 ---
Want to learn more about digital marketing that works? Check out these articles:
---
ASD Market Week offers free retail seminars to all buyers who attend the show. Register for our next show and learn from leading retail industry experts today!