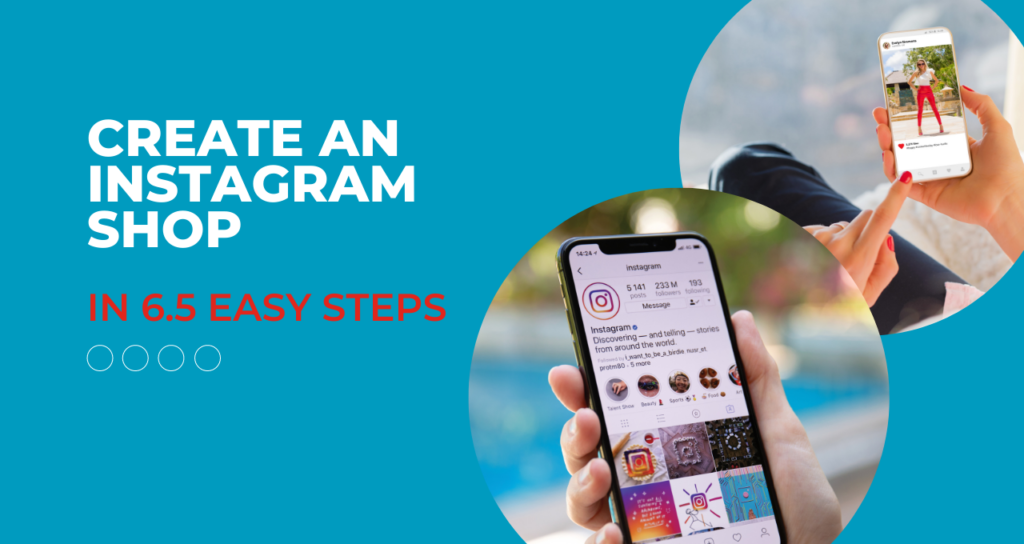 A few months ago, I taught you how to set up a Facebook page and shop for your retail store. Now I'm back to help you learn how to set up a shoppable Instagram account in 6.5 easy steps. In order to create shoppable Instagram posts where your customers can purchase items you sell directly on Instagram, you need to have three things: 
An Instagram business account, 
A Facebook page that your business account is linked to,
And a product catalog. 
We covered how to set up, convert and/or create a business account in our Facebook shop post, but you can also find steps to set-up an Instagram business account and connect it to your Facebook page on Facebook's help base.   
How to Create a Shoppable Instagram Account 
Make sure you're located in a market that is eligible for Instagram shopping. Most areas of the United States are. 
Make sure your products comply with Facebook's commerce policies. It's important to note that you must sell physical goods to people, as digital products and services are not allowed. There are other ad types that you can use for services and digital products. You will also need to make sure your physical products comply with their commerce policies. For example, you can sell lifestyle and fitness accessories, but you can't sell vitamins, supplements, or health-related products that make health claims. 
Connect your product catalog. You can create a catalog or connect an existing one via Facebook's Catalog Manager. If you want to use product tags and stickers, choose an E-Commerce Catalog. Shopify and BigCommerce are supported for this as well (see the notes below for more information on other ecommerce providers). 
Log in to Instagram and submit your shop for approval. Once your account and catalog are connected, go to the Instagram app to sign up for Shopping. 

Go to your profile's settings, 
Tap Business,
And tap Instagram Shopping.
Follow the steps to make sure everything is all good to go and to submit your account for review. 
The approval process takes one day, but can take up to two weeks. You can visit "Shopping" in "Settings" at any time to check your review status. Once you've been approved, you will receive notifications from Instagram on your phone. You'll see a banner on top of your business profile that prompts you to "Start Tagging Now".
Add product tags. Once you're approved for Instagram shopping, you can then add product shopping tags. 
Create your first shopping post, reel, or story. Start creating a post as usual and tap Tag Products to add a product from your catalog. 

You can feature up to five products per image or video post, and up 20 products on multi-image posts. 
You can also go back and add shopping tags to old posts on your business profile.
Stories can feature one product sticker per story. And you can adjust the color and text of product stickers.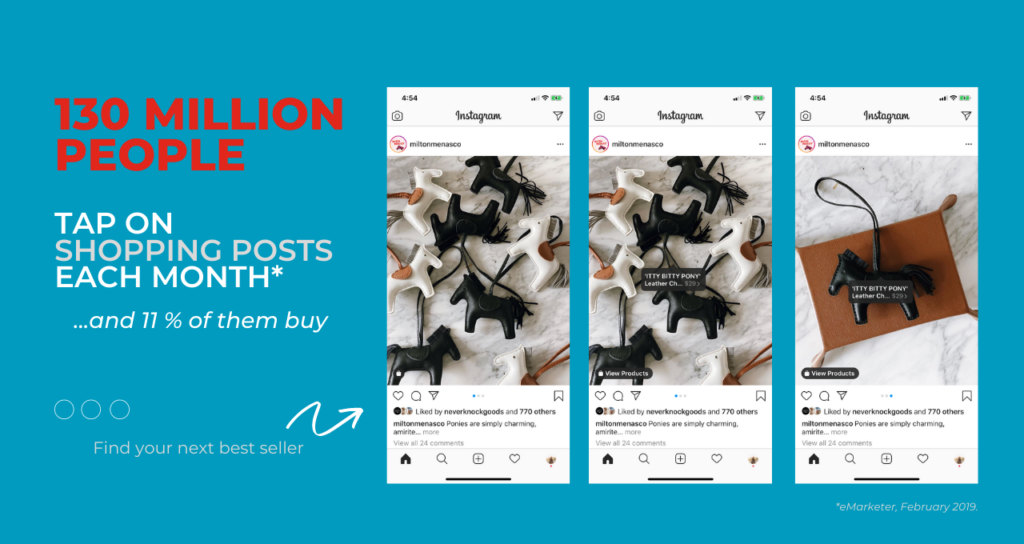 Bonus (it's that half step!) 
Make sure you use the Insights tab in your profile to see how your shopping posts and stories are performing. Insights can tell you more about what your customers might want, so you can offer more relevant products. 
For example, if key chains and small leather goods are outperforming t-shirts and home decor, offer more of what your audience is interested in so that you increase your likelihood of making sales!
If you have issues with approval, check out Facebook's help base or this handy post from Tailwind to create appeals if your products are disapproved and you can't figure out why.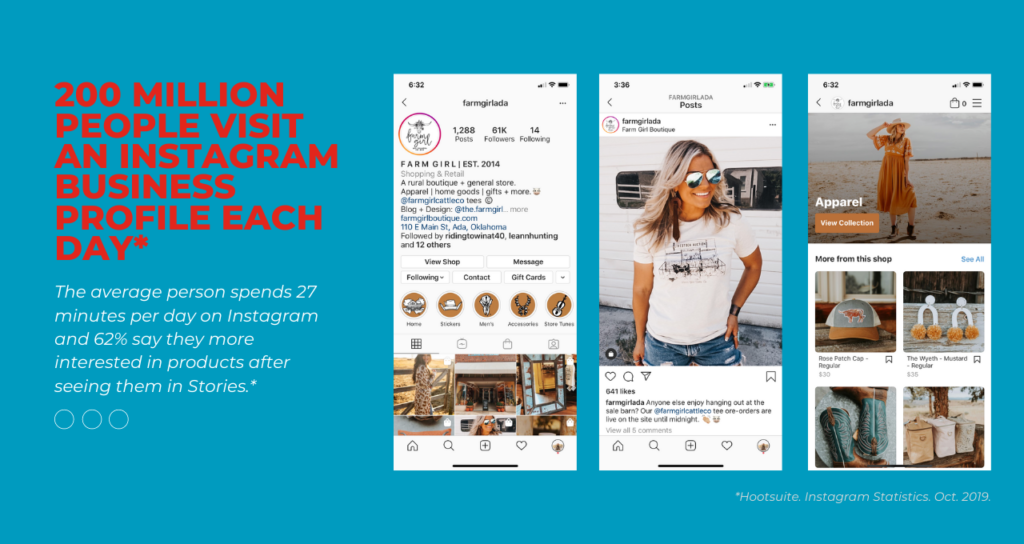 Extra Instagram Shopping Tips and Ideas: 
If you use Square in your business, they offer a great guide on how to make your inventory shoppable via their platform. 
If you have Shopify, they also offer integrations to seamlessly make your products available on Facebook and Instagram. They also allow you to set up a simple shop to sell socially. The same goes for WooCommerce. 
If you have another e-commerce platform like Wix, GoDaddy or Squarespace, you'll need to see what they offer.
If you don't have an e-commerce site and want an insanely simple way to sell on Instagram quickly, check out Ecwid, you can get a free website and you can sell on Facebook and Instagram for $15 per month. They also have some great features for online ad management and Amazon selling too!
There are other ways to promote your products via Instagram like having a link to your store in your bio, using a tool like LinkTree to link directly to products via your posts, or manually contacting your customers. To maximize your revenue, it's best to put some effort into setting up a direct shopping experience. 
The explosion of e-commerce in the last six months also means rapid growth in social media commerce and sales. By setting up Facebook and Instagram shopping, you can convert followers into customers by simply doing something you as retailers do so well already –– taking and posting beautiful photos!
Ins*Statistics on Instagram from Facebook and Hootsuite.