---
This presentation was presented at ASD as part of our retailer educational series. Opinions of the presenter are not necessarily those of ASD Market Week or Emerald Expositions. You can download a copy of this presentation for free from SlideShare.
---
It's Time To Ditch The Idea That ALL Women Want To Be Rich, Young, Skinny, and White
From China to America, if you look at ads for fashion that's what the majority of the mainstream media would have you think. 
Growing up, this is what I remember seeing in magazines, on TV, and in movies. 
As a mixed race girl, my tan skin,  my not slender body, and kinky nappy hair was a death sentence. 
If I wanted to be popular, liked, and loved, well…I needed to be skinny, have fair skin, have straight hair, and blend in. 
That ideal took its toll on me over the years, and it wasn't until I was thirty that I was able to start to accept myself as I was. And at 41, I now love my natural curls, curves, and skin color.
Yep, acceptance of myself only took – FOUR DECADES. 
The Ideal of Barbie Needs to Die
In the last decade, thanks in large to social media, we've seen the ideal of "rich, young, skinny, and pretty" start to be dismantled. 
Womxn have finally decided, they've had enough. 
They have started to realize that they can't reach the impossible ideals that mainstream media has set forth in so many expertly photoshopped images. 
Womxn are embracing their age. 
Womxn are embracing their skin color.
Women are embracing their bodies.
Womxn are embracing their weight. 
Womxn are embracing their gender identity.
Womxn are embracing the physical traits that come with their ethnicities.
Womxn are embracing beauty in ways that fit their spiritual beliefs. 
And the end of the day, Womxn are say F*CK Deprivation. F*CK Feeling Less Than. F*CK Feeling Unworthy.
They are embracing #BodyPositivity #GoingGray #FashionOver40 #MidsizeFashion #AntiDietCulture #PlusSizeFashion and so much more. 
According to a study done by Park Melrose: 
Approximately 80% of U.S. women don't like how they look. 

70% of normal weighted women want to be thinner. 

Over 80% of 10 year olds are afraid of being fat!!

53% of 13 year-old American girls are unhappy with their bodies. This number grows to 78% by the time girls reach 17.
Guess what, only 5% of women naturally possess the body type often portrayed by Americans in the media. And while 76% of the adults in the U.S. know that the media promotes unobtainable images, they still strive to meet the perception.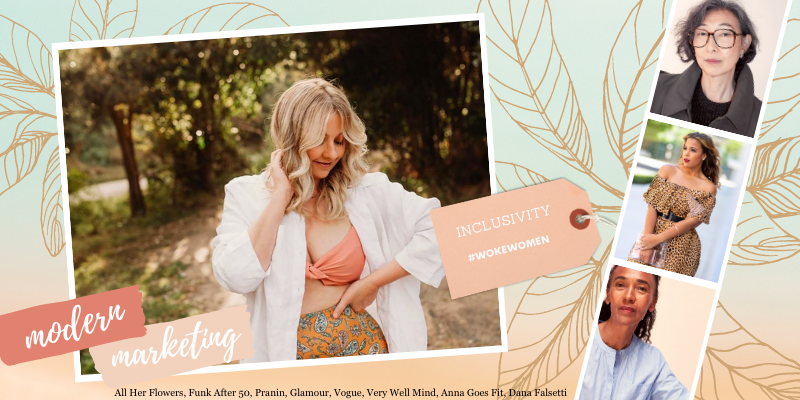 And Let's Look at Some Stats…You'll Will Love These.
While 80% (and some studies say up to 91%) of women  don't like how they physically look, do you know the power that these women hold economically?
Plus-size fashion is a $20 billion industry and plus-size women represent 68% of shoppers (over a size 12). Despite the buying power, retailers still overlook the majority of the U.S. shoppers. According to research from the International Longevity Centre, the fashion industry's unwillingness to cater to older consumers could cost it. 
A report called Maximizing the Longevity Dividend found that rampant "institutional ageism" in the fashion and beauty industries stands in direct opposition to concrete figures that show growing spending by consumers that are over age 50. By marginalizing people based on age will cost retailers nearly $15 billion over the next two decades.
And let's not forget our LBBTQ+ consumers.  Today, nearly half (46%) of Americans view gender as a spectrum rather than as a traditional binary model, rising to 53% of Generation Z (aged 13 – 25) and 68% of LGBTQ+* consumers.
What's more, nearly one in five Americans say they personally know someone who uses gender-neutral pronouns (18%), increasing to 32% of Gen Z and 35% of LGBTQ+ consumers. Nearly one in five Americans say they personally know someone who identifies as non-binary. And 1.2 million American identify as non-binary (and the number keeps growing). LGBTQ+ buying power is one of the fastest growing consumer groups in retail. Hell, gay  men are even being dubbed "The Dream Market" because they spend more and spend more frequently. 
So why do we still market to the young, skinny, straight, pretty and pasty?
How to Find The Data You Need to Better Understand Your Customers
If you look at the data (oh I love me some good data), the latest findings on consumer attitudes, values and behaviors say it's time to stop.
Now, all of what's in this presentation may not be representative of your customer base, but I'm pretty sure there are some applicable learnings. 
Look At Who's Coming Through Your Store Doors
Take a look at who's coming through your doors and ask yourself the questions of: 
Have you watched who's come into your store  lately? What's your customers' age range? 

Have you looked at what's happening in your town? If you're in a new market, has your store visitor base ethnically diversified?

Regardless of where you are, what body types do your customers have? 
Look At Who's Coming to Your Website
Take a look at who's coming to your website and ask yourself the questions of:
When it comes to e-commerce, do you know who your online customers are?

Have you looked at the states that your customers live in?

Do you see where you're shipping orders?

Do you look at what you ship where? What kind of merchandise is it? What size is it?

If you've got Google Analytics, Search Console and a Google My Business listing, I guarantee you there's loads of insights in there. 
Where Can You Look For Inspiration? 
Social Media makes finding and following trends pretty easy. Let's start with the hashtags: 
#plusizefashion #midsizefashion #effyourbeautystandards #bodypositivity #bodypositive #swimsuitsforall #healthyatanysize #CelebrateMySize
#HonorMyCurves #PlusIsEqual #ImNoAngel #AlternativeCurves #PlusSizeOOTD #AllBodiesAreGoodBodies #BodyAcceptance #BodyNeutrality #AntiFatBias
#aginggracefully #agepositive #agelessbeauty #greyhair #ditchthedye #agingbackwards #greyhairdontcare #silversisters #ableism #disability #inclusionmatters #love #disabilityawareness
#inclusive #lgbtq #inclusion #community #diversity #lgbt #gayfashion #gaystyle
And there are many more! Do a quick Instagram search. 
So Where Do You Go From Here? 
Research has shown (and experts have echoed) that consumers not only want more of an "experience" when it comes to their shopping, but they also  they want brands with messages that champion and support causes that are important to them, ones that are inclusive and diverse in campaigns and advertisements, and ones that can, most importantly, come across as authentic in an age where everything seems staged for social media. 
So your next steps would be to better who your current customers are (in your data), and then explore who else you could possibly serve in a wider capacity. It doesn't have to be in all the areas we covered here, it could be one or two. Whatever works for you. 
Just as we've worked to accept our age, bodies as they are, and anything else that is important to our identity, it's time to do so for our customers.
---
Want to learn more about marketing, e-commerce, or retail? Register for our next show to attend over 45 workshops for free. You can also subscribe to our YouTube channel and watch videos for free or watch webinars on demand.