Facebook, Instagram, and Pinterest are the three best social media channels for retailers to sell products, engage with customers, and fuel retail store success.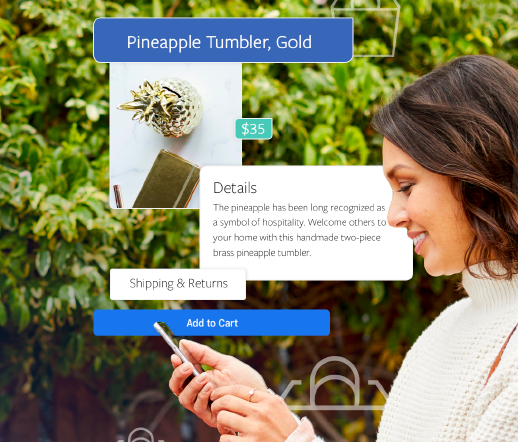 Social Media. The apps, networks, and platforms that all your customers use.
As a retailer, you do your best to figure out what social networks your customers are on and how you can participate in a relevant way. Truth be told, you feel there are too many and you don't have enough time to have a presence on all of them. If someone could tell you which ones to use, you'd be delighted. Well, guess what? That's exactly what we're going to do in this article.
So what social networks should you focus on? The short answer is:
Facebook, Instagram, and Pinterest.
These are the only three networks time-strapped retailers need to invest time in. Why?
Because they have the most users, the highest amount of user activity, the largest amount of free business promotion tools thus creating the most possibilities for you to make sales.
---
Facebook Is Key and King For Retailers
As of today, retailers can sell their entire inventory on the Facebook Marketplace, create mobile storefronts and catalogs in WhatsApp, and use ads to target and sell products to new and current customers. Most importantly, you can do this in any city, state, or country that Facebook can be accessed.
Set-Up a Facebook page: LINK
Select a business category for your page: LINK
Select a layout for your page: LINK
Add all the details you can, including your address, links to your website, and reviews.
Create a customized page URL for your store: LINK
Set up your shop: LINK
---
Instagram Is Loved By Everyone
Create a business profile on Instagram: LINK
Fill out all the necessary information you can: LINK
Add a link to your website on your profile.
Download Boomerang, Hyperlapse, and Layout (Instagram's apps) if you want to use them.
Explore what businesses are doing on Instagram to drive engagement and sales.
Follow relevant accounts and hashtags.
---
Pinterest Shows You the When and What of Customer Purchases
This makes Pinterest valuable to retailers in many ways. The way women use Pinterest shows purchase intent behavior that Facebook and Instagram don't make available to retailers. While some people want to find something now (like finding the best black dress or decorating for Christmas) many are also creating visual boards of their future goals (like buying a house or planning a vacation).
When users find something that fits into a themed board, they add it to that collection. Over 51 percent of users have found new brands that they have purchased this way. Being on Pinterest isn't a nicety anymore; it's a necessity.
Go to Pinterest and join as a business: LINK
Enter your email address, password, business name, and website.
Choose which category your business falls into: professional, brand, retailer, online marketplace, local business, or other.
Claim your website, Etsy page, and other social accounts to improve your branding across Pinterest: LINK
Add free Pinterest widgets to your website: LINK
Add the Pinterest tag to your website if you're going to advertise: LINK
Design and develop your Pinterest marketing strategy.
Pinterest also offers website widgets you can embed within your personal site to showcase your favorite Pinterest content or content you've added to Pinterest. While it may seem cool to use them, it isn't required as widgets and sidebars are starting to disappear from blogs and pages in order to make mobile experiences better.
---
Conclusion
Growing your online and offline sales is an important part of your job as a retailer. By streamlining your focus on channels that your current and future customers use, you'll start to see the fruits of your labor faster. In a world that's always on, it's okay to employ those retail smarts of yours and choose where your time and energy go in order to build your business!
Pro Tip: If you want to better manage social media schedule, investing in low-cost subscriptions to Later (which also gives you the Link.in Bio feature) and Canva are worth it.