In this episode, Stephanie and I talk about:
What's Happening at ASD Market Week
The Launch of ASD's New Retail Advisory Council
What We Learned At NRF
Why Ikea Customers Love Sustainability and Trade-In Programs
How Petco is Taking on Tractor Supply
Investing in the Education of Your Store Associates
The Success of Madewell and ThredUp's Pop-Up Experiences
Connecting Online to In-store Is Key
Physical Retail Is Back Baby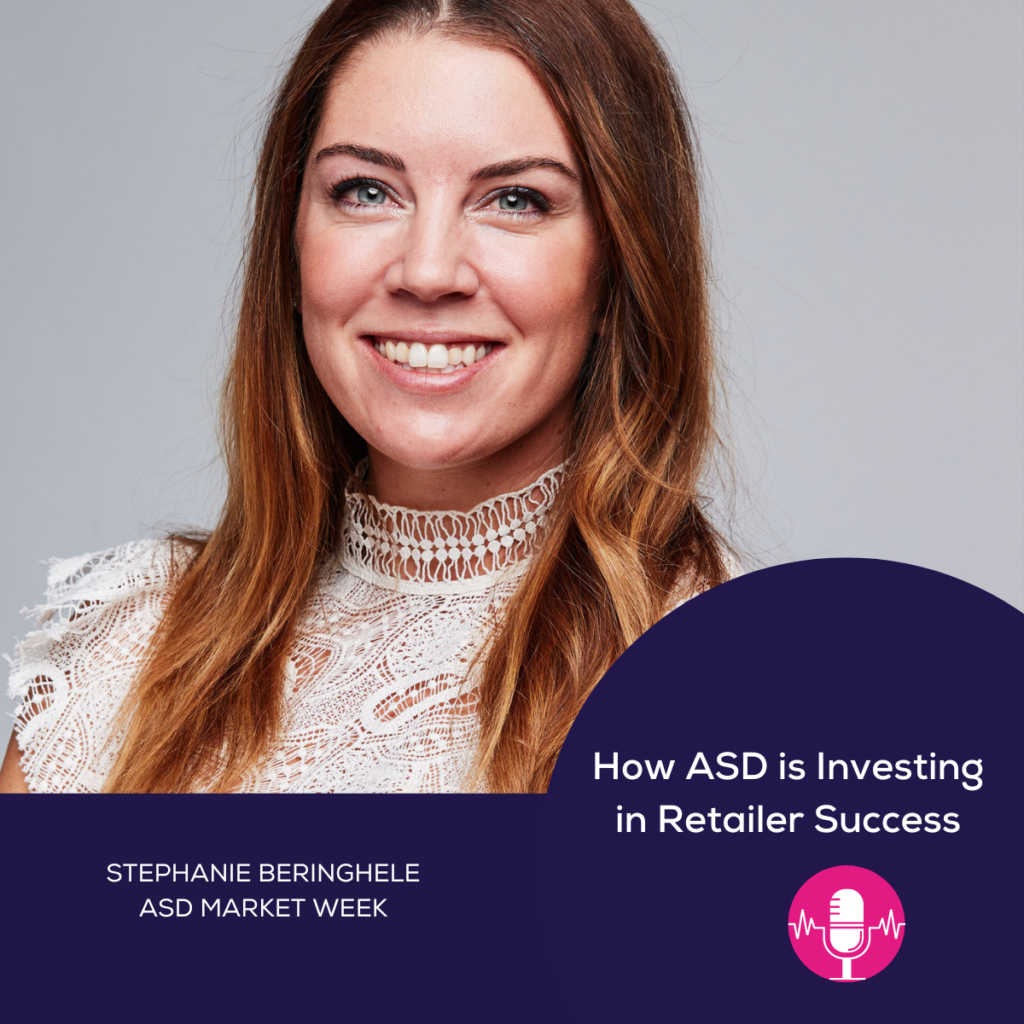 Macala:
Hi everyone, it's Macala and I am back today with someone that I want all of our retail audience to know from ASD. She is a very important person. She is the queen bee of attendee relations and buyer needs, and I'm gonna let herself introduce myself.
Stephanie:
I am Stephanie Beringhele. I've been in the trade show industry for about 14 years, and I have recently come back to ASD Market Week, and a new position as buyer relations director. I'm so excited. I love, love, love this show. It's so unique and getting a chance to work with attendees from all over the world. It's just so inspiring. Like I'm so happy.
Macala:
So Stephanie, let's do rapid fire. Why should retailers of all types attend ASD?
Stephanie:
I think it's the best treasure hunt experience you will ever find. It's kind of like that TJ Maxx experience where you go through aisle by aisle, and you find amazing stuff and then the margins are up there. If you come, you're gonna find on-trend, quirky items that compliment your existing products that you carry in your store.
Macala:
Stephanie, what makes ASD different from some of the other retail trade shows out there? Beyond the wide variety of merchandise?
Stephanie:
I'd have to say there's a great amount of mom and pops that are present, or family owned businesses. They've perfected their craft where they've been with us for so long that they are really good at guiding newer retailers or attendees how to make the right purchase for their stores and for their customers. So I would say the intimacy of the people that come and showcase the product with us.
Macala:
In your role, what are some of the things that you are now kind of spearheading to help our attendees make ASD successful for them?
Stephanie:
So I'm diving into the role. I'm really excited for this upcoming event. We're gonna have our first Retail Advisory Council. We're gonna lean in and listen to people that have been with us forever about what they like about the show, why it's important, why it's a must attend, and why they've been with us for so long.
More importantly, what does the future look like? Like are they scared about what's going on in the industry with inflation and everything else that's going on? So I think that you're gonna see some new things popping up, but not until we better understand our attendees and what those needs are.
Macala:
And if there is a retail group or buying group that would like to learn more about the show how can you help them?
Stephanie:
It's a very overwhelming show. A s d we have so much product, we have a lot of inventory, a lot of square footage. So for me it's hopping on that call and saying, what's your strategy for market?
What is your strategy for your storefront? What does that look like? And then coming up with a game plan together, that first trip is so important that you get it right and that you invest the right amount of time. I wanna help guide that experience based on needs.
Macala:
Awesome. And I will drop Stephanie's contact details in the show notes so you can reach out to her because that is what she is. Here for, for all of you. Stephanie, let's talk about NRF, you were in New York last week and I know there was a lot going on. So what were some of your top takeaways?
Stephanie:
So NRF is absolutely amazing. If you are an attendee and you've never been, you should definitely go. And it was so nice cuz from a global aspect, so many international attendees were present which we really haven't seen for a couple of years. So that's been great.
And the sessions and the content, it really focused on people being very authentic to their brand. I think during COVID, a lot of companies didn't know what to do. They had to furlough a lot of their associates, which made it very difficult because they had limited staff. But then it became who we are and why should somebody continue to shop at our establishment?
So a common theme was being able to, if you're a luxury brand and you have a concierge VIP service, stay in that lane and really own it. If you're a discounter, what can you do from an omnichannel standpoint of really making that person have a seamless purchasing experience?
They don't wanna know that they have or that they're working with technology. They wanna understand that whatever I'm doing, it's just so easy and I can't wait to buy more. So between the apps, the online coupons, having storefronts that are really easy to shop and navigate those, those were really two big picture items.
Macala:
Let's dig into those a little bit. When you say storefronts that are easy to navigate, is that online in person or both?
Stephanie:
Both. The omnichannel experience is making sure that your storefront also matches whatever you have from an online or app standpoint. Okay. So you wanna make that person just go very comfortable whether they decide that they wanna shop on that app and then be able to pick it up in two hours at that store or they're in the mood to get away from the household.
Macala:
It sounds like this is reinforcing some of our other experts about merchandising is key. So they need to have a good mix, they need to have things that turn regularly. So was there any conversation around product trends or general merchandising trends that kind of popped and caught your interest?
Stephanie:
There actually wasn't any talk of new merchandise, which is very, very valuable and very important, but there was actually a really good discussion on resale and sustainability. Ikea nailed it. And they were talking about their program where you can bring in your gently used or maybe overused furniture and you could take it in and you'd get a credit, they'll fix up your furniture so that the next person can enjoy it at a discounted rate.
But what they found was that by offering that service, that person that turned in that used furniture would then go shopping and they would increase their basket size cuz they were looking for the brand new fresh sheets. They wanted something cool like a new picture on the wall. And so they spent more money just by offering the resale program and they felt really good as a consumer and somebody from the environment standpoint, that they were doing good for, for the Earth, which was great.
Macala:
I love that. And we just published the whole secondhand and resale market report. So I'm gonna just slide into stuff in these thunder real quick and a we'll drop the links to that in the show notes. But also remember like so many of you have small businesses, even if you have a couple stores, you have so many options to capitalize on retail, sorry, resale and secondhand, adding in antiques, adding in vintage, adding reclaimed wood goods made by somebody locally. Don't be afraid to test gently used or vintage or antiques as part of your merchandising strategy.
And if you don't have a good flea market or a series of antique shops, you can use Etsy, you can use eBay. There are so many cool finds. You can even go to your local Goodwill or we have like Value Village out here on the West Coast, in the Washington area. Don't be afraid to try it. It could really lend some very unique and surprising impacts to your cash register and cash flow.
Stephanie:
It's kind of that whole re-imagining of your storefront. So Madewell, they did a pop-up shop. They used a part of their store they weren't utilizing and they did this pop-up. With ThredUp. Thredup had workshops at Madewell that taught you how to mend and sew. They taught you how to care for your denim. It became this whole experience in which it was really interactive. They were able to use space that wasn't being used, and the customers just left feeling really, really good and they learned something, which is great.
Macala:
You were talking about kind of app culture, you were talking about kind of creating these frictionless experiences. What were some of the other themes that you were hearing about NRF in some of those sessions?
Stephanie:
There was this storefront idea that's super cute and it is called the, the, the company is called Camp. And they are based in New York and it's for this whole experience for the family, right?
So you can buy your tickets and everything before you get there, but it's this small little room that has everything interactive for kids. So if there's like a shopping cart, it's like a little mini one and the kids can touch it, they can play with it. And then there's this secret door so the kids can then go through this secret door, right?
And it goes into this really big room and they put on plays. And so the family got to all go through the doors. They sat, they did this theater-like production, and then afterwards they got to buy all the products, whether it was the dress that the little girl was wearing or if there was a wand. Super cool. So just redefining experiences for the family and making them want to go to a store.
Or let's say you can't go to a store and you're sick and you really wanna pick something up using your storefront in a capacity where you can go on an app, you can type everything in that you need, and then you can have somebody put it in your trunk without having to touch you. That's gonna, that's gonna keep being a theme for, for 2023 and beyond. It's just the convenience and the ease of everything.
Macala:
So Stephanie, it seems like the key theme this year at NRF was like the resurgence of physical retail. Talk to me more about that. Was there anyone doing some really amazing stuff or examples at NRF talking about how they're, you know, kind of reinvigorating that store store experience?
Stephanie:
It was delightful. Yes. The brick and mortar is back and it's stronger than ever and Peco did the most brilliant job of capturing every component of it. So they started off their session with the doggy for adoption, a little fur who was super cute and he didn't wanna stay on the stage, so he left. But Petco's doing it all right, they are using a store where as a fur baby owner, I can take them, I can have my pet find their favorite treat, private label or branded, it doesn't matter.
They get to have training? So training that puppy. So maybe they're not eating or trying to chew you up. And then they have, they're investing in vets so that you can actually go and if something's wrong, your animal can be taken care of. And then there's, there's this whole partnership with I wanna say a city Citibank.
But they've partnered up to have healthcare for, for your animals. So it's super affordable. So like I have an English bulldog that just had surgery and I can't, I can't get any insurance anywhere. So Petco is taking all those concerns from their consumers and they're wrapping it all up so that you wanna go to their store because they satisfy all your needs. It's a one stop shop.
Macala:
I love it. Did the puppy on stage get adopted?
Stephanie:
I think so. He was so cute.
Macala:
Have to find out. Like that's just like, that's what I mean. Ors done that right in the past where Outdoor Retailer is one of our sister shows, but they partnered with rescue groups to find fur babies, especially dogs' homes with the right families. So, oh my gosh. We're gonna have, we'll find out and let you guys know.
Stephanie:
And it'll be interesting because Petco's also going rural, so their stores that they're opening up are now gonna include chickens and horse care items and all that kind of stuff. So they are definitely turning the page.
Macala:
Think the Petco needs to be at ASD because we have a whole section with all that. That's right. I love it. I mean, that's a really interesting evolution, right? Like that's, that's going beyond just a standard city person who owns, you know, maybe cats, dogs, fish or whatever.
Because more people are moving out to the country. More people are homesteading and doing, small scale livestock and you know, chickens, rabbits, things like that. That's amazing. You know, I have three horses, so I'm excited. So Stephanie, what was one more really, really exciting thing from NRF that you can share with everybody today?
Stephanie:
This is a good feeling. So associates, right? In the past you talked about staff, employees. That is not a word that was used while being at NRF. Post COVID, so many associates went through the ringer. When they lost their jobs, they were furloughed. So really a lot of the bigger companies are looking to reinvest in those associates and they wanna do training.
Great example of it is Whole Foods, they are doing a cake decorating mentorship program. So they are using their store and they're encouraging people who want to use this as a future craft for them. They're teaching them and training them how to make these eloquent cakes. And so, and, and doing all these things. And so that way if their entrepreneurial spirit someday leads them to want to own a shop, they're gonna get trained in that skillset.
Same thing with Lowe's. Lowe's wants to make sure that there's, there's training to be the next electrician, or the next plumber. So I think a big thing is reinvesting in your show associates, letting them learn new skills, and seeing how they can grow for the future within that company or outside the company.
Macala:
Earlier this year we talked, Deanna McIntosh and I talked about employee development and retention. Like, you know, helping them, helping you by helping, by supporting some of their dreams and their interests. Or growing together, or incorporating their ideas of how to do things better on the store floor since they are the daily frontline, if you might be a little bit more removed if you are further along in your business. So I love to hear that that's also ringing true on a larger scale.
Stephanie:
It's so good. And you, and you're right, if you have happy employees or happy associates, like that's your forward facing brand, right? You want them to be smiling and offering support to every person that comes into your store. So it was, it was really good, really positive to hear so many bigger brands say that that's a primary initiative for their company.
Macala:
I couldn't agree more. So Stephanie, in our last few moments together, give me the thing that you love the most about ASD.
Stephanie:
Who, I'm gonna say again, the people. The people are so delightful. If you take a moment to just walk down an aisle, whether it's an exhibitor, an attendee, somebody from the press. An ASD staff member, everyone is just so warm and welcoming and knowledgeable, and are ready to have a conversation with you. So I think that there's no big walls, you don't feel like you can't go have a conversation with someone. You feel like no matter what, there's no stupid questions and I can ask about your product. And you're gonna tell me everything I need to know about it. And it's gonna be fun while you walk me through the steps. ASD is all about the people and the connections and the great product.
Macala:
I love it. I love it. So you guys, the show is less than a month away. If you still haven't registered, registration is open, click the link below and we would love to see you there.
Stephanie and I will be on the show floor looking amazing and would love to spend some time with you, if you wanna walk it with us, or if you need some advice or even find stuff because that's what we do.