Have you heard of Buy Now, Pay Later? Have you considered offering to your customers? Discover the pros and cons small retailers are finding by adding BNPL to their e-commerce sites. 
What Is Buy Now, Pay Later?
Buy Now, Pay Later (commonly referred to as BNPL) lets consumers pay for purchases in several installments over the course of a few weeks, often without interest, instead of all at once. The number of consumers who use BNPL when shopping online has grown 300% since 2018. In 2021, Retail Brew reported that revenue for retailers offering BNPL on their websites was up 27% year over year for this past holiday season, while online orders were up 10%. 
The idea of your customers buying more is appealing, especially if it means all you have to do is give them the option to pay over time. So what do you need to consider when it comes to adding this BNPL to your retail e-commerce site? 
What Are The Advantages of Offering BNPL?
Start by asking yourself, "What are the benefits of adding BNPL to my website?" For many retailers, there are three reasons why they offer BNPL services to their e-commerce customers. They want to: 
Sell to a group of customers who now buy using BNPL by habit.

Offer the ability to purchase for customers at times when they don't have the full amount available (for example ahead of payday).

Match the customer experience offered by competitors, or go one better than competitors.
Adding more flexible payment options may offer you a way to expand your customer base, while also being able to compete more widely online with other stores selling the same products (without having to use promotions or discounts to get the sale). 
Are There Any Concerns Retailers Should Have About Offering BNPL? 
As a retailer, BNPL may sound enticing because of the success stories other retailers are having when it comes to increasing the average order value, while also increasing their overall online sales. But that increase doesn't come without something on your end. Most BNPL companies charge hefty fees (currently up to 6% of the total sale). 
The rising popularity of this feature is starting to bring fees down, but it's still a significant number if you're already paying a credit card processor 2.3-2.9%, in addition to your  other e-commerce related costs. 
Also, while retailers have seen an increase in sales, they've also seen an increase in returns. The installment payment option has created some challenges in processing returns, so it's important that you take that into account before offering BNPL. Make sure you investigate how BNPL may affect your store's return policies. 
Last, but not least, it's important to understand how BNPL works on the consumer side. There's growing concern around how BNPL debt is reported and managed, as well as how it may impact privacy concerns surrounding your customer's personal data. So due your due diligence. 
How Do I Add BNPL to My Website?
In the United States, Klarna, Afterpay, Affirm, LayBuy and Paypal Credit are the five most used BNPL service providers. In order to offer BNPL, you'll need to select the service you want to use. Then you, or your website manager, will need to go to that merchant's site and fill out forms and provide the information they need about your retail store, this will include annual sales and general contact information. 
According to Big Commerce, an ASD Market Week solutions provider and sponsor, it's important to know that each BNPL service is different and has unique benefits. No matter who you choose, here's how it works on your end and your customer's end once you've set up the service:
You set up a new BNPL payment gateway.

The shopper selects the BNPL payment method at checkout.

They may choose to delay payment, establish a line of credit, break the payment into installments, or request financing, depending on the services you offer.

You receive payment in full for the order and fulfill it like any other paid order.

Similar to other payment gateways, the BNPL company charges you (the merchant) a fee for the service. This may be a flat fee, a percentage of the transaction, or a negotiated rate, depending on the service used.

No matter what happens between the buyer and the BNPL service, you (the merchant) are paid in full immediately. The BNPL company assumes the risk.
Also, depending on how your e-commerce site is built, and who your website hosting provider is, you may also have options to opt-in to BNPL services and quickly get them up and running. For example, GoDaddy offers GoDaddy Payments for customers whose websites use WooCommerce as their e-commerce shopping cart. GoDaddy Payments can work with Affirm, Klarna or AfterPay. 
Another great example is Shopify, which offers any retail store the ability to seamlessly add BNPL instantly to their checkout pages. As a retailer, you definitely want to explore the integrations your e-commerce engine offers in order to create the best experience for your customers, as well as keep your costs down. 
The Future of BNPL
According to Bain, the number of merchants offering BNPL is increasing, with BNPL volumes expected to grow 29% annually to account for 10% of all e-commerce spending by 2024. In terms of revenue, BNPL is expected to generate $680 billion in retail sales by 2025.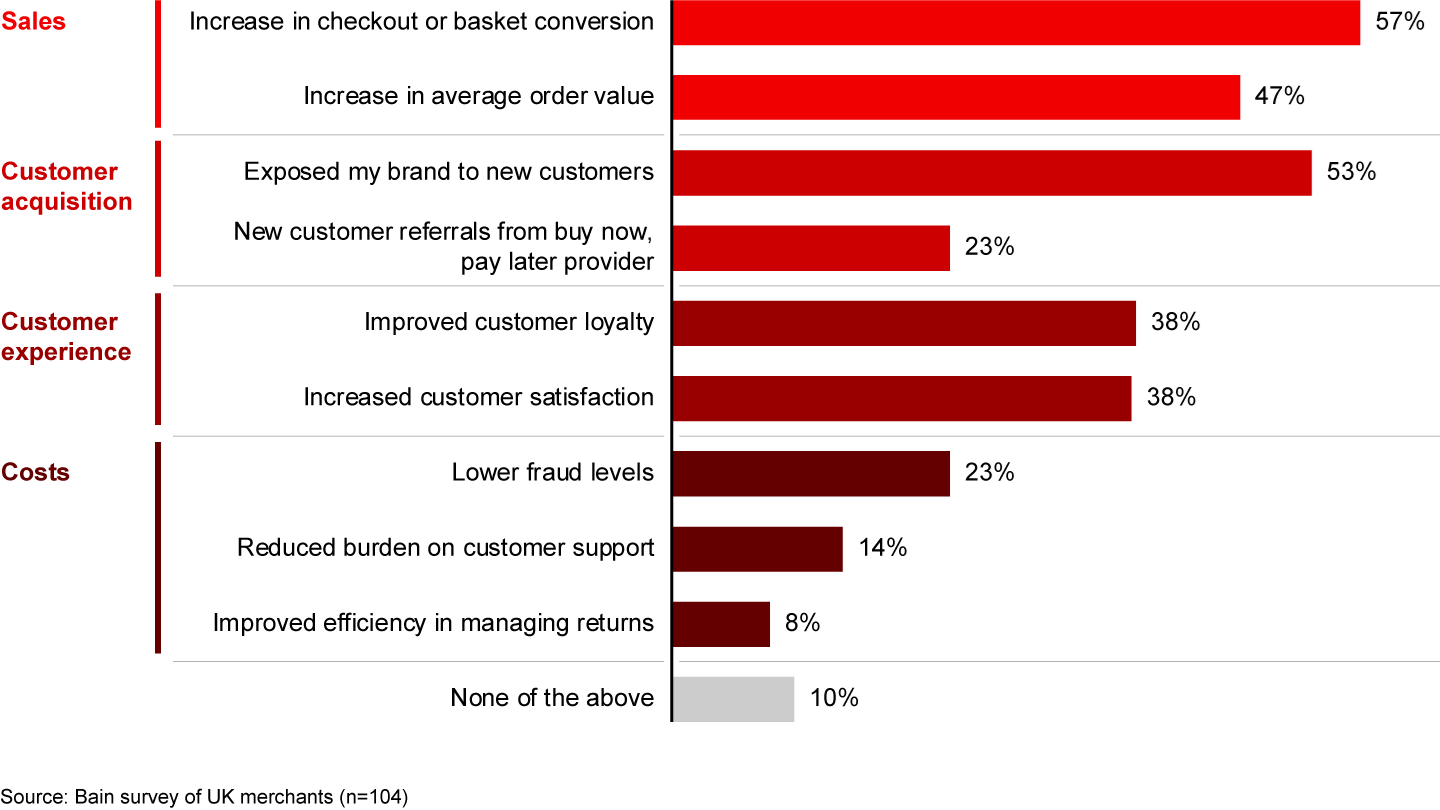 "Overall, consumers want the flexibility of payment options, with the certainty of equal payments that fit within their budget," says Steve Hopwood, SVP, Financial Products, Synchrony. "These new technology trends are becoming useful in a variety of ways for businesses and consumers alike." As your store customers' shopping habits continue to evolve, BNPL may be something that your store should consider. 
If you're looking for ways to strengthen your online visibility and ecommerce sales – you can attend over 50 free educational sessions and learn how to improve your online sales! Begin by registering for ASD for FREE today.