The ASD Market Week team researched the largest, most comprehensive online marketplaces on the web. Here are 10 websites all retailers, wholesalers, and manufacturers should review to find new growth opportunities no matter what they sell.  
In 2022, consumers spent $1 trillion (about $3,100 per person in the US) dollars online. Supply chain disruptions, inflation, and caution around the economy have led to consumers maintaining their online purchase habits. They want to find the best deals, or items they cannot find in store, or both. For wholesalers, online marketplaces are a vital critical channel for you to move merchandise.  
By now, you have created your own website, and have been testing which online marketplaces need to be a part of your business to continue to meet your revenue goals. Finding the right online marketplaces for your products is equivalent to deciding where a retail shop's location is going to be, or what trade shows you need be a part of to open new accounts. Online marketplaces give wholesalers and manufacturers the ability to develop larger customer bases for a low investment cost. In 2023, here are 10 marketplaces that should be a part of any wholesaler or retailers' e-commerce decisions.  
---
Target
This year, Target.com opened its site up to third party sellers by creating the Target+ program. Target did this as an extension of its artisans and global partners who make goods carried in-store, aiming to continue to help underrepresented businesses expand their distribution. Target's goal was to support third-party sellers' growth while using their products to strengthen Target's online shopping experience and meeting their customers' (which they call guests) needs for more choices. 
Currently, the program, which is designed to expand key categories such as home furnishings, toys, electronics, and sporting goods, appears to be invitation only. It has recently added a supplier application portal and the process of registration is lengthy. You will need to write a proposal, showcase how your products align with the company's customers, and make a clear case for consideration. Your company also must be at least 51 percent owned, controlled, and operated by women, ethnic minorities, LGBT persons, or veterans.  
When submitting your application, be sure to include high-quality photos, sales data, unique features, and explain what sets your products apart from others. Also, make sure your application aligns with Target's goals. The fee structure is unknown for those accepted into the program. Also, what's very cool is that there is no way to specifically search for Target+ merchandise; products all fall into the company's master merchandising mix!
---
Etsy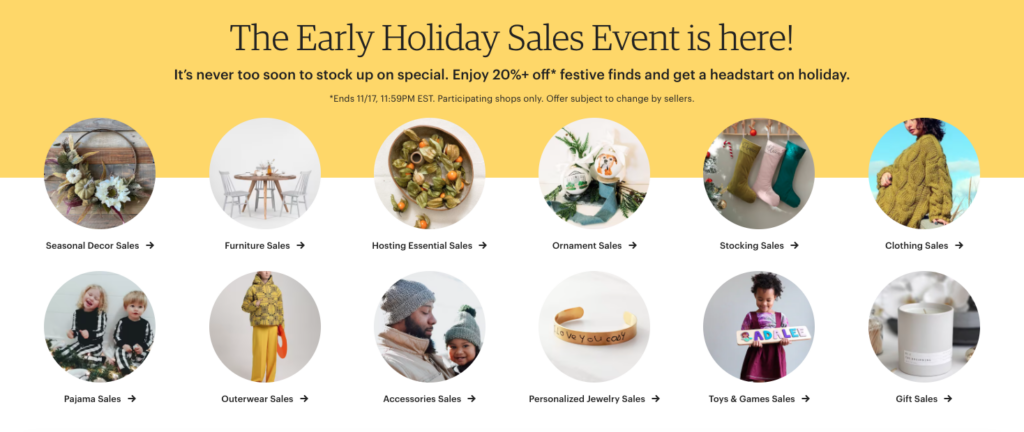 Etsy is the original, most successful marketplace for people to sell handmade, vintage, and original craft items internationally. While similar marketplaces have come and gone, Etsy has managed to establish itself as the destination for non-commercially produced items. The platform's success can be credited for helping the handmade and artisanal movement go from a niche cottage industry to a massively in-demand retail category. 
The Etsy marketplace currently operates in 83 countries and has 7.5 million sellers and 96 million buyers who bought over 60 million products in 2018. In 2021, Etsy generated $2.02 billion in sales. 40% of Etsy buyers are repeat customers, 8.9% are what Etsy call "habitual buyers." Unlike Amazon (which averages 12 percent), Etsy has kept their fee structure in-line with what its sellers are willing to pay, charging a listing fee of $0.20 and a transaction fee of 6.5 percent of the price of an item (shipping is set by the seller on top of these fees). Etsy Plus members pay a flat $10 per month. For brands, makers, or sellers who want to develop quality sales channels for their goods, Etsy is a must given its low barrier to entry, quality controls, and ability to conduct wholesale or retail business. 
---
Bonanza
Bonanza is an online marketplace that empowers entrepreneurs to build a sustainable business based on repeat customers. Bonanza has designed itself as a platform that allows sellers to make sales and build a brand by developing relationships with their customers. It encourages the retailers that use it to consistently invest in their business so that they not only have a firm foundation but can strategically grow through repeat customer purchases. 
They've also kept business scale simple, offering their sellers many automated features that are often hard to develop. For example, sellers can automatically sync their inventories to eBay, Amazon, and Shopify, edit product images, create marketing campaigns with Facebook and Google and even create zero-effort web stores (automatically built from your marketplace accounts).
Bonanza is considered one of the best choices for retailers with lifestyle brands or businesses; it has 25,000 registered fashion, beauty, home, and health-related businesses. Bonanza currently has 2.2 million active users. It has no listing fees for sellers. You only have a 3.5 percent post-sale commission on sales under $500. In general, sellers keep around 97 percent of the money they make from selling on the platform. 
---
Facebook Marketplace
Facebook, one of the largest social networks on the web with 2.45 billion users, launched its marketplace three years ago in order to provide a better experience than Craigslist. Since its launch, the Facebook Marketplace has grown to more than 800 million people, retailers, and professionals sellers. 
Selling on Facebook Marketplace is an easy process, and it offers different features for businesses and frequent sellers. As a retailer, you'll need to sync your up-to-date inventory and then wait a week or so for Facebook to review your products and approve them to sell on Marketplace. If you use Shopify, BigCommerce, Channel Advisor, ShipStation, or Quipt, you can automatically connect your inventory feeds to the marketplace in several simple clicks. If you don't have an inventory software they support, here's how you get your products listed.
Facebook Marketplace has no set listing fees or commissions, making it an attractive option for new and established sellers alike. Facebook is free to list and sell because they drive revenue from Facebook and Instagram advertising. If you want to learn more about marketing your business on Facebook, they offer free, local marketing business boot camps starting this month. You can also read our step-by-step guide to setting up Facebook Shops and Instagram Shops. 
---
Alibaba
Alibaba is a force to be reckoned with in the e-commerce world. It was founded in 1999 as a B2B portal to connect Chinese manufacturers with overseas buyers. Today the marketplace is known as the "Chinese Amazon" and the platform provides C2C, B2C, and B2B sales channels, and offers many of the services that Amazon offers.  Alibaba has upwards of 779 million users, 900 million mobile users, and boasts a 47 percent share of the Chinese e-commerce market. Alibaba's growth is attributed to retailers who are actively competing for their share of consumer spending in China's growing economy.  They also have 251 stores. 
The company currently has over 8.5 million online sellers. This year, Alibaba opened its marketplace to small to medium-sized U.S. sellers in order to compensate for lean e-commerce revenue growth due to U.S.- China trade wars and online marketplace competition. In order to sell on Alibaba, you simply set up an account and follow their onboarding steps. Sellers don't have any membership fees or set-up costs. Commission fees range from 5-8 percent. Gold supplier memberships start at $2,999 per year. 
---
eBay

Image Courtesy of eBay
eBay is one of the original, online marketplaces; it made over $10.8 billion in revenue in 2021. Gross merchandising volume on eBay reached $100 billion in 2020. The online auction and shopping site currently serves 30 countries, 159 million users, and 19 million sellers worldwide. It's a marketplace ideal for anyone wanting to sell literally everything and anything — from collectibles and appliances to clothes and accessories — at an auction price.
eBay has 6.7 million sellers in the U.S. who have the ability to sell to 190 markets around the world. If you want to tap into the power of yet another channel with a vast global market share, eBay is a great option. When selling on eBay, you'll be looking at two primary types of selling fees – an insertion fee when you create a listing, and/or a final value fee when your item sells. There are no setup, monthly, or annual fees to worry about. In general, the final value fee ranges between 10-12% of the sale. 
---
Overstock
Overstock started out as an online marketplace exclusively selling surplus, closeouts, and returned merchandise. Today, Overstock also sells new merchandise and has drastically overhauled its partner program. Like Target, it has an extensive vetting program for companies it allows on the platform to sell.  The site currently has over 23.7 million unique visitors each month. The company takes a more community-based approach to the people it allows on the platform since revising its strategy in 2011. Overstock also now selects partners who support its initiatives that are designed to help global artisans, pet shelters, small business owners, and farmers. 
If you're able to sell on Overstock, the registration is free and listing fees range from $0.10 to $3.15. The final value fee stands at 3 percent for items sold under $25. Sellers have product advertising options that range between $1 to $13. Overstock charges a flat $4.95 shipping cost on all orders under $45. That $4.95 goes to Overstock, not the seller. Many sellers who use Overstock use a solution like Channel Advisor to help manage their presence there. 

---
Rakuten
Rakuten is considered the "Amazon of Japan". More than 90 percent of Japan's internet users are registered on Rakuten. Rakuten has expanded to at least 29 countries, including the U.S., and is planning to serve more countries in the coming years. The platform currently has 49,000 sellers, 115 million members and sales of $37 billion in 2019.
Unlike Amazon, Rakuten does not sell its own brands and the lower number of sellers limits competition. If you're looking for an alternative to eBay or Amazon, Rakuten is worth a review, as it offers a high degree of customization, excellent product marketing opportunities, listing optimization features, and the ability to create highly customized visual storefronts. If you want to expand into Japan, Rakuten is how to test the waters. Rakuten has a $33 monthly seller fee, a product category fee of between 8 percent and 14.5 percent and a $0.99 fee per item sold. The higher fees are offset by their seller loyalty program and e-commerce integrations and features. 
---
Amazon
Amazon has almost become a must for retailers, wholesalers, or manufacturers. Internet Retailer estimates that the total value of transactions from U.S. consumers on Amazon.com reached $469.82 billion in sales last year (including sales of Amazon's own products and of marketplace sellers). This means Amazon alone accounts for 40 percent of U.S. online retail, and Amazon accounted for 43.3 percent of e-commerce gains in the United States last year. 
Amazon operates retail websites for 16 countries, including the United States, the United Kingdom, Ireland, Canada, France, Spain, Italy, Germany, Netherlands, Brazil, China, Japan, Australia, India, Singapore, Mexico, and Turkey. As the largest Internet retailer in the world, Amazon is often where sellers launch their first online stores, and many thrive in this all-in-one marketplace alone. Amazon currently has 300 million active users and 200 million Prime members. 
Amazon offers sellers several options to wholesalers, manufacturers, brands, and artisans who want to sell on their platform. Amazon's options include the ability to sell in 20 different categories (professional sellers can sell in up to 10), shipping fulfillment services, 1500+ app integrations, robust seller education resources, and ways to market your products to all Amazon users. Amazon has also developed a customized handmade program for artisans who make their own products. 
Fees range depending on services and use of the platform. Seller fees range from 6-20 percent, averaging at about 15 percent If you want to sell using the professional account, you pay $39.99/month. If you sell as an individual, you pay $0.99 per item with no additional monthly fees.
---
Walmart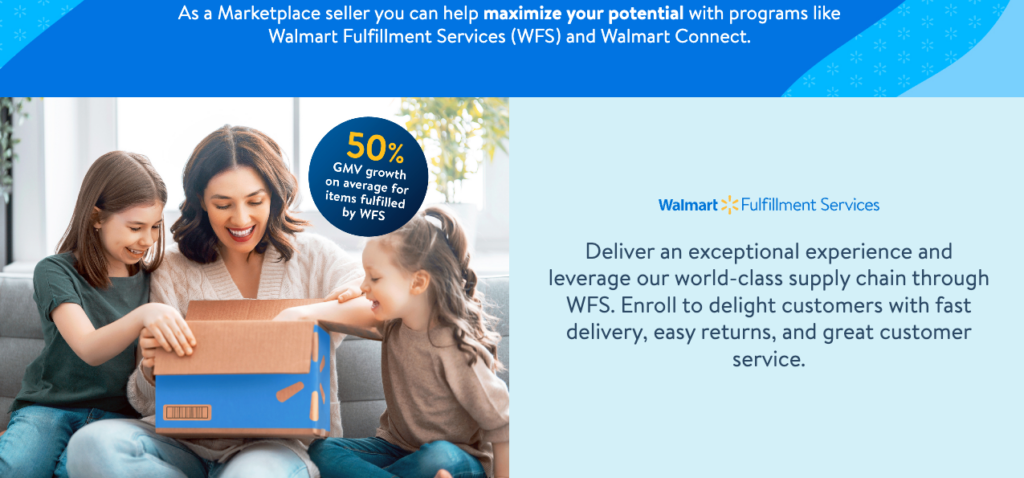 Image courtesy of Walmart
Walmart's third-party seller platform has been exclusively available to U.S.-based sellers. Walmart has over 2 million third-party sellers that sell in 35+ product categories on its marketplace. Walmart.com has over 90 million active visitors each month. The company has been slowly expanding its online marketplace to sellers from other countries, including Canada, the United Kingdom, and China. 
Walmart (which bought Jet.com and also operates SamsClub.com) has lagged behind in the e-commerce area, as its main focus has been the 11,438 stores and clubs in 27 countries, operating under 55 different names. Their seller fees range between 8-15 percent and they don't have start-up membership or listing fees. You must request an invitation to sell. This application gets you access to Jet.com (you can still sell on Jet directly) and all of Walmart's online properties if you're accepted.
---
Strategically Creating A Marketplace Selling Strategy
Remember that the search for an online marketplace begins with your merchandise and your needs. Examine the pros and cons of each, and consider which marketplace will help you reach your distribution goals and profit objectives. Wherever you set-up and expand your shop is going to require consistent attention and investments of your time. You may want to start with one or two before you take on multiple channels and marketplaces. Whatever channels you use, make sure you keep up with best practices and seller policy changes so that you don't miss out on opportunities, nor do you get penalized for being out of compliance with what's required of your store or company. 
To learn more about selling online and Amazon, attend ASD Market Week and gain access to 50+ free seminars.