The jewelry category was one of my absolute favorites to explore at ASD. There was such a wide variety of offerings and some utterly unique pieces that would differentiate your jewelry assortment amongst other stores. Many retailers are worried about economic recession and a shift in how customers may purchase.
Jewelry is what I consider to be a near recession-proof strategy. Why? Because jewelry allows customers to follow trends without having to make purchases without hefty price tages. Especially on-trend and moderately priced jewelry and accessories.
2023 Jewelry Trends – What You Need to Look For 
It is a retailer's favorite topic, TRENDS. So, what are the trends happening in 2023 that can help drive sales? Here is what I saw at ASD Market Week this past August that will carry most buyers through 2024.
No. 1: Layering 
Layering jewelry is a terrific way to provide a more versatile look for your customers and drive up your average order volume (AOV) as well. It is truly a win-win! Any type of jewelry can be layered to add more vibrancy to a look.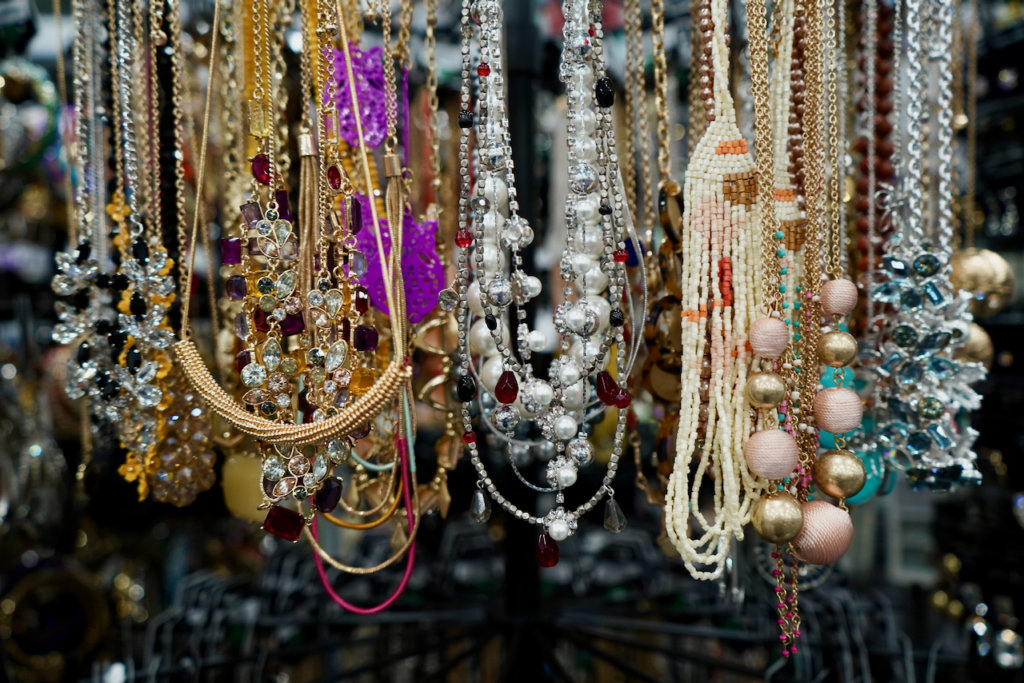 Often times when we think of layering, we think of heavier jewelry, but this year what stood out was that there was an abundance of delicate necklaces layered together to make a subtle statement. This same delicate statement was made in the bracelet category and earring categories.
No. 2: Illusion Earrings 
Layering in the earring category means having a variety of ear cuffs and illusion earrings. For customers who want to embellish their ears without getting new piercings, these types of earrings are perfect! They can also be an interesting way for customers to dress up simple silhouettes using earring statement pieces versus the typical statement piece – the necklace.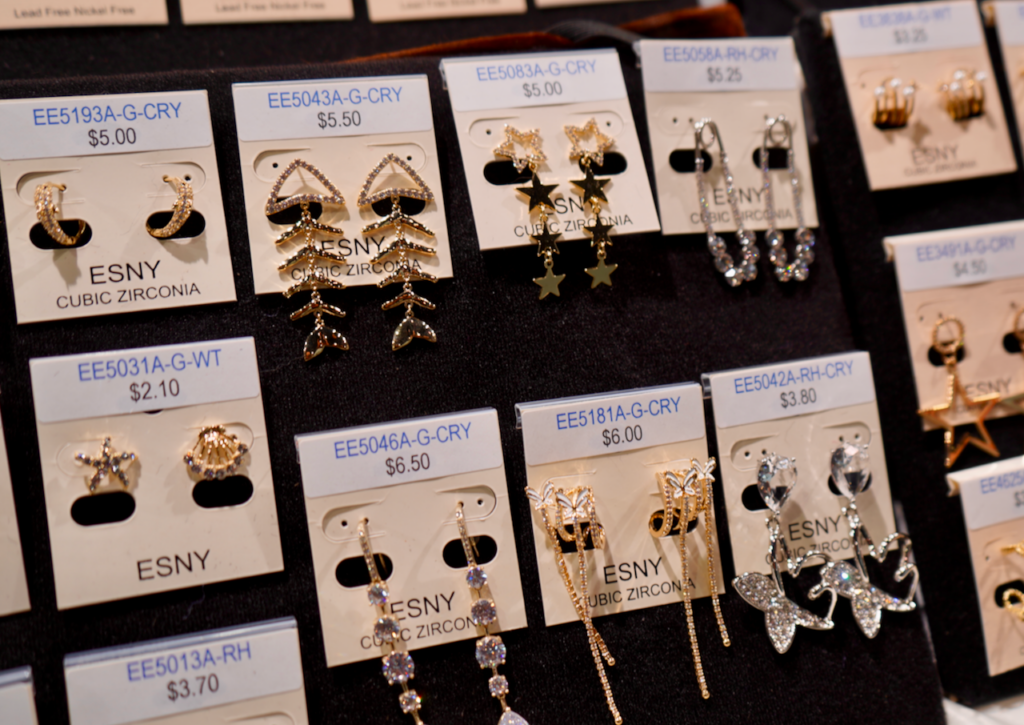 No. 3: Resin
The freshest jewelry trend that I spotted was the use of resin. It was used in many distinct colors, and in styles and trends spanning across the decades. Some jewelry was 100% resin while some had other materials mixed in with the resin. There was such a wide variety to select from to suit all types of customers and jewelry lovers.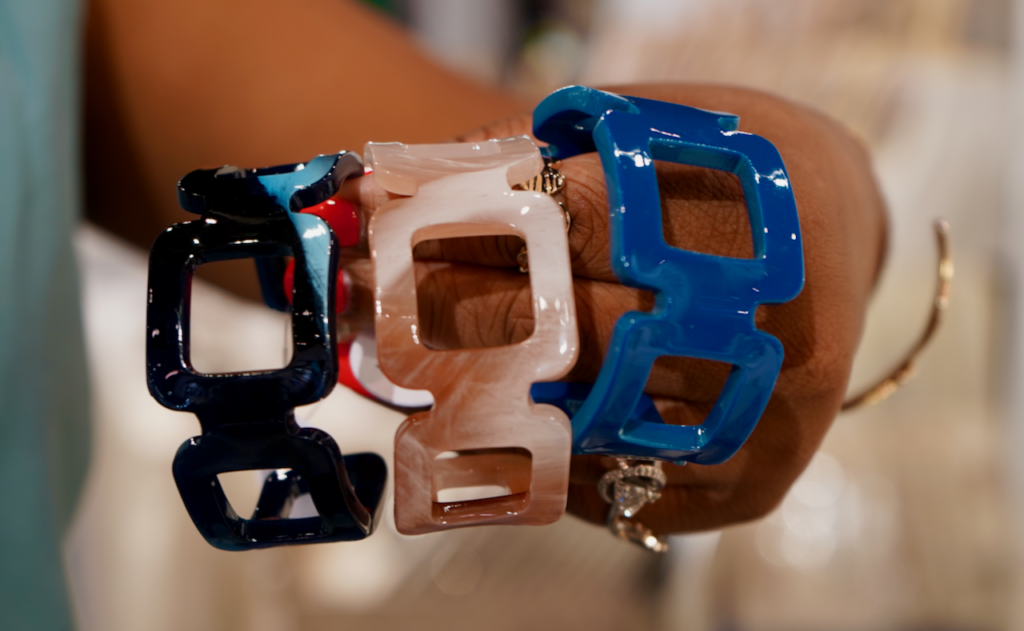 No. 4: Nod To the Earth 
Another trend spotted at ASD were earthy tones and materials. Crystals and geodes were displayed as standalone items or as beautiful jewelry accents. Beautiful amber jewelry and wooden jewelry in unique shapes were also seen throughout the show.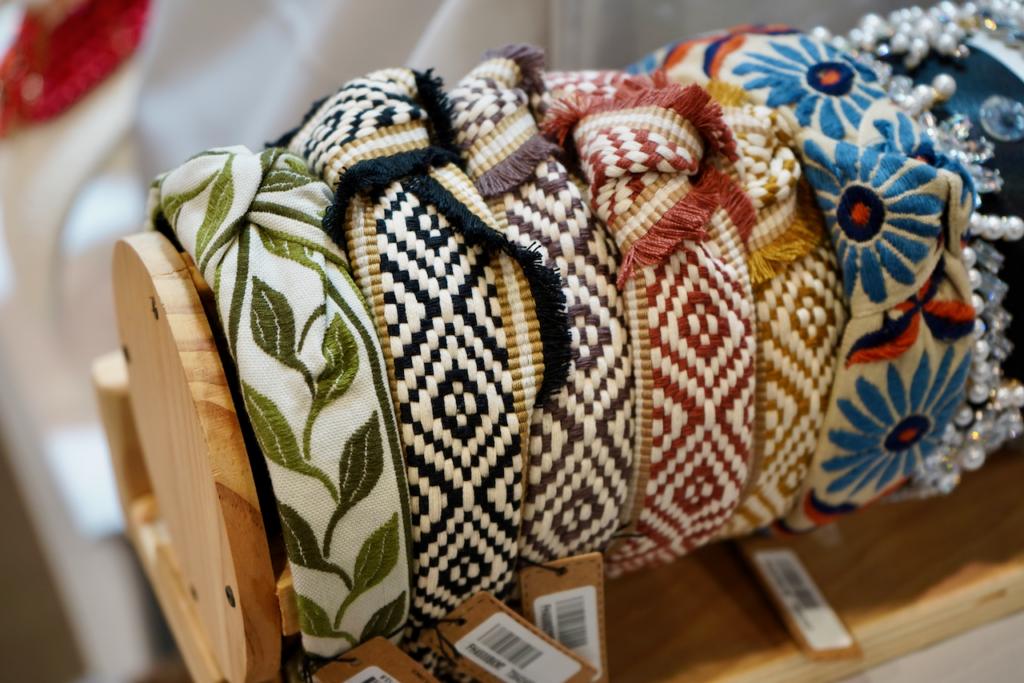 No. 5: Blinged Out Accessories 
The bling is back, and bigger and flashier than ever! During the pandemic, many of us traded in our typical wardrobe for one more subdued and at-home cozy chic. In 2023, it is safe to say that fashion is ready for a comeback and these blinged out accessories are the conversational pieces that will kick things off. The blinged out headbands are more mainstream for customers looking to dress up their look.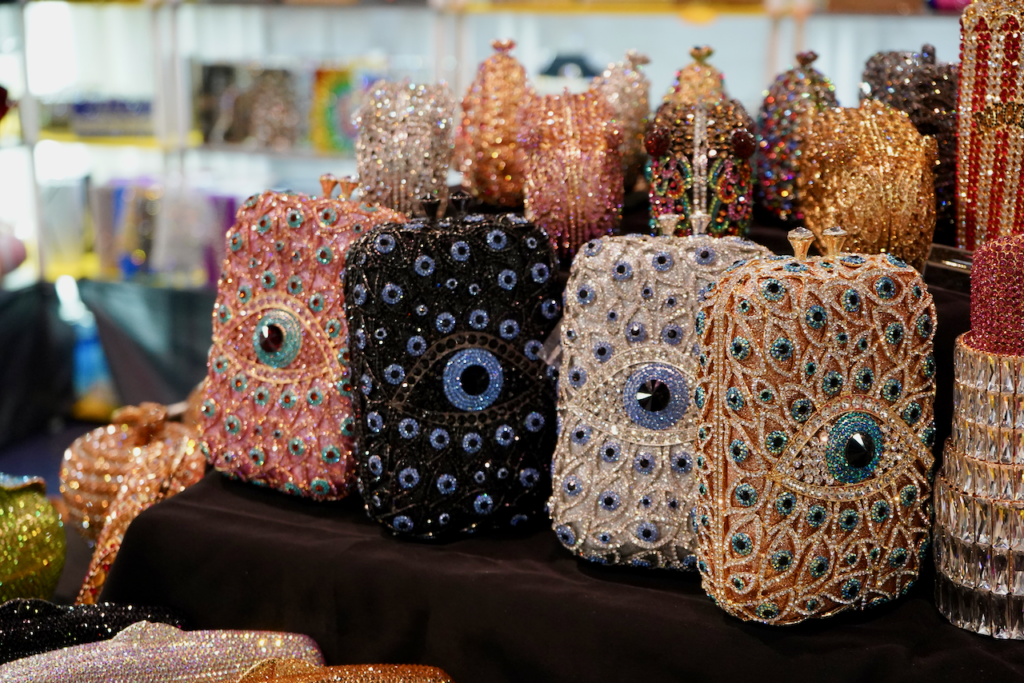 These accessories are best shown in your stores merchandised together to create a huge, Instagram-worthy wow factor for customers. The blinged out headbands look great in a display where you can stack them all together for customers to swoon over and select from. Oh – and they can layer their blinged out headbands for an over-the-top look!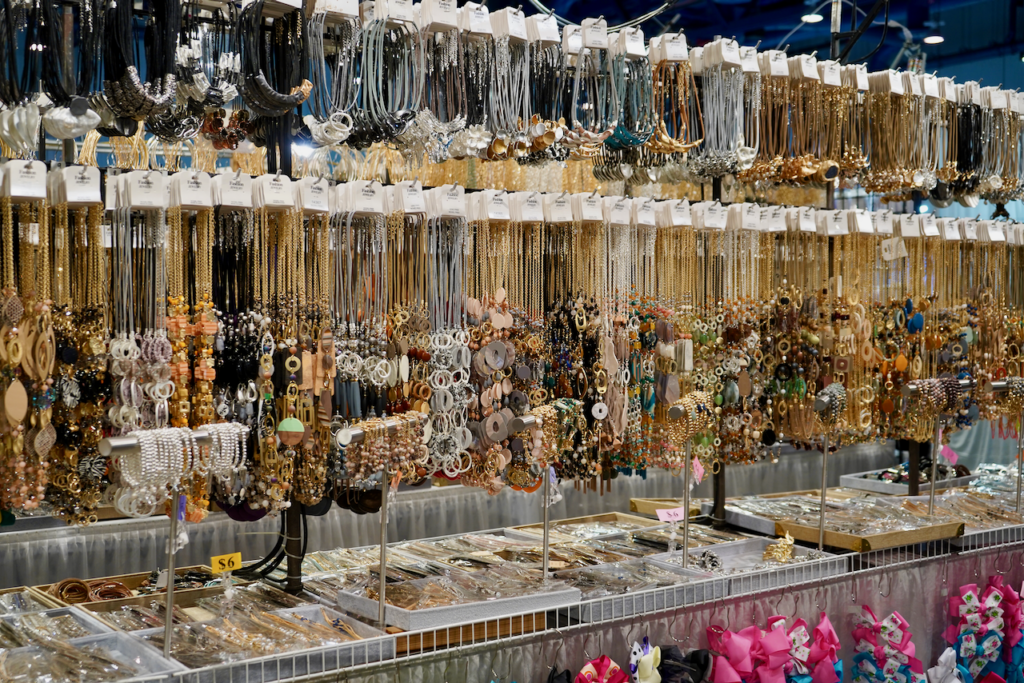 No. 6: Unexpected Materials 
One collection of earrings really stood out to me, and it was because of its material – felt! Felt is not known to be the sexiest of fabrics, but the beautiful color palette and retro shapes of the earrings felt very new!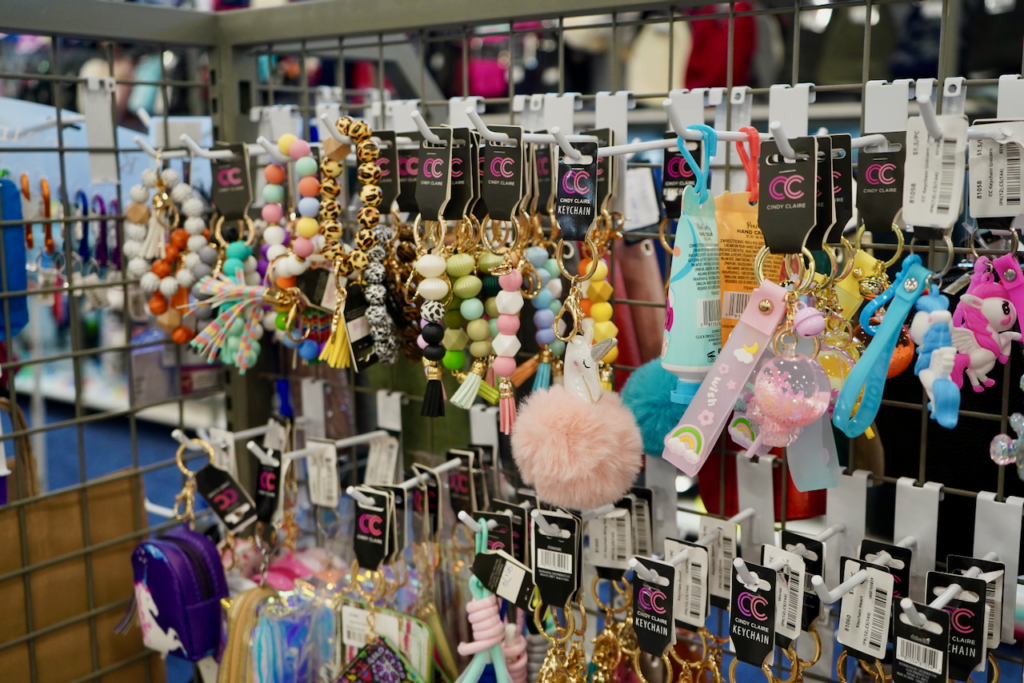 How to Use Jewelry to Increase Sales in 2023 
And in order to better help you maximize your on-trend buys, here are my five best tips for leveraging social media marketing and jewelry merchandising drive in-store purchase.
Use layering as a merchandising strategy 
When you help your customers layer their jewelry, get creative and do not put yourself in a box. You can mix dainty with chunky, retro with modern. Have fun with it! When you merchandise your jewelry to emphasize layering, create a display where they can see all your best layering options and can easily pull and put back pieces as they experiment with their layers!
You could create an entire wall of jewelry layering pieces. You could even create a long table with layers displayed creatively in the center, that then had display bust stands all around it for customers to create their layering necklace stacks! There should be bracelets and earrings nearby to easily add on more pieces to the sale.
To make layering an even bigger easy decision, you can create a jewelry assortment solely for the purpose of your layering strategy and set a price for a specific number of layers they should purchase. For example, Pick "3 layers for $50", which gives the customer the freedom to look around, and mix and match without doing price calculations in their heads while shopping.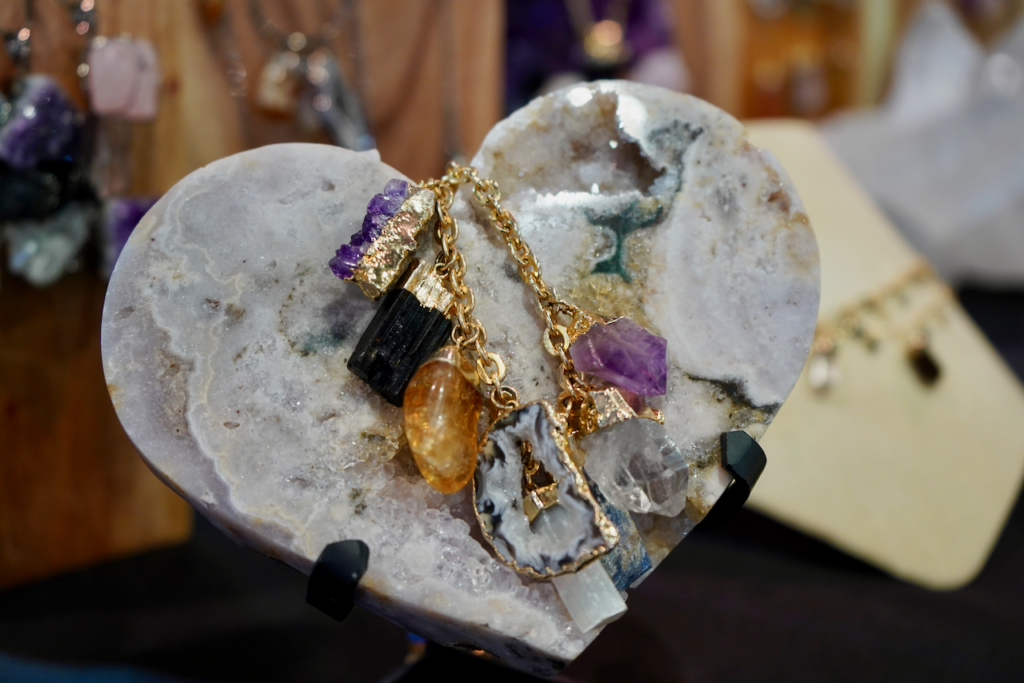 Purchase jewelry from an outfitting lens 
Ensure that when you are making jewelry purchases that each fashion jewelry piece has multiple complementary items in your assortment. You also want to make sure that these pieces are attributed accurately on your website so they will show up in the collections as the pieces they were intended to match with.
Make it a standard practice for your associates to "complete the look" by offering jewelry to your customers for each outfit.  For your online store, ensure that the jewelry in each photo is tagged / mentioned / shoppable so customers can purchase the entire outfit pictured seamlessly.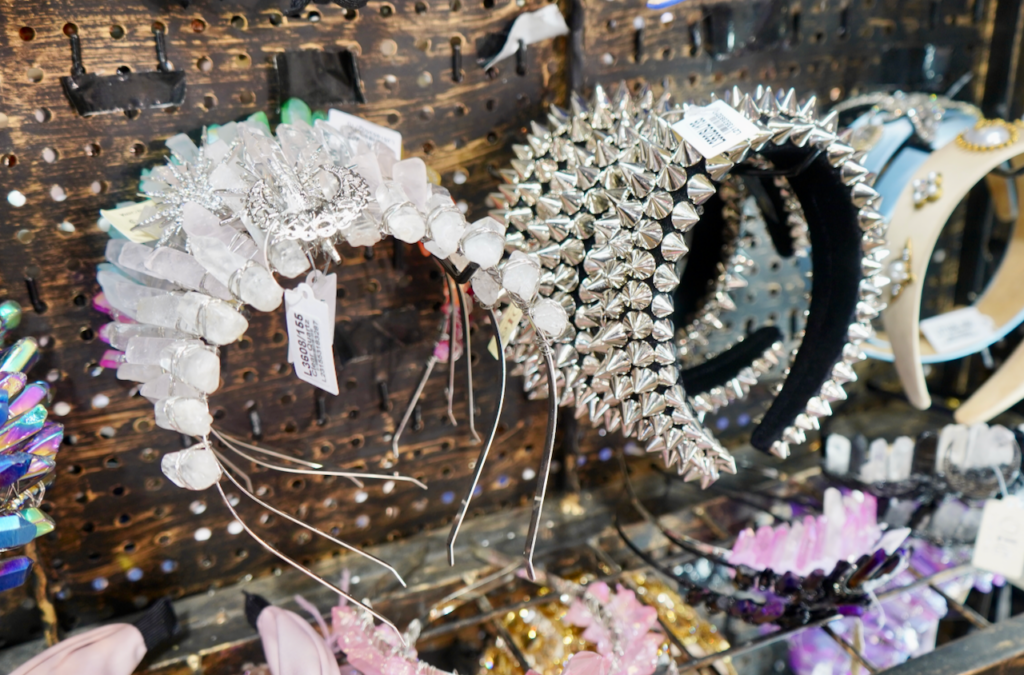 Create dedicated jewelry trend-focused marketing campaigns 
As you are making your jewelry buys, keep in mind the trends that you are buying into, and make sure that you purchase enough to make a statement that you can create marketing campaigns around – showing your customers that you are an authority in what's trending and curating the perfect jewelry assortment. Send dedicated jewelry trend-focused emails and SMS to your customers and create social media posts to promote your jewelry assortment on a regular basis!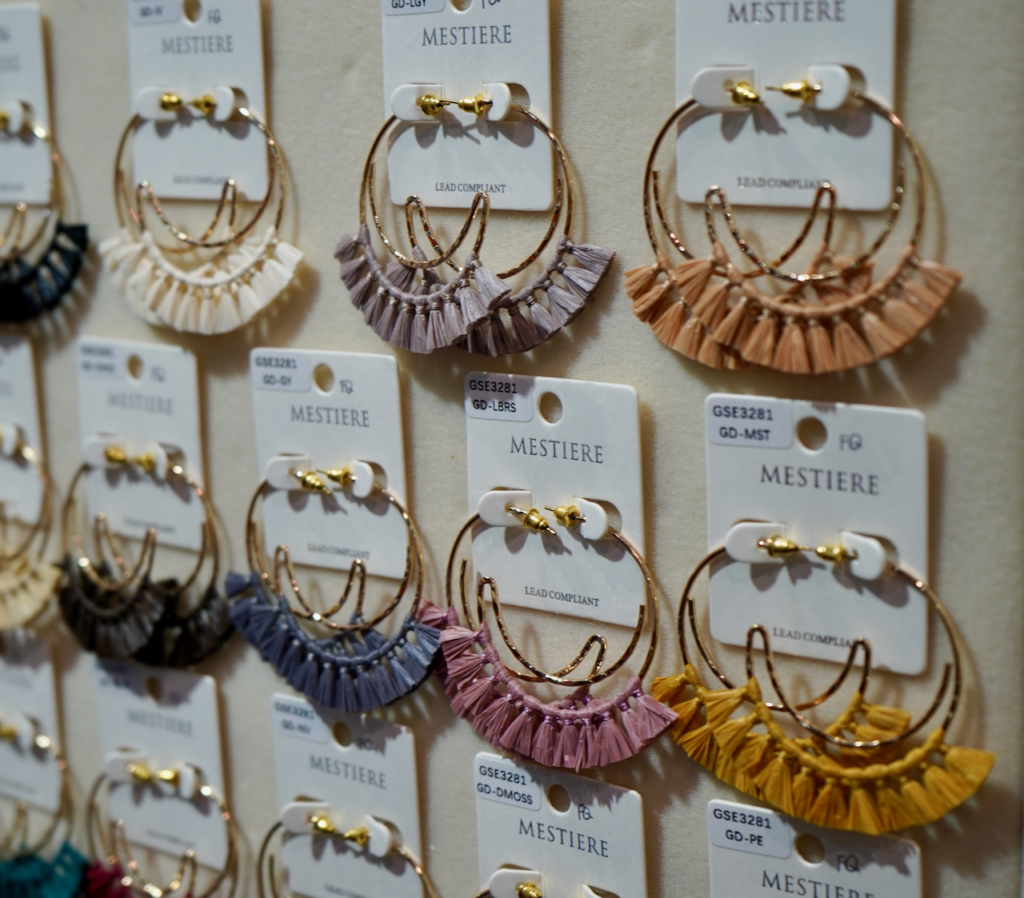 Merchandise jewelry creatively 
Think of new ways to merchandise your jewelry in-store. Think about merchandising the jewelry by color story / collection. Explore new, interactive display fixtures. Use unexpected objects to place the jewelry on to command attention. Do unconventional photo shoots specifically for the jewelry to make them come alive on your website and social pages.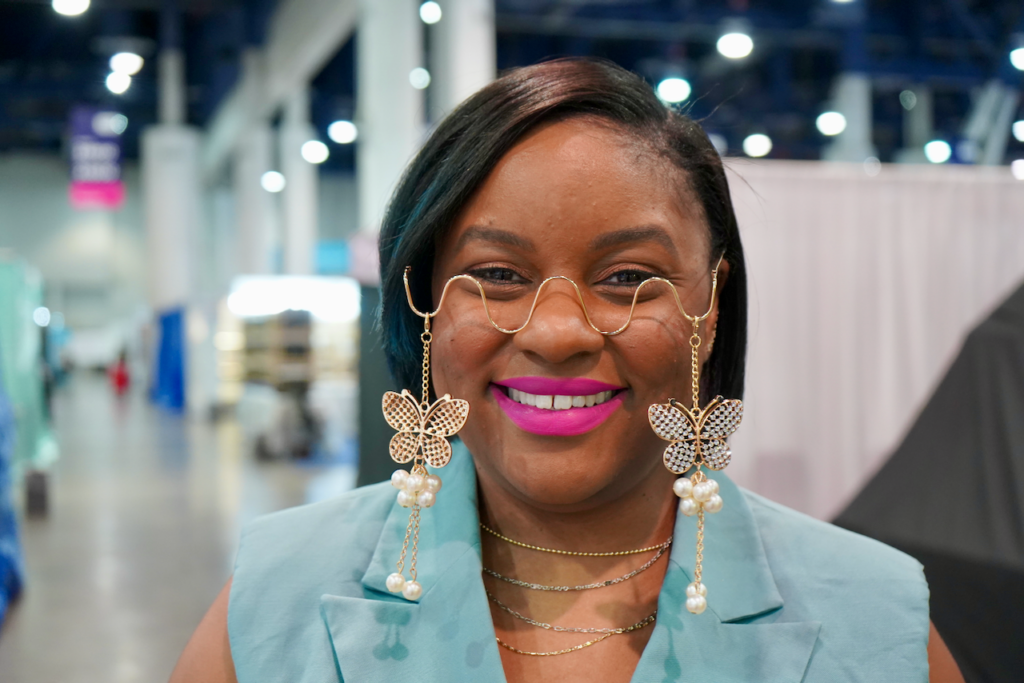 DeAnna McIntosh is the Founder and Retail Growth Strategist at Retailing Evolved® and Executive Director and Co-founder of Diversify Retail® Inc.  To get in touch with DeAnna, email deanna@retailingevolved.com or book a call with her her