The Changing Face of Gas Stations and Convenience Stores During the Pandemic
Over the past several months we have seen the way that nearly all businesses function change and adapt to the pandemic, but one of those businesses that has proven not only resilient, but essential as well, are gas stations and convenience stores.
Many gas stations and convenience stores have become vitally important for the neighborhoods that they are located in, and while some of the changes they have made have been temporary to keep up with the times, others are likely to be more permanent in nature. In this article, we'll discuss how COVID-19 may permanently change the business practices of convenience stores and gas stations.
Convenience Stores and Gas Stations Are Essential Businesses
Before the world came to a screeching halt earlier this year, studies show that some 40 percent of fuel customers rarely, if ever stepped inside the actual convenience store. Those numbers are changing as these gas stations are becoming the local option for food and grocery items as well. Why? Because these little shops are often located within 10 minutes of a person's home, especially in rural areas where 8 in 10 Americans reported they often pick up groceries when at their local convenience store.
Convenience stores have been considered an essential business by the U.S. government during the pandemic and an April 2020 survey showed that although food service sales have decreased, 52 percent of the convenience stores reporting said that grocery sales have increased during the pandemic. Food service sales have seen an impact because menus and services have been forced to change, such as shutting down seating areas and taking away self-serve areas to decrease the risk of potential contamination.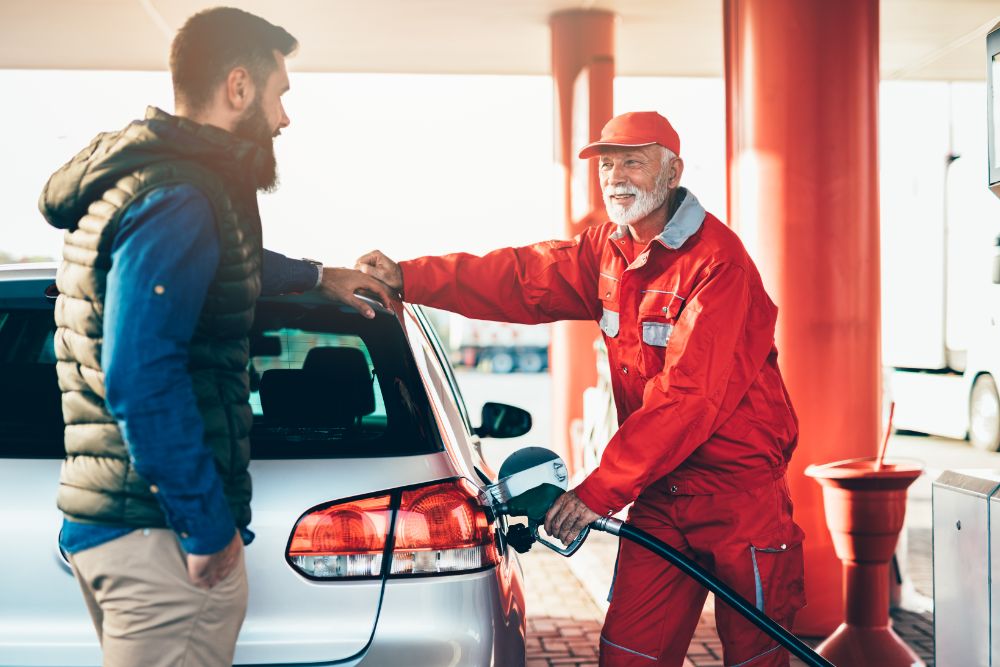 ---
Need a list of state and national resources to help understand COVID-109 and the new retail landscape? Grab ASD's Guide to Reopening Your Store for a complete list of contact websites, emails, and phone numbers.
---
C-Stores and Gas Stations Change to Meet Customer Needs
To meet the rising needs of their customers, many gas stations have started to stock additional staple items such as toilet paper, bread, and milk. Some who have online ordering options and mobile apps have started to add curbside pickup as an option as well. Others have partnered with Uber Eats, Door Dash, and other delivery services.
Plexiglass shields at the checkout counter, as well as increased sanitization and cleaning policies have been put in action at most stores to protect employees and the customers. Some businesses have shortened their business hours to be able to perform a more thorough cleaning and restocking measures. Payment methods have also changed in some places. Point of Sale mobile payments have become a popular curbside option, and many have started to accept EBT food (SNAP) payments as well.
C-Stores Are Getting the Word Out There
When thinking about their shopping needs, many consumers don't think twice about convenience stores and gas stations for their essentials. This means that business owners of these stores need to make it a priority to get the word out about their expanded staple item choices and the options they are providing to help their customers get the products that they need safely. For many stores, this may mean adding signage to your location or even sending out mailers to raise local awareness.
Looking Ahead for C-Stores and Gas Stations
Although there is no way to know for sure how the COVID-19 pandemic will impact the convenience store and gas station industry the remainder of 2020 and into 2021, it is likely that smaller, conveniently located stores will remain a neighborhood essential. Factors such as government regulations, temporary store closings, and stay-at-home restrictions can all result in both short and long-term economic impacts. This means it is critical for all businesses, including convenience stores and gas stations, to learn to adapt to the changes and their customer needs.
---
---